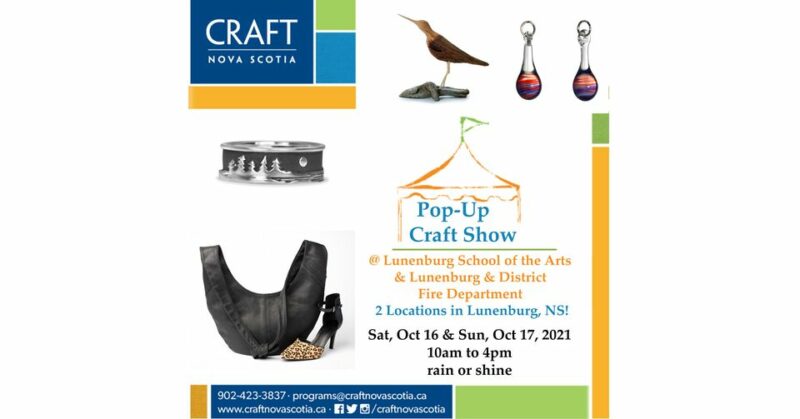 @craftnovascotia is popping up in historic Lunenburg, Nova Scotia!
Join us for two days on the south shore at the Lunenburg School of the Arts.
Discover some of the finest juried Craft Nova Scotia craftspeople this region has to offer; jewellery, pottery, textiles, wood, metal, glass, beverages, and leather.
Find the perfect locally made gift for you, your family, or friends.
The Craft Nova Scotia October pop-up is two-day event! 10am to 4pm on Saturday, October 16th and Sunday, October 17th at the Lunenburg School of the Arts at 6 Prince Street, in Lunenburg, Nova Scotia.
We can't wait to see you — at a safe distance — out in your best mask!
Julie Rosvall
Program Director
Craft Nova Scotia
programs@craftnovascotia.ca
902-691-1493
Craft Nova Scotia
www.craftnovascotia.ca
@craftnovascotia
_________________________________
Admission by donation, bring a toonie or a $5 bill in support of Craft Nova Scotia programs and services.
Craft Nova Scotia is the officially recognized provincial crafts organization, with a mandate to encourage and promote crafts in Nova Scotia, and to increase the public awareness and appreciation of craft products and activities.  We are a registered non-profit charitable organization.