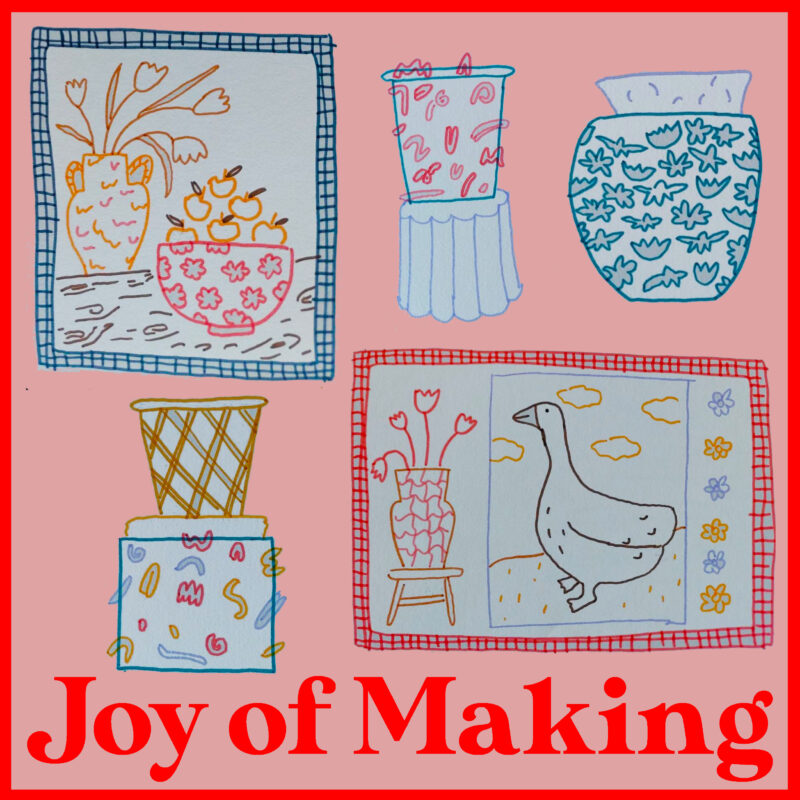 Joy of Making is inspired by Gillian Maradyn-Jowsey's fascination with craft and domestic objects featured in still life paintings. These still life compositions aspire to highlight and celebrate everyday objects seen in Nova Scotia. In gardens there are lawn ornaments such as concrete geese and Dalmatians at the end of driveways. In old homes there are quirky wallpapers and decorations. In workshops, yard sales and museums there are tools and woodwork.
"There is a divide and perceived hierarchy between fine art and craft, which has been around for a couple hundred years. A ceramic vase may be worth a certain amount, but depicted in a painting its value changes and is elevated to a fine art. This project aims to reclaim these domestic Craft objects and bring them to life through my textile and ceramic mediums."
Gillian Maradyn-Jowsey is an interdisciplinary artist, originally from Aylmer, Quebec, living in Lunenburg, NS. She graduated from NSCAD University in 2017 with a BFA in Ceramics. Maradyn-Jowsey divides her time between continuing to grow her ceramic and textile based practice and engaging with the community by facilitating art-based workshops and teaching at the Lunenburg School of the Arts. Often her practice is invigorated by meaningful creative exchange and collaboration. She creates functional and sculptural work grounded in her interest in craft and design for everyday living. When she's not in her studio, you'll find her digging around in her garden or getting lost in the woods with her dog, Frances.
Exhibition: June 2nd – June 24th, 2022
Our gallery at 151 Montague Street will be open to visitors, Monday to Friday, 10:00am – 4:00pm, by chance or appointment.
Artist Talk and Opening Reception: June 2nd at 7:00pm
Join us in our Ramp Studio (6 Prince Street) for Gillian Maradyn-Jowsey's Artist Talk. The Talk will be followed by a question period and reception in the gallery. Masks will be required. No registration necessary.