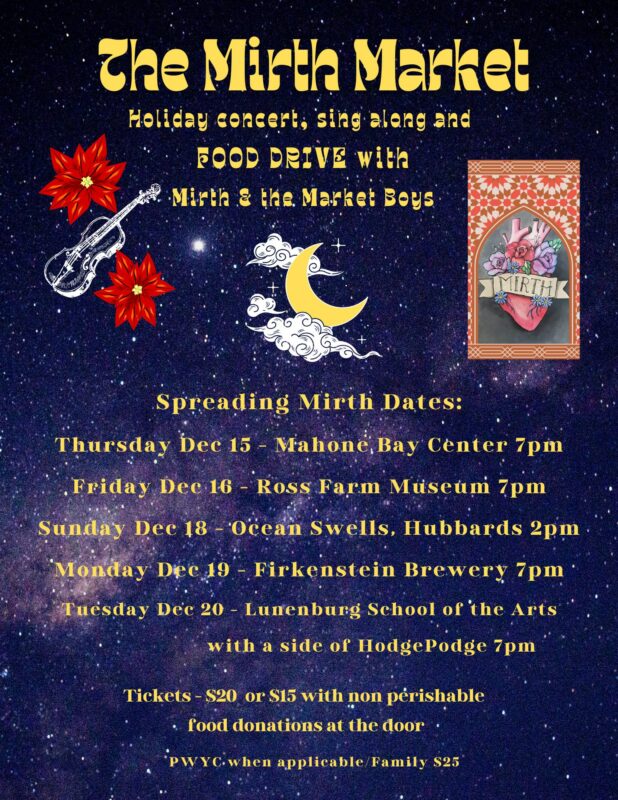 Join us on Tuesday, December 20th, at 7:00pm in the Ramp Studio at 6 Prince Street to celebrate Christmas and to help the food banks keep their shelves filled with a Holiday concert Food Drive featuring two popular south shore trios, The Market Boys and Mirth.
Tickets are $20 at the door, or $15 with a non-perishable food donation.
The Market Boys (fiddler John Cahill, drummer Tom Myers and wash bucket bass player Barry Redmond) have been entertaining shoppers at the Hubbard's Barn Market for more than a decade, their instrumentals bringing atmosphere and joy to the classic seasonal market venue.
Mirth, created this year when 3 musician friends (Mary Knickle, Miranda Lever and Cynthia Myers) joined forces to blend their lifelong passion for music and story telling. The result has been a 'knock it out of the park' musical trio, each a singer/composer, multi-instrumentalist and educator, their unique voices creating a lush sound of complex, layered harmonies. Mirth's witty and soulful original tunes speak to their shared relationship with nature as a source of spiritual strength, resulting in sell out concerts of multi-styled originals and unique versions of popular cover tunes.