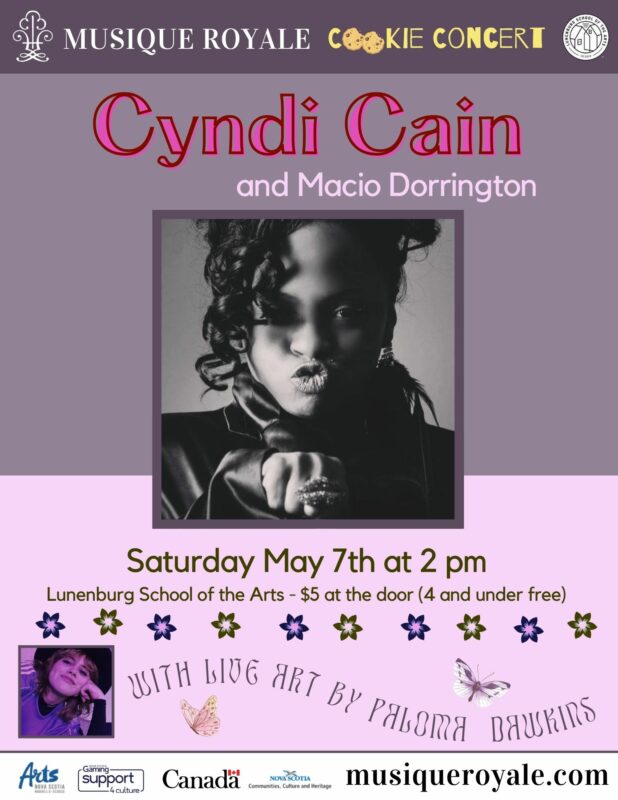 MUSIQUE ROYALE Cookie Concerts present Cyndi Cain, soul singer with guitarist Macio Dorrington & artist Paloma Dawkins
Saturday, May 7 at 2:00 pm at the Lunenburg School of the Arts,
6 Prince Street. $5 at the door (ages 4 and under free)
Musique Royale invites you to hear the Soul Duchess of the east coast, Cyndi Cain, performing a Cookie Concert on Saturday May 7 at 2 pm. In this acoustic setting, Cyndi is accompanied by her guitarist Macio Dorrington at the Lunenburg School of the Arts, and all ages are invited to enjoy the incredible vocals and genuine spirit of the Halifax-based soul star. The concert will also feature live art by the multitalented visual artist Paloma Dawkins, whose work as a cartoonist and self taught animator spans all the way to creation in virtual-reality and video-games.  Paloma is currently an Artist-in-Residence at the Lunenburg School of the Arts.
Cookie Concerts are Musique Royale's child friendly concert series which take place on the first Saturday of the month at 2 pm (from Oct-June) at the Lunenburg School of the Arts. Admission is $5 at the door (with ages 4 and under free).
About Cyndi Cain
Cyndi Cain's got the kind of voice that's capable of giving you goosebumps on the most sweltering of summer nights. It's big, it's booming and it's coming from an utterly genuine place. The Halifax-based soul singer got her start belting out gospel songs at church, studying musical theatre at Toronto's Sheridan College and taking the show on the road to Club Med resorts where she treated vacationers to show tunes and Motown hits. Since returning to Canada, she's been on a whirlwind of great stages, sharing the stage with Michael Buble, Aretha Franklin, Lauryn Hill, Sharon Jones, Naturally 7, Charles Bradley and has performed for Her Majesty Queen Elizabeth II. Arguably the east coast powerhouse of soul, Cain's taken home the Galaxie Rising Star Award, Music NS Award for Best R&B, ANSMA's Artist of the Year and won the 2020 Pioneer Award. Cyndi has toured the UK and brought audiences to their feet! Cyndi Cain, The Soul Duchess, is a party-starter, a tear-jerker and a jaw-dropper with stage presence that's sincerely something else. If you haven't seen Canada's Soul Duchess yet, get ready to feel it!
About Paloma Dawkins
Paloma Dawkins is a cartoonist and self-taught animator turned virtual-reality and video-game artist. Dawkins' previous games have been featured at world-renowned festivals and museums such as Manchester International Festival, Victoria & Albert Museum, MUTEK ,Garage Museum of Contemporary art, and more. Dawkins won awards at the Canadian Screen Academy Awards, Fantasia, FIVARS, Cinekid, NUMIX, and North Bend Festival. Dawkin's games are praised for being digital spaces that celebrate natural life and rhythms and the worlds she creates in her games are spaces that incite creative thinking and wonder. Dawkins games and VR spaces carry on these themes and further invites us to be inspired by otherworldly scenes and scenarios, hypnotizing sounds and visual details, trippy patterns, quirky characters and cosmic poetry. Learn more about Paloma at palomadawkins.com/
Along with adherence to Musique Royale's COVID-19 Prevention Plan, these additional rules will apply for this Cookie Concert:
The cookie concert will host no more than 72 people (50% of the venue's maximum capacity).
Masks will be required at all times; exceptions may apply for presenters/entertainment. Masks can be removed temporarily if refreshments are served.
Please do not enter the School if you have tested positive for COVID-19, experiencing any COVID-19 symptoms, or if you have been in close contact with someone who has tested positive for COVID-19 within the past 10 days.
---
 Musique Royale is a province-wide music presenter in Nova Scotia. Since its founding in 1985, Musique Royale has brought world class music to venues of architectural and historic significance across the province. Hear symphony orchestras and chorus' in beautiful churches and salon-style events, with children-friendly shows encompassing jazz, world, classical, and more. Also, from June to September our Summer Festival features early music in beautiful and historic venues across Nova Scotia. Whatever your appetite for music is, Musique Royale has something for everyone!
Musique Royale gratefully acknowledges the Federal Department of Canadian Heritage, Nova Scotia Department of Communities, Culture and Heritage, Arts Nova Scotia, Julia Smith – major season benefactor, Support4Culture, the Lloyd Carr Harris Foundation, the Lunenburg School of the Arts, Music Nova Scotia, anonymous contributors, corporate and individual sponsors, committed volunteers and all patrons for their kind and generous support of Musique Royale.