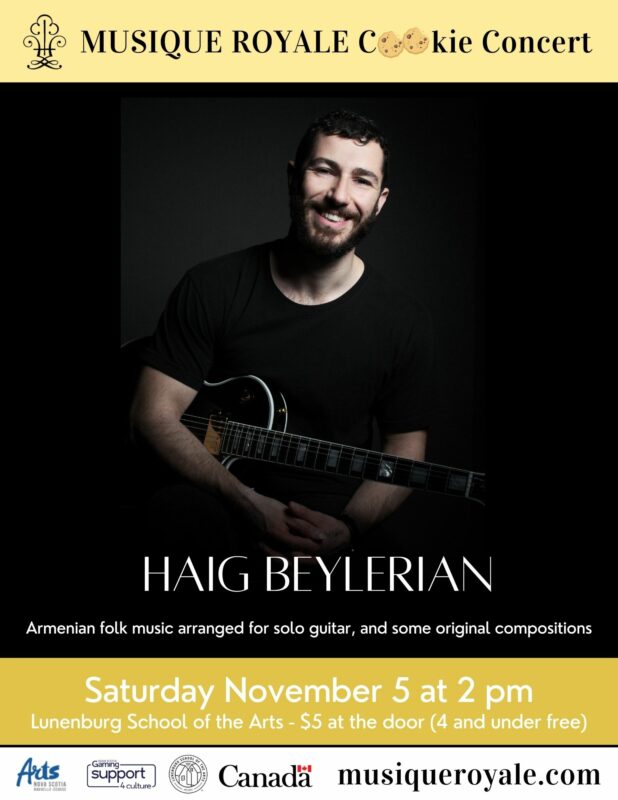 Musique Royale invites listeners of all ages to hear a solo guitar concert by Canadian-Armenian guitarist, Haig Beylerian, a multi-instrumentalist and composer from Toronto, Canada. His programme focuses on Armenian folk music which he has spent the last three years curating and arranging for solo guitar. The concert will also feature a few of Haig's own original compositions. The style is reflective of his experiences with both classical guitar and jazz music. Join us to discover this recently crafted and personal concert program by Haig, and afterwards, as always, everyone is invited to enjoy some cookies and conversation!
Haig Beylerian is a Canadian-Armenian guitarist, multi-instrumentalist and composer from Toronto, Canada. He received a Bachelor of Music in Classical Guitar Performance from Dalhousie University where he studied with Doug Reach, Jeff Torbert, Scott MacMillan and Don Ross. Haig has toured across North America as a guitarist, scored for film and theatre, and appeared on several records and scores as both composer and session guitarist. He currently resides in Nova Scotia where he works as a performer, producer and teacher. His records Solo Guitar and Armenian Folk Music For Guitar are available now wherever you stream music.
Reviews:
Haig Beylerian's night of Armenian folk music was deeply captivating and richly emotive. With a clear mastery of the guitar, Haig led the audience on an amazing sonic journey that literally left many with wet eyes of appreciation. – Ben Brooks, The Riverport Inn
"Sometimes, the best music is the simplest. For Haig Beylerian's new album, the only sound you'll hear is that of a single guitar. The album is called Armenian Folk Music for Guitar, Volume 2. Haig says, 'The melodies on this album have been with me since I was very young. My mother sang them and so did our community…We watched orchestras bring tremendous life and beauty to them. They are indelibly linked to my Armenian experience.' Let's have a listen." – CBC's Big City Small World
Saturday, November 5th at 2:00 pm at the Lunenburg School of the Arts
6 Prince Street. $5 at the door (ages 4 and under free)
---
Musique Royale is a province-wide music presenter in Nova Scotia. Since its founding in 1985, Musique Royale has brought world class music to venues of architectural and historic significance across the province. Hear symphony orchestras and chorus' in beautiful churches and salon-style events, with children-friendly shows encompassing jazz, world, classical, and more. Also, from June to September our Summer Festival features early music in beautiful and historic venues across Nova Scotia. Whatever your appetite for music is, Musique Royale has something for everyone!