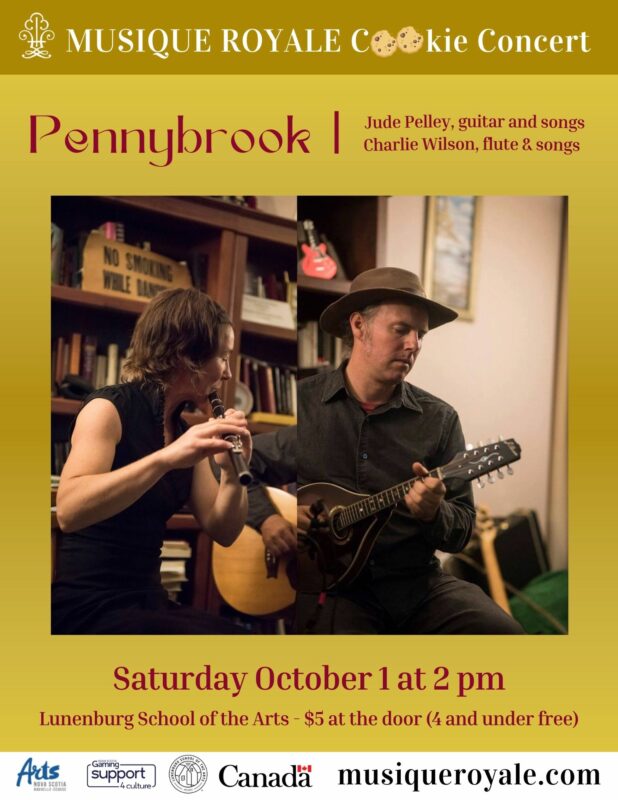 Musique Royale is delighted to welcome you to an afternoon of music on Saturday, October 1 at 2:00pm, to hear Pennybrook at our upcoming Cookie Concert. Jude Pelley and Charlie Wilson have been performing as the duo Pennybrook together for close to a decade. Jude Pelley plays fretted stringed instruments – guitar, bouzouki, mandolin, Appalachian dulcimer. Charlie Wilson plays wooden Irish flute. Their repertoire also includes songs with gorgeous harmonies.
Jude and Charlie have been working together on original material since the fall of 2010. During that time they have traveled across Canada many times, sharing their music in festivals and concerts in every province and in the Yukon Territory. They released The Edge of Waiting, their first full-length CD of original music in 2012; their second album, Row On, is due to be released later this year.
The acoustic duo Pennybrook plays music that is rich and atmospheric, grounded in and inspired by a love of Celtic music. Their compositions draw on both traditional and contemporary influences, with a unique sound that ranges from quietly contemplative to fiery celebration
About the artists:
Jude Pelley
Jude Pelley was born in Newfoundland and raised on Nova Scotia's South Shore. Inspired by his father, who played with seminal Canadian folk-rock group, Figgy Duff, Jude spent his formative years playing with Bridgewater's award-winning bluegrass band, Exit 13. Since then his musical adventures have included being a mainstay in Victoria's vibrant professional music scene for 5 years; criss-crossing the country usually by train or waste-vegetable oil fuelled vehicles; hosting an annual festival on his property; running a small-scale acoustic music recording and production studio, Alone Stone Productions (he produced Juno winner Amelia Curran's first two solo albums).
For the past 5 years he has composed music for a collaborative chamber music project. Lately Jude is involved in many musical projects – he plays in bluegrass and American old time music ensembles in the Annapolis Valley, and is one half of the Swedish music duo, Spruce Larks, with Halifax based nyckelharpa player Kirsty Money.
Charlie Wilson:
Hailing originally from the North West of England, Charlie Wilson found her way to traditional music by way of the Yukon and Alaska, where she first began playing flute in Irish music sessions and community barn dances. Based for the last decade or so on Nova Scotia's South Shore, Charlie draws inspiration from many sources in her own life. Living rurally, working as a builder, restoring an old violin and learning to play it, sailing for weeks at a time in a small, crowded, wooden boat, the constant sounds of the river at her doorstep – all is fodder for a musical imagination that uses traditional forms to create new music that feels and sounds old. In addition to her work with Pennybrook, Charlie has joined forces with Scottish fiddler, Eilidh Buchanan, to form a new ensemble called Cladach, now playing regularly in Lunenburg and Mahone Bay.
Admission is $5 at the door and ages 4 and under are free! Cookies are served following the performance. Cookie Concerts are Musique Royale's child friendly concert series which take place on the first Saturday of the month at 2 pm (from Oct-June) at the Lunenburg School of the Arts.
---
Musique Royale is a province-wide music presenter in Nova Scotia. Since its founding in 1985, Musique Royale has brought world class music to venues of architectural and historic significance across the province. Hear symphony orchestras and chorus' in beautiful churches and salon-style events, with children-friendly shows encompassing jazz, world, classical, and more. Also, from June to September our Summer Festival features early music in beautiful and historic venues across Nova Scotia. Whatever your appetite for music is, Musique Royale has something for everyone!
Musique Royale gratefully acknowledges the Federal Department of Canadian Heritage, Nova Scotia Department of Communities, Culture and Heritage, Arts Nova Scotia, Julia Smith – major season benefactor, Support4Culture, the Lloyd Carr Harris Foundation, the Lunenburg School of the Arts, Music Nova Scotia, anonymous contributors, corporate and individual sponsors, committed volunteers and all patrons for their kind and generous support of Musique Royale.
Along with adherence to Musique Royale's COVID-19 Prevention Plan, these additional rules will apply for this Cookie Concert:
The cookie concert will host no more than 72 people (50% of the venue's maximum capacity).
Masks are not required, but are encouraged. 
Please do not enter the School if you have tested positive for COVID-19, experiencing any COVID-19 symptoms, or if you have been in close contact with someone who has tested positive for COVID-19 within the past 10 days.