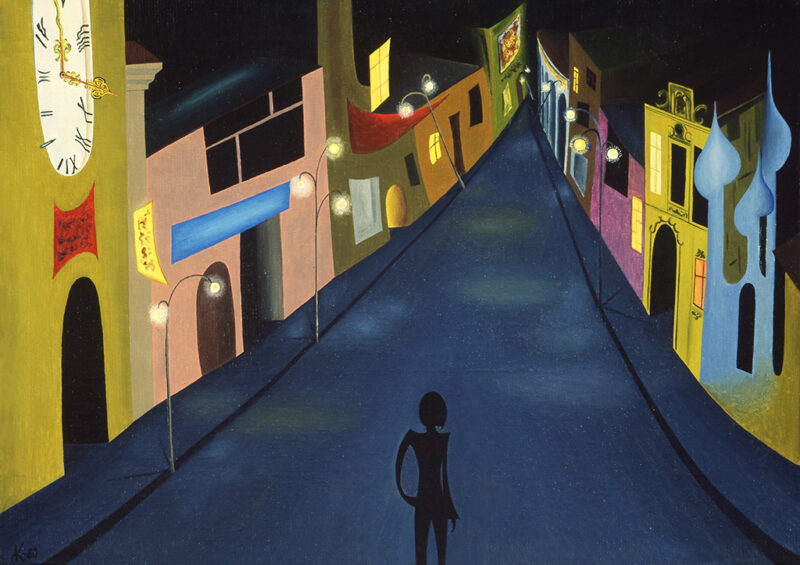 © Alex Kalamkarov, The Night Walk, 1980, Oil on Canvas, 70 x 50 cm
The Chase Gallery at Archives Nova Scotia is pleased to present a personal retrospective exhibition of Alex Kalamkarov. Over 200 oil and acrylic paintings on canvas, paintings on slate stones, and ceramics from 1975 to the present day will be shown.
In Mystery of Spirit, the artist reveals a beauty and a mystery of our world, of our imagination and fantasy.  In a collection of bright paintings on canvas and on slate stones with unexpected compositions, Alex presents faces, landscapes, and architectural objects – but human spirit is a major subject of his artistic work and is present in all his woks.
Show will be open from March 4 till March 29, 2023
Opening Receptions:
Saturday, March 4th: 1pm-2:30pm.
Wednesday, March 8th from 6pm-7:30pm
Saturday, March 25th from 1pm-2:30pm.
Gallery Hours:
Monday, Tuesday, Thursday, Friday: 8:30am to 4:30pm
Wednesday: 8:30am to 8:00pm
Saturday: 10:00am to 3:00pm
Free entrance.
For more information visit: