In light of recommendations from the Nova Scotia Chief Public Health Officer and the Province of Nova Scotia to limit the potential spread of COVID 19, the South Shore Chapter of the Nova Scotia Association of Architects has decided to postpone their lecture series hosted by the Lunenburg School of the Arts.  This postponement will include scheduled lectures for the months of March, April, May and June.  The postponed lectures will be rescheduled for the fall of 2020.  The South Shore Chapter of the Nova Scotia Association of Architects thanks the Lunenburg School of the Arts and the community for their attendance and support of the series.  We wish you all good health and look forward to seeing you in September.
Nova Scotia Association of Architects, South Shore Chapter /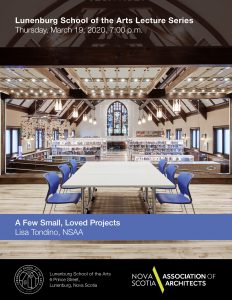 Lunenburg School of the Arts, Lecture Series 2020
Thursday, March 19, 2020, 7:00 p.m.
A Few Small, Loved Projects
Lisa Tondino, Houdinidesign Architects
Our firm will present the following loved projects and reveal the process that took place for each one: Kentville Library, Ritchie-Gidney Residence, Ice Lantern, Firefly Cottages, Unfold Furniture, and a Wine Display.
Typically, we begin with site visits, combined with discussions with our clients. The information obtained triggers responses that are both logical and intuitive. Lisa Tondino & Alexandra Bolen discuss these responses and through sketching, a driving idea "parti" emerges. The parti forms the basis for the project. Every piece of the design responds to the parti with aesthetic and functional coherence. We feel it is crucial for us to deeply understand the clients' needs and wishes. We also feel strongly that the design should belong in its place, and respond to its surroundings. Working together on design gives us the advantage of a deeper understanding. We each retain different details and bring them together when we design. We use sketching, drawing, and model making as tools to develop ideas, from the parti to details, and also to communicate with our clients. As the project develops, new information may emerge, or clients may adjust requirements. We embrace every challenge along the way and see them as opportunities that may open up a world of new ideas. We are houdinidesign Architects. We are passionate about architecture and design. We love each one of the projects we undertake, and our goal is for people to love living with them. 
BIO: Lisa Tondino, Houdinidesign Architects
Lisa Tondino is a practicing architect and painter in Annapolis Valley in Nova Scotia. Lisa graduated from Dalhousie School of Architecture in 1993 and worked in Canada and United States in architecture after graduation. She is the daughter and student of the late Gentile Tondino RCA, a Canadian educator and artist who lived and worked in Montreal, Quebec. Lisa taught drawing and design at Dalhousie University School of Architect for over ten years, and she also has taught at NSCADU.
Lisa runs the architecture firm houdinidesign ARCHITECTS and works with colleague Alexandra Bolen. They focus on residential and community-based projects and together have won the following awards:
2018 National Trust Ecclesiastical Award, Kentville Library              2018 Maritime Excellence Award, Kentville Library            2016 Winnipeg Warming Hut Competition, Ice Lantern
2015 Nova Scotia Lieutenant  Governor's Award  for Architecture, Unfold (furniture design)
2013 Nova Scotia Lieutenant  Governor's Award  for Architecture, Ritchie-Gidney Residence
2012 Ecology Action Centre Ideas Competition (proposed building)
Recently, Lisa completed the industry standard barrier-free training, the Rick Hansen Accessibility Certification. The firm is focused on projects that are accessible, inclusive and sustainable in the broadest senses, including environmentally responsible and culturally diverse.
---
The Lunenburg School of the Arts lecture and film series, in association with the Nova Scotia Association of Architects – South Shore Chapter, takes place the third Thursday of the month, September – June (some exceptions). Learn more about the NSAA here