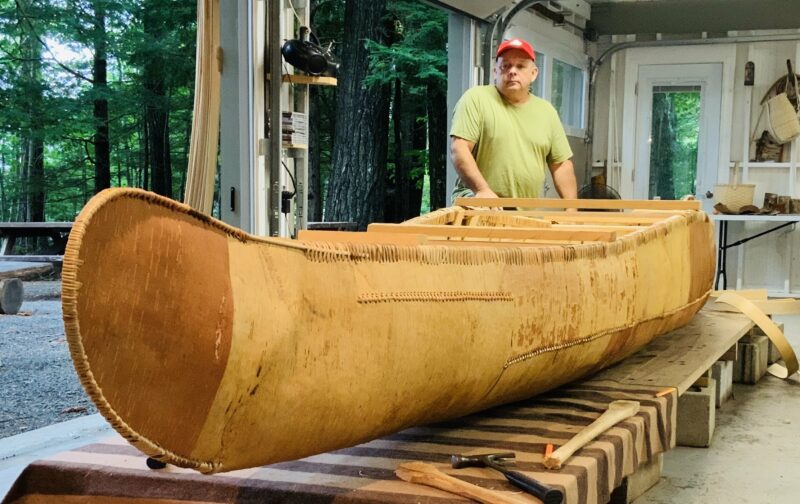 Todd Labrador to build a 16-foot Mi'kmaq birch bark canoe
this Fall at the Lunenburg School of the Arts
Please note the exhibit is closing early on Friday, September 24th at 1pm.
Visiting hours: 11am to 3pm, Monday to Fridays, September 7 – early October.
**Please note demonstrations will be closed on Thursday, September 30th to observe "Truth and Reconciliation Day"
September 7th the project will begin at 11am with a public cleansing ceremony.
Todd Labrador, a member of the Mi'kmaq Acadia First Nation, Kesputkwitk District, will be in residence at the Lunenburg School of the Arts (LSA) this Fall to build a 16-foot traditional Mi'kmaq birch bark canoe.
He is a knowledge holder and is currently the only practicing Mi'kmaw builder of birch bark canoes and is recognized for this rare skill. The canoe will be constructed over a period of 4-5 weeks beginning on Tuesday, September 7th, and our studio will be open to the public during the making of the canoe as an educational opportunity for the community. Todd has begun to harvest the materials, including various woods, roots and bark that he will use in building the canoe. "This is an exciting project that will enable our Town and the greater community to view this renowned Indigenous artisan at work," says Hon. Wilfred Moore, Volunteer Chair of our School.
About Todd Labrador (One Who Dances on Water) "Amalkat Sam'Quawnijtuk": Todd is an internationally known Mikmaq artisan/birch bark canoe builder whose art can be found throughout North America and Europe. Raised on the Wildcat reservation in Queen's County, Nova Scotia, he grew up surrounded by nature and hearing stories from his father Charlie who was the first chief of the Acadia First Nation. Charlie was closely connected to the land and was raised by his grandfather, Joe Jermey, who was a traditional birch bark canoe and basket maker. Todd creates art during the winter months and builds birch bark canoes during the summer months throughout the Maritimes. He enjoys spending time with family and friends sharing his knowledge and skills. He is forever thankful to all who has helped him throughout his journey.
If you would like more information about this topic please call the LSA's Operations Coordinator, Katie Hall, at (902) 640-2013 or email, katie@lunenburgarts.org. Schools are welcome to contact us to arrange for School group visits.