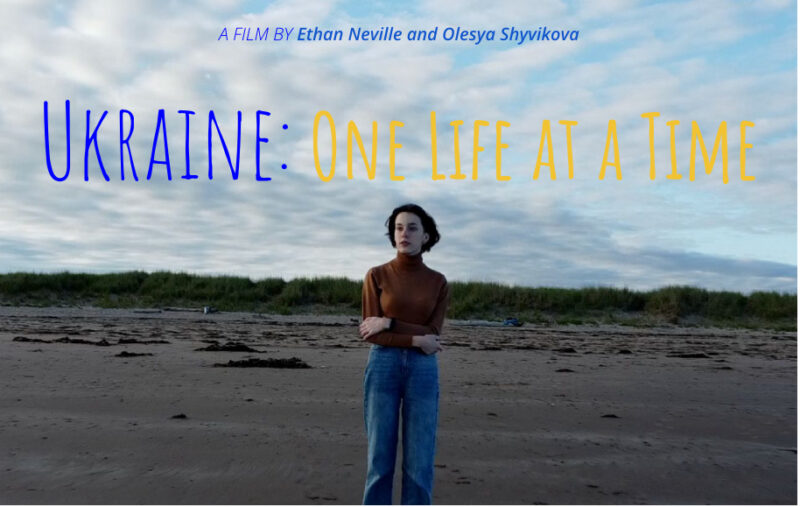 Join us on Wednesday, February 8th, at 7:00pm in the Ramp Studio at 6 Prince Street for a screening of the documentary Ukraine: One Life At a Time. 
The event is free and open to all, though donations will be accepted by the directors for Threads of Humanity. "Threads of Humanity is a collaboration of artists, journalists, human rights lawyers and human rights activists. We are raising funds to make a documentary about the war crimes in Ukraine to use it as a tool to start legal actions on Canadian soil of investigating the war crimes and escalating it to the Supreme Court of Canada."
About the film:
Stricken by the pain of war in her home country, a Ukrainian Canadian filmmaker sought solace telling the stories of lives it shattered.
Meet families from Kyiv, Mariupol and Bucha, and the horrors they experienced on their journey to safety in Canada.
With breathtaking scenic shots from pre-war Ukraine and exclusive footage of war-torn cities and towns, Ukraine: One Life At a Time provides a heart-wrenching view of the conflict.
About the Directors:
Olesya Shyvikova and Ethan Neville are filmmaking partners and old friends. When the war in Ukraine started in February 2022, Olesya was in a lot of pain. Ethan pushed her out of her comfort zone to make a film about the war, her own reflections on it and the Ukrainian refugees coming to Canada. It was a life changing experience for both of them.
Olesya Shyvikova is a Ukrainian Canadian journalist and filmmaker. She has a special passion for documentaries, telling stories of the small marginalized communities, addressing the themes of justice, transformation, healing and lately war.
Ethan Alexander Neville is a father of two wonderful kids. Eternal Meditation Explorer. Multimedia Artist. Photographer and Filmmaker. Mindfulness Householder. Creative domestic yogi. Sacred Clown. Guitar "noodler". The Carrier of the Stone.