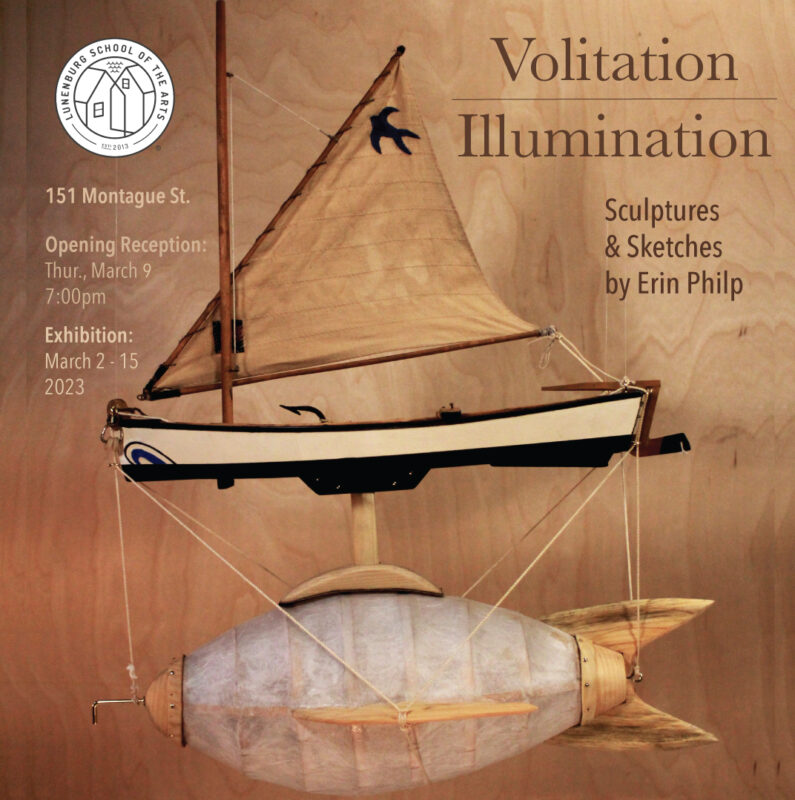 Please join us on Thursday, March 9th at 7:00pm in the gallery at 151 Montague Street for the opening of Volitation/Illumination: Sculptures & Sketches by Erin Philp.
Volitation/Illumination brings together two areas of deep inspiration for Erin Philp into one playful experience. Obsessed with flights of imaginative fancy, Erin has long been creating alternative worlds through her illustrations and creations. By combining disparate elements, like ships and the sky, she seeks to spark enjoyment and wonder at the unexpected. Similarly, light and lighting, has the power to shape our experience of a space. As a candle draws us in, light is a source of awe and connection. By combining the emotive experience of light with familiar and fantastical shapes, the essence of a space can be magically transformed.
"At the heart of much of my work is a desire to explore and combine, with child-like wonder, the real and the surreal, the fantastical with the everyday. I love how when you experience something magical it can seep into your perception of the world, allowing you to open your eyes to the magic that surrounds us everyday." 
Erin Philp is a local South Shore artist, woodworker and shipwright. While she holds both a B.A. from the University of Toronto and her Journeyman's papers in cabinetry, her true passion is for all things nautical. Much of her work revolves around playful reinterpretations of nautical themes that draw on her love of sailing and maritime history, as well as the natural beauty of the local coastal landscape. She has worked restoring wooden boats from the Pacific to the Atlantic, and spent her youth sailing throughout the Great Lakes. Her love of history and tradition have inspired a deep passion and reverence for heritage skills, tools and methodology. At the same time, she is always open to innovating and venturing off the beaten path. The concepts of play, levity and courage are integral to her work. Her most recent piece 'High Tide' can be viewed as public art on the Dynamite Trail just outside Mahone Bay at the Narrows Basin Bridge.
Exhibition: March 2nd – 28th, 2023
Our gallery at 151 Montague Street will be open to visitors, Monday to Friday, 10:00am – 4:00pm, by chance or appointment.
Opening Reception: Thursday, March 9th at 7:00pm
Join us in the gallery to hear from and meet Erin, followed by a reception.