Artist Talk with Katie Belcher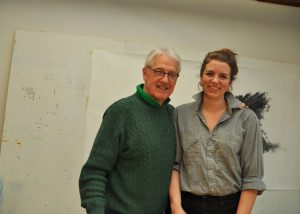 Join us at the LSA for an artist talk with Katie Belcher, our current artist in residence, on Thursday, April 2 at 7pm.
Bio:
Katie Belcher is a visual artist based in Halifax, Nova Scotia. Originally from Ottawa, Katie completed a Bachelor of Fine Arts at the Nova Scotia College of Art and Design, 2007, and has since called Nova Scotia home. Katie's drawings have been exhibited nationally and internationally. She has participated in artist residencies in Canada and Europe, most notably completing a Canada Council for the Arts studio residency at the Cité Internationale des arts (Paris, France, 2012). Katie is currently the Executive Director of Eyelevel Gallery, an artist-run centre in Halifax.
Description of current practice:
While at the Lunenburg School of the Arts, Katie is working on a drawing project that investigates the physical gesture of an unfamiliar historical process. During a residency in rural France in 2013, Katie received a pheasant as drawing subject. She plucked the bird, documenting the awkwardness with which she enacted this formerly common activity. Katie describes the project that has unfolded, "In investigative drawings, I mimicked the tension I'd felt while pulling away feathers from flesh. This methodology of reciting a performed process through drawing has formed the basis of my work for the past two years. Faisant as a project aims to merge the approach—faisant/doing—with the subject matter—faisan/pheasant".
Alternating between charcoal, graphite and eraser, she repeats the gestures from the plucking process directly onto the drawing surface. The result is representational only in so far as the gesture itself references the physical subject—feathers.  Katie "Reenacting the various gestures involved in the plucking was an earnest attempt to become more familiar with the process. Physically recollecting my gesture—which was performed without instruction—not only mocks my inexpert hand, but also reinforces any mistakes through repetition and exaggeration."