Chapel Choir… Unrobed!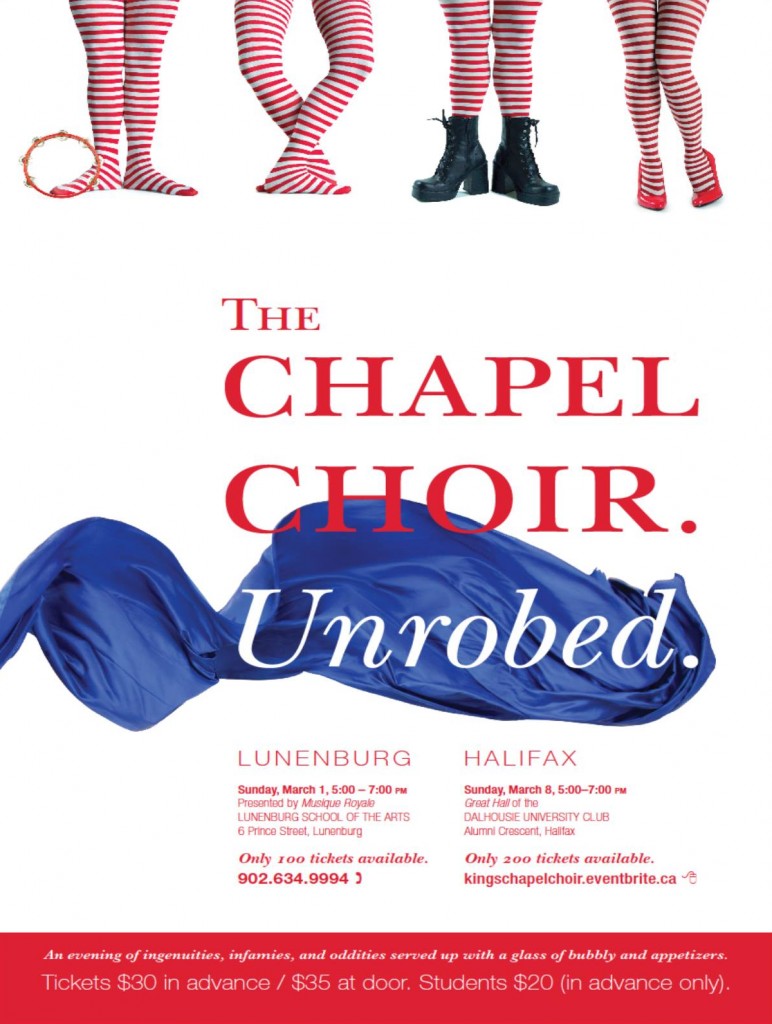 Musique Royale presents Chapel Choir… Unrobed! at the Lunenburg School of the Arts. Showcasing the hidden talents of the choristers of the University of King's College Chapel Choir: An evening of ingenuities, infamies, and oddities served up with a glass of bubbly and appetizers.
Corner of Prince & Montague, Lunenburg on Sunday, March 1, 5pm to 7pm. Tickets are $30 (advance) and can be purchased at Shop on the Corner or by leaving a message at the Musique Royale Box Office at 902-634-9994. Tickets will also be available at the door at $35.
Let us know you're coming by joining the Facebook event.
About the Chapel Choir:
The University of King's College Chapel Choir is gaining a reputation under director Paul Halley as one of Canada's leading vocal ensembles and its performances are frequently broadcast nationally on CBC Radio 2. The choir comprises 24 choristers from the King's College and Dalhousie University communities in Halifax, Nova Scotia. The choir's primary function is to sing at the weekly services in the King's College Chapel, as well as other major services throughout the academic year. The choir is well-known for its annual King's at the Cathedral concert series and also includes touring and recording among its activities. The choir's CD, Let Us Keep the Feast: Music for the Church Year, was released in December 2013 to launch the university's 225th anniversary year.
About Musique Royale:
A province wide celebration of Nova Scotia's musical heritage since 1985, Musique Royale brings performances of early, traditional and world music to settings of historic and cultural significance throughout the province. For its thirtieth anniversary summer season, Musique Royale will bring events to over 20 communities in the province. Events are presented year round on the south shore. These include major choral performances with King's College Chapel Choir and Cappella Regalis, a series of salon events at Cecilia's Retreat in Mahone Bay and 'Cookie Concerts' at the Lunenburg School of the Arts. Symphony Nova Scotia is also presented by Musique Royale in the beautiful, historic setting at St. John's Anglican Church in Lunenburg.
Acknowledgements:
Musique Royale gratefully acknowledges the Federal Department of Canadian Heritage, the Nova Scotia Department of Communities, Culture and Heritage, Arts Nova Scotia, Peggy Corkum – major season benefactor, the Lloyd Carr Harris Foundation, anonymous contributors, corporate and individual sponsors, committed volunteers and all patrons for their kind and generous support of Musique Royale.
Information:
Artistic & Managing Director
Barbara Butler | (902) 624-0506 | barbara.butler@ns.sympatico.ca
Box Office & General Enquiries:
Ruth McConnell | (902) 634-9994 | musiqueroyale1985@gmail.com