Cookie Concert
MUSIQUE ROYALE 'Cookie Concert' at Lunenburg School of the Arts.
JUNCO
Glenn Patscha, piano/vocals; Colin Nealis, bass; Geoff Arsenault, drums.
Saturday, March 2, 2019 at 2:00 p.m.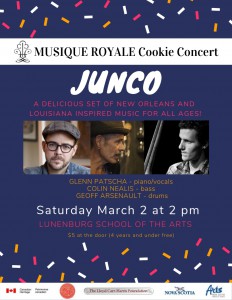 Pianist Glenn Patscha and Drummer Geoff Arsenault reconvene with bassist Colin Nealis for another Junco Trio groove get together. They will be serving up a delicious set of New Orleans and Louisiana inspired music that will please all ages. The fellas will take some time to talk about the functions of their instruments in a rhythm section and some basic ideas of New Orleans music. Education alongside simmering grooves and good times!
$5 at the door (4 years and under free)