Cookie Concert: Musique Royale presents Celtic Mass for the Sea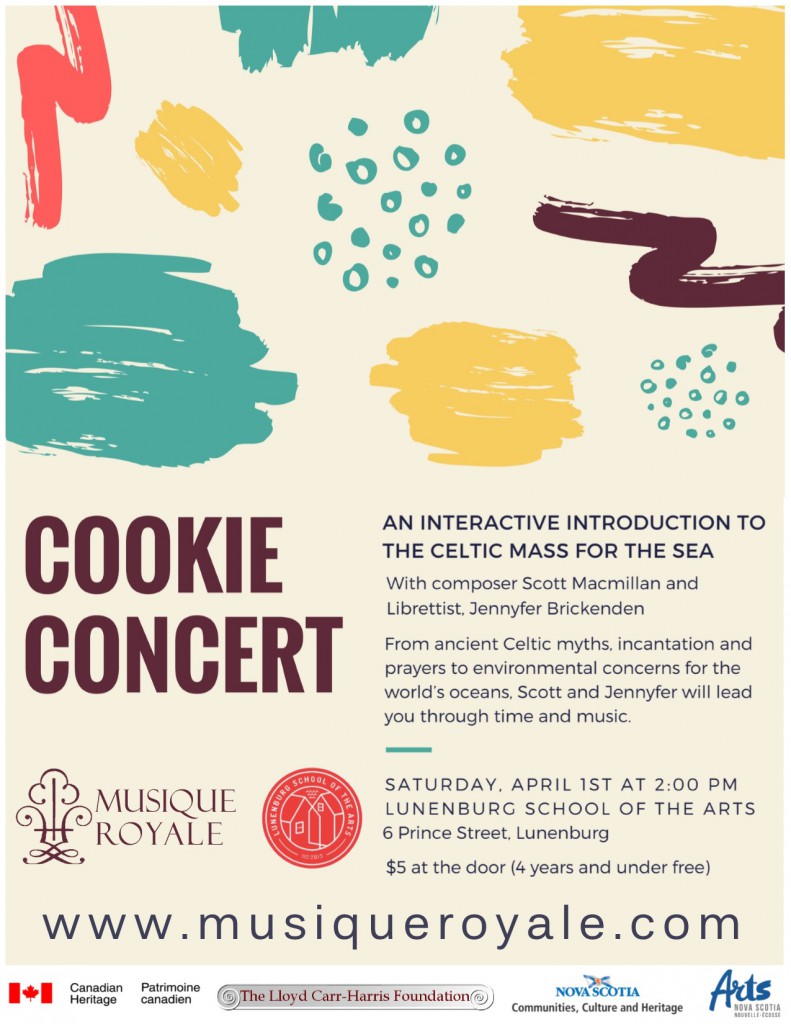 Saturday, April 1 at 2pm
$5 (free for toddlers 4 yrs or under)
Musique Royale's next Cookie Concert takes place this coming Saturday, April 1 at 2 pm at the Lunenburg School of the Arts (corner Montague and Prince). We invite you to join us for an interactive introduction to the Celtic Mass for the Sea with Celtic Classical Composer, Scott Macmillan and Librettist, Jennyfer Brickenden. The music bases its themes on traditional Celtic rowing songs, sea-rapture songs, labour songs, funeral chants, pipe and fiddle tunes, as well as many original themes by Scott Macmillan. We will also be joined by a chorus of singers who will participate in a performance of the Celtic Mass on July 2, part of a weekend celebration in Lunenburg for Canada's 150th birthday. On Saturday Scott and Jennyfer will lead us through time and music as we experience the lyrical magic of ancient celtic verses and a shared respect for the oceans around us.
$5 at the door (4 years old and under free). Our volunteers make wonderful cookies and have hidden some chocolate Easter eggs for the children… maybe you can find them scattered about the room!
Cookie Concerts – combining originality, fun and engaging musical and artistic presentations – are designed for the whole family to enjoy. Admission to the performance is $5 at the door (free for toddlers). Admission also includes a time to socialize with artists and friends as you enjoy the unique atmosphere in one of Lunenburg's newest artistic spaces….and a freshly baked cookie! Advance reservations can also be made by calling the Musique Royale Box Office at 902-634-9994.
About Musique Royale:
A province wide celebration of Nova Scotia's musical heritage since 1985, Musique Royale brings perfor- mances of early, traditional and world music to settings of historic and cultural significance throughout the province. Events are presented year round on the south shore. These include major choral performances with King's College Chapel Choir and Capella Regalis, a series of salon events at Cecilia's Retreat in Mahone Bay and 'Cookie Concerts' at the Lunenburg School of the Arts. Symphony Nova Scotia is also presented by Musique Royale in the beautiful, historic setting at St. John's Anglican Church in Lunenburg.
www.musiqueroyale.com
Acknowledgements:
Musique Royale gratefully acknowledges the Federal Department of Canadian Heritage, the Nova Scotia De- partment of Communities, Culture and Heritage, Arts Nova Scotia, the Lunenburg School of the Arts, Peggy Corkum – major season benefactor, the Lloyd Carr Harris Foundation, the Craig Foundation, anonymous con- tributors, corporate and individual sponsors, committed volunteers and all patrons for their kind and generous support of Musique Royale.
Information:
Administrative Assistant:
Maureen Brown (902) 634-9994 | musiqueroyale1985@gmail.com
Artistic & Managing Director:
Barbara Butler | (902) 624-0506 | barbara.butler@ns.sympatico.ca
Education Coordinator:
Erin Donovan | erin@stonehousesound.com