Cookie Concert: Musique Royale presents Max Kasper & Colin Matthews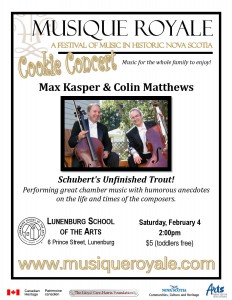 Saturday, February 4th at 2pm
$5 (free for toddlers)
Musique Royale 'cookie concerts' continue with Schubert's The Unfinished Trout! Max Kasper and Colin Matthews perform great chamber music with humorous anecdotes on the life and times of the composers.
Colin Matthews and Max Kasper first met over 25 years ago while both were students in the National Youth Orchestra of Canada. After a decade of playing in different parts of the country Colin and Max found themselves living in Halifax where they started reading duets for fun. These readings evolved into being more serious once both musicians discovered the potential of this combination. Their debut concert was at Bearlys House of Blues and Ribs. Since then Max and Colin have played in many places around the province, including the Octagon, the Lillian Piercy Concert Hall and the Music Room. They have completed their first CD: "Duets for Cello and Bass", and future plans for the ensemble include a music video as well as a second CD featuring contemporary art music written specifically for them.
Cookie concerts – combining originality, fun and engaging musical and artistic presentations – are designed for the whole family to enjoy. Admission to the performance is $5 at the door (free for toddlers). Admission also includes a time to socialize with artists and friends as you enjoy the unique atmosphere in one of Lunenburg's newest artistic spaces…. and a freshly baked cookie! Advance reservations can also be made by calling the Musique Royale Box Office at 902-634-9994.
About Musique Royale:
A province wide celebration of Nova Scotia's musical heritage since 1985, Musique Royale brings perfor- mances of early, traditional and world music to settings of historic and cultural significance throughout the province. Events are presented year round on the south shore. These include major choral performances with King's College Chapel Choir and Capella Regalis, a series of salon events at Cecilia's Retreat in Mahone Bay and 'Cookie Concerts' at the Lunenburg School of the Arts. Symphony Nova Scotia is also presented by Musique Royale in the beautiful, historic setting at St. John's Anglican Church in Lunenburg.
www.musiqueroyale.com
Acknowledgements:
Musique Royale gratefully acknowledges the Federal Department of Canadian Heritage, the Nova Scotia De- partment of Communities, Culture and Heritage, Arts Nova Scotia, the Lunenburg School of the Arts, Peggy Corkum – major season benefactor, the Lloyd Carr Harris Foundation, the Craig Foundation, anonymous con- tributors, corporate and individual sponsors, committed volunteers and all patrons for their kind and generous support of Musique Royale.
Information:
Administrative Assistant:
Maureen Brown (902) 634-9994 | musiqueroyale1985@gmail.com
Artistic & Managing Director:
Barbara Butler | (902) 624-0506 | barbara.butler@ns.sympatico.ca
Education Coordinator:
Erin Donovan | erin@stonehousesound.com