Cookie Concert: Musique Royale presents Movement and Percussion with Sara and Erin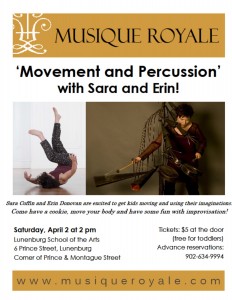 Saturday, April 2 at 2pm
$5 (free for toddlers)
Movement and Percussion with Sara Coffin and Erin Donovan is the theme of the next 'cookie concert' at the Lunenburg School of the Arts on Saturday, April 2 at 2 pm. Sara and Erin are excited to get kids moving, improvising and using their imaginations for this unique event. Come have a cookie, move your body and have some fun with improvisation.
Mahone Bay percussionist, pianist and composer Erin Donovan presents multi-media events for alternative spaces with her organization, 'Hear Here Productions'. Her new production premiering in Shelburne next November is a partnership with Mocean Dance entitled Burnwater: Alchemy. Erin loves to collaborate with dance and she has performed as a freelance percussionist with Symphony Nova Scotia, the Calgary Philharmonic, the Canadian Opera Company, The Banff Centre, Evergreen Club Gamelan and many other ensembles. Erin lives in Mahone Bay, Nova Scotia. She is thrilled to be joining forces with Sara Coffin for this Cookie Concert!
Halifax-based dance artist, Sara Coffin is the Co-Artistic Director of Mocean Dance and an experience dance educator who teaches in a variety of educational settings from the studio, community residencies, to academic settings. Both in her choreographic work and as a dance teacher, her interest lies in cultivating potential through open-ended propositions, games, and creative frameworks. Sara draws on the Laban Body, Effort, Shape, and Space framework to share the language of dance with her students and promote dancing from the inside out derived from a conceptual framework. She has worked with many prominent dance artists and multi-disciplinary collaborators in Vancouver, Halifax, and Northampton, MA and she has choreographed over thirty dance works that have been presented publicly in many prominent dance festivals across Canada. Sara is thrilled to be invited to Musique Royale's Cookie Concert and work creatively with Erin Donovan.
About Musique Royale:
A province wide celebration of Nova Scotia's musical heritage since 1985, Musique Royale brings performances of early, traditional and world music to settings of historic and cultural significance throughout the province. For its thirtieth anniversary summer season, Musique Royale will bring events to over 20 communities in the province. Events are presented year round on the south shore. These include major choral performances with King's College Chapel Choir and Cappella Regalis, a series of salon events at Cecilia's Retreat in Mahone Bay and 'Cookie Concerts' at the Lunenburg School of the Arts. Symphony Nova Scotia is also presented by Musique Royale in the beautiful, historic setting at St. John's Anglican Church in Lunenburg. www.musiqueroyale.com
Acknowledgements:
Musique Royale gratefully acknowledges the Federal Department of Canadian Heritage, the Nova Scotia Department of Communities, Culture and Heritage, Arts Nova Scotia, Peggy Corkum – major season benefactor, the Lloyd Carr Harris Foundation, anonymous contributors, corporate and individual sponsors, committed volunteers and all patrons for their kind and generous support of Musique Royale.
Information:
Artistic & Managing Director
Barbara Butler | (902) 624-0506 | barbara.butler@ns.sympatico.ca
Box Office & General Enquiries:
Ruth McConnell | (902) 634-9994 | musiqueroyale1985@gmail.com