"Director's Cut" Film Night : The Disappeared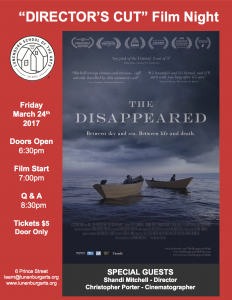 "Director's Cut" Film Night : The Disappeared
Special Guests:
Shandi Mitchell, Director
&
Christopher Porter, Cinematographer
Friday, March 24, at 6:30 pm at the Lunenburg School of the Arts
6 Prince Street, Lunenburg, NS
The Lunenburg School of the Arts invites you to join us for an evening of Film!
We have the honour of hosting Director, Shandi Mitchell and Cinematographer, Christopher Porter who will be presenting a special screening of their film  The Disappeared.
The Disappeared is a feature film (1.5 hrs) about six men lost at sea, fighting for their lives on the beautiful but unrelenting Atlantic Ocean.
Come join us for this special opportunity to see the Film and join us afterward for a Q&A with Shandi and Christopher.
Watch the Film Trailer here:

*Please be advised that the film has some cursing and foul language*