A Full Summer of Courses to Open the Lunenburg School of the Arts in July
While buried in snow, the Lunenburg School of the Arts is pleased to announce its summer 2015 program and instructors. Courses begin the first week of July and run through August.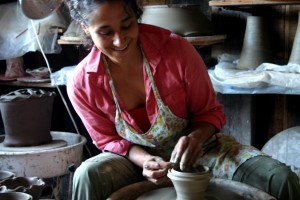 The School's headquarters, located at 6 Prince Street, was originally built to house Lunenburg Motors in 1933. The repair and paint shops were on the 2nd level, hence the building's curvy interior wooden ramp, originally used to drive vehicles up and down. The East Bay, facing Montague Street, was originally the two storey site of A. Dauphinee and Sons, makers of ships' blocks, deadeyes and oars, and now houses an artist studio and gallery. After Lunenburg Motors' closing, the building had several more incarnations before being renovated in 2014 to house the Lunenburg School of the Arts.
"We kept the building's character and atmosphere while creating as many open multi-purpose creative spaces as possible," says Senator Wilfred Moore who volunteers as Chair of the Board. "We are pleased with how the space has already been used this winter by the community for performances and events. While many courses will be offered from this facility, the Town of Lunenburg is really our campus."
Our first summer program boasts a line-up of top-tier instructors. This group showcases a host of renowned artists and teachers who are attracted to Lunenburg, including some who are long-time and recent residents of the Town.
Joan Bruneau has studied, taught and exhibited internationally while operating Nova Terra Cotta Studio in Lunenburg for the past 20 years. Joan will be leading a ceramics workshop, Shape and Surface Inspired by Lunenburg.
Fellow potter and NSCAD University graduate, Adero Willard, will be returning to Canada from Maine, where she resides, to teach Colour, Layer, Pattern in ceramics surface.
Stephen Bishop, award winning designer and native of Mt. Pearl, Newfoundland, moved to Lunenburg 4 years ago to set up HelloDaylight Design Studio. Stephen will be teaching Intro to Screenprinting.
Tom Forrestall, former student of the late Alex Colville and member of the Order of Canada, will be teaching The Art of Egg Tempera Painting.
Roger Mullin, Assistant Professor of Architecture at Dalhousie University, leads the workshop, Building a Drawing, which explores drawing the buildings of Lunenburg.
Other courses include jewellery, textile printing, and printmaking. Courses are geared for the novice and the professional alike.
"We are excited to offer this first array of workshops which have been purposely designed to celebrate the Town of Lunenburg," says Doug Bamford, Lunenburg School of the Arts programs director."
Full details of summer 2015 offerings can be found on the Programs page or call 902-640-2013.