Hangama Amiri Receives Fulbright Award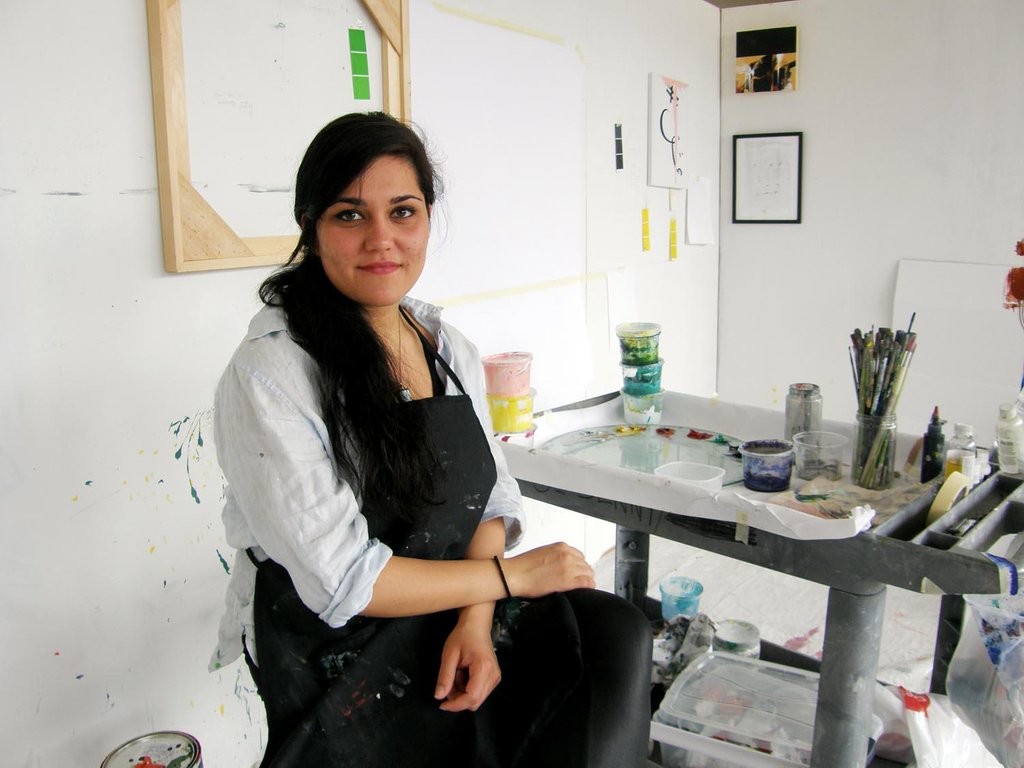 Hangama Amiri, an Afghan-Canadian artist whose art practice addresses issues of gender equality, sexual oppression, and culture through personal and sociopolitical lives of women in Central and East Asian countries, has been awarded a prestigious Fulbright Canada student grant to conduct research and study at Yale University during the 2015-2016 academic year. Her project is entitled "Women, War and Afghan Heroines".
Hangama graduated from the Nova Scotia College of Art and Design University in 2012 (B.F.A., Major in Fine Arts). Her graduation works were paintings on Afghan-feminism entitled "The Wind- Up Dolls of Kabul". Those pieces were exhibited in 2013 at Unit 24 Gallery, located next to the Tate Modern in London, in the 5th Passion for Freedom Festival. This resulted in an interview with the BBC and 'The Spectator'. Hangama's collaborative video with her sister, Fazila, a NSCAD filmmaker grad, "Dome of Secret Desires" was shortlisted at the 7th International Arte Laguna Prize 2013 in Venice, Italy. Hangama was a resident artist in the NSCAD – Lunenburg Residence Studios Program in 2012-2013, where she had the opportunity to enhance her medium of painting. Hangama was the 2013 winner of the Portia White Protégé Award. During 2013-2014 Hangama had her own studio in Lunenburg, Nova Scotia, where she also received mentorship at the Lunenburg School of the Arts. Her recent collaborative video art "My Motherland" was exhibited as part of the Inaugural Film Series at Aga Khan Museum in Toronto in 2015, as well as at Reel Women Hong Kong Festival 2015. Currently she is a contender in the RBC's Canadian Painting Competition 2015, which highlights 15 of Canada's finest young artists. Hangama's independent research is based on examining Women's gender and bodies in Central and East Asian countries and their social roles in politics, arts, and religion.
Lunenburg School of the Arts offers workshops led by professional art educators and working artists. Small and intimate class sizes allow students to work closely with instructors and each other. We offer courses in a wide variety of mediums. Our programs encourage exploration, discovery and development of skills and ideas. We are located in the heart of Lunenburg, a UNESCO World Heritage site. The Town of Lunenburg is our Campus.
Fulbright is a world-renowned program of highly competitive, merit-based grants and scholarships for academic exchange. The program, founded in 1946 by United States Senator J. William Fulbright, has supported some 325,000 students, scholars, teachers, professionals, scientists and artists. The Fulbright Program, which operates in some 155 countries and is one of the world's most prestigious academic honours, is specifically aimed at promoting mutual understanding and supporting excellence.
Fulbright Canada is sponsored by the United States Department of State and the Canadian Department of Foreign Affairs, Trade and Development. It is a bi-national, treaty-based, non-governmental, not-for-profit organization, governed by an independent board of directors, charged with identifying and supporting the very best and brightest in Canada and the United States.
Fulbright Canada is celebrating 25 years of promoting academic excellence and mutual understanding. The theme for Fulbright Canada's silver anniversary, expanding the boundaries of human knowledge, is reflective of the program's mission and commitment. Fulbright Canada is proud of its alumni, who have made significant contributions to economic, social, and political life in both countries.