June's 'Cookie Concert' at St. John's Anglican Church
For Musique Royale's last 'Cookie Concert' before its summer break, pianist Julien LeBlanc performs Arabesques and Pantomimes. This includes Children's Corner by Debussy, which tells a musical tale of a young child with an insatiable imagination who longs to play piano. Afterwards, coquettish pantomimes tell stories involving the timeless Commedia dell'Arte characters including Pierrot, Harlequin, Columbine and Pulcinella by a collection of composers, interpreted by LeBlanc on piano. Attending in costume is definitely welcome!
June's 'Cookie Concert' will be held at St. John's Anglican Church in Lunenburg on Saturday, June 1 at 2 pm. This is a departure from our usual venue at the Lunenburg School of the Arts and allows us to take advantage of St. John's beautiful Yamaha grand piano. Admission is the same at $5 (free admission for ages 4 and under), and always cookie treats at the end.
About Julien LeBlanc
A virtuoso whose enthusiasm is genuinely contagious, Canadian pianist Julien LeBlanc is renowned for his great musical sensibility and his talent as a communicator. Based in Montreal, Julien is a well sought- after soloist,
chamber player and accompanist. In 2015, he launched his first solo album "Mélancolies"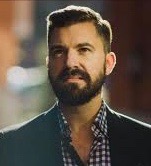 which is dedicated a program of works by Dutilleux, Franck and Poulenc. The album wasreally well received: "LeBlanc proved a more than able interpreter, playing with warmth,clarity and flowing lyricism, all with a natural rhythmic sense." (Ruthland Herald) . "He handles every twist and turn with brio, his phrasing is analytical, and his brilliant technique puts him in a class of his own….His interpretation is always true, played with care, and packed with warmth." (La Scena Musicale) He has also recorded two albums as a member of Trio Arkaède.
Since 2012, Julien has been acting as co-artistic director of the summer concert series Barachois Summer Music in New-Brunswick. He has taken part in many concert tours across Canada with violinist Marc Djokic as well as soprano Miriam Khalil and Mezzo Lauren Segal for Jeunesses Musicales du Canada and Debut Atlantic. He is a part-time teacher at the University of Ottawa and works as a vocal coach and accompanist both at McGill University and Université de Montréal. He has given master classes in several universities across Canada and his frequently asked to sit on juries for music competitions. Julien LeBlanc is presently acting as Chair of the Board of Directors for Debut Atlantic.
Cookie Concerts are hour long presentations incorporating music with other artistic creativity, for the whole family to enjoy! Come out the first Saturday of each month from October-June, always 2 pm at the Lunenburg School of the Arts.
$5 at the door (4 years and under free). musiqueroyale.com