Lecture Series: The Roof Over Our Head…
Nova Scotia Association of Architects, South Shore Chapter / Lunenburg School of the Arts, Lecture Series 2019 with Bill Unger.
Thursday, June 20, 2019, 7:00 p.m.
ABSTRACT
The Roof Over Our Head – How We Participate in the Design of Our Homes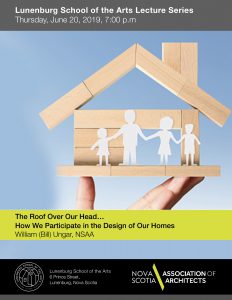 Shelter is something fundamental that we all need, but the place we call home is unique. There are many ways in which we are involved in the design of our homes. Ways that are expressed not only in the physical, but perhaps more importantly, in the abstract and personal. Bill's presentation will examine how we participate to express ourselves in our homes – from working with design professionals, to going it alone, to our enthusiasm for home improvement shows and the final reveal.
BIO
Bill Ungar graduated from the University of Waterloo, School of Architecture in 1983. Upon graduation he moved to Halifax and began working with G.F. Duffus & Company, a general practice firm with a specialty in heritage preservation and adaptive reuse.
In 1992 Bill moved to Ontario where he took on the role of Cooperative Education Coordinator at this alma mater, the University of Waterloo. This put him in contact with architectural practices and practitioners across the country and introduced him to students and graduates finding their way in the profession.
Bill returned to Nova Scotia in 1997 and worked with the design-build group at J.W. Lindsay Construction. In 2001 he joined the Nova Scotia Department of Public Works (now the Department of Transportation & Infrastructure Renewal). In 2005, he moved to the Department of Justice as their Manager of Capital Construction; a role he retired from in April 2019.
Bill has an interest in cultural history, particularly the context of popular culture that influences people and domestic architecture.
He is a registered member of the Nova Scotia Association of Architects and lives with his wife, Susan, in Marriotts Cove.