Musique Royale Cookie Concerts 2020
In light of recommendations from the Nova Scotia Chief Public Health Officer and the Province of Nova Scotia to limit the potential spread of COVID 19, Musique Royale has decided to their upcoming April 4, Cookie Concert hosted by the Lunenburg School of the Arts.  
Musique Royale is a prolific, province-wide presenter of music in Nova Scotia. Since its founding in 1985, this non-for-profit has brought world class music to venues of  architectural and historic significance across the province.  Presenting Symphony Orchestras and Chorus' in beautiful churches to salon-style events, and children-friendly shows encompassing jazz, world, classical, and more.  Whatever your appetite for music is, Musique Royale has something for everyone!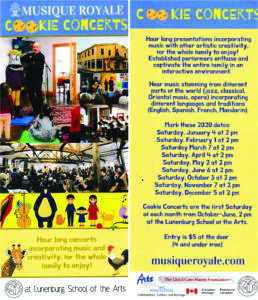 Above: Full list of the Musique Royale Cookie Concerts 2020. Details of each event will be posted on our website and social media in the month prior to each concert.
Click image to expand