Musique Royale presents Celtic Trio Stacy Chadwell, Mary Knickle and Cynthia Myers
Cookie Concert
Saturday, April 4 at 2pm
$5 (free for toddlers)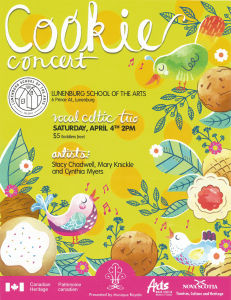 The next Musique Royale 'cookie concert' at the Lunenburg School of the Arts features a new Celtic trio. So new they are still looking for a name. Stacy Chadwell, Mary Knickle and Cynthia Myers will entertain you with their funny songs that pack a celtic punch, all in three part harmony. Included are children's favourites as well as audience participation.
The event will take place at the Lunenburg School of the Arts, 6 Prince Street (corner Montague and Prince), on Saturday, April 4 at 2 pm. Admission to the performance is $5 at the door (free for toddlers). Admission also includes a time to socialize with artists and friends as you enjoy the unique atmosphere in one of Lunenburg's newest artistic spaces…. and a freshly baked cookie! Advance reservations can also be made by calling the Musique Royale Box Office at 902-634-9994.
Cookie concerts – combining originality, fun and engaging musical and artistic presentations – are designed for the whole family to enjoy.
About the musicians:
Stacy Chadwell, a Nova Scotia newbie, is a vocalist and pianist originally from St. Louis, Missouri. She brings her classical training to each performance, with a background in opera fueling a love for foreign, cultured music. From the Bal-musette of France – to Portugal's Fado – to Norse minimalism – this wide variety of genres combine for a stunning repertoire sure to delight.
Mary Knickle (Singer, actor, composer) has performed on stage in folk venues, theatres and folk festivals across Canada. Recently she has found a new passion in composing large works. Her opera Morgan Le Fay received a rave review in Opera Canada Magasine, and her Seafarers' Requiem received national coverage on CBC radio. She is currently working on a new Opera and several choral works.
Cynthia Myers (Vocalist/Actor/Writer) has performed as a musical theatre actress on stages and in clubs with various jazz combos in both Canada and the U.S. Cynthia is a five time veteran of the fringe festival having worked both in the Victoria and the Seattle festivals. When not on stage with Swingology, the Cynthetics or Jazzette, Cynthia is writing musicals for children, and developing curriculum for the Chester Playhouse After School Program. She has been an educator for the past 20 years.
About Musique Royale:
A province wide celebration of Nova Scotia's musical heritage since 1985, Musique Royale brings performances of early, traditional and world music to settings of historic and cultural significance throughout the province. For its thirtieth anniversary summer season, Musique Royale will bring events to over 20 communities in the province. Events are presented year round on the south shore. These include major choral performances with King's College Chapel Choir and Cappella Regalis, a series of salon events at Cecilia's Retreat in Mahone Bay and 'Cookie Concerts' at the Lunenburg School of the Arts. Symphony Nova Scotia is also presented by Musique Royale in the beautiful, historic setting at St. John's Anglican Church in Lunenburg. www.musiqueroyale.com
Acknowledgements:
Musique Royale gratefully acknowledges the Federal Department of Canadian Heritage, the Nova Scotia Department of Communities, Culture and Heritage, Arts Nova Scotia, Peggy Corkum – major season benefactor, the Lloyd Carr Harris Foundation, anonymous contributors, corporate and individual sponsors, committed volunteers and all patrons for their kind and generous support of Musique Royale.
Information:
Artistic & Managing Director
Barbara Butler | (902) 624-0506 | barbara.butler@ns.sympatico.ca
Box Office & General Enquiries:
Ruth McConnell | (902) 634-9994 | musiqueroyale1985@gmail.com