NSAA Lecture Series: Abstract Arctic Architecture – View through an icy lens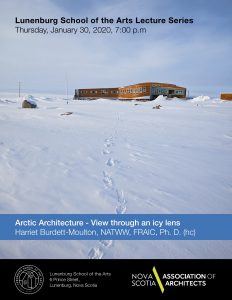 Nova Scotia Association of Architects, South Shore Chapter / Lunenburg School of the Arts, Lecture Series 2019 with Harriet Burdett-Moulton, NATWW, FRAIC, Ph.D. (hc)
Thursday, January 30, 2020, 7:00 p.m.
Abstract Arctic Architecture – View through an icy lens
The lecture will focus on traditional dwelling and how modern buildings have or have not adapted to the harsh climate; culminating with a look to the future, where the wisdom of elders can be combined with existing and new technology to guide designers to more Indigenous and relevant designs.
BIO
Métis architect Harriet Burdett-Moulton, Fellow of the Royal Architectural Institute of Canada (RAIC), was the first architect to practice in what is now known as Nunavut. One of the most iconic and important projects to Harriet as a Métis person is the Piqqusilrvvik Inuit Learning Facility in Clyde River, Nunavut. Piqqusilrvvik—which roughly translates as "a place to keep the things we've learned"—is a cultural learning facility specifically designed for the Inuit culture. Harriet is from Labrador, with Inuit, British and Montagnais roots. She spent her early life in a traditional nomadic lifestyle. She is a member of the RAIC Indigenous task force and is well-respected and honored architect. In May 2016, Harriet was made a fellow of the RAIC, in June 2017, she received an Honorary Doctorate of Design from Ontario College of Art and Design (OCAD) University in Toronto, and in November 2017, she was awarded a Labradorian of Distinction metal. Harriet has been responsible for numerous design projects across northern Canada building her expertise in collaborating with culturally diverse groups designing an assortment of building types. She has been involved in the design of educational facilities, recreational facilities, health care facilities, places of worship and feasibility studies. Her work encompasses major additions, and renovations as well as new construction. In addition to her passion for well-designed culturally significant buildings, she is a well-respected jeweler and has experience and education in community international development.
---
The Lunenburg School of the Arts lecture and film series, in association with the Nova Scotia Association of Architects – South Shore Chapter, takes place the third Thursday of the month, September – June (some exceptions). Learn more about the NSAA here