NSAA Lecture Series – Life Off Grid: Principles, Challenges, and the Future
Nova Scotia Association of Architects, South Shore Chapter / Lunenburg School of the Arts, Lecture Series 2019 with Graham Edgar
Thursday, September 12, 2019, 7:00 p.m.
Life Off Grid: Principles, Challenges, and the Future
Abstract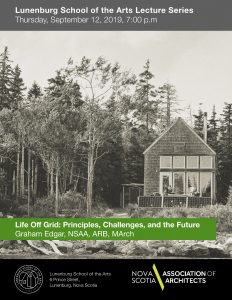 Architect Graham Edgar has been living off grid on Nova Scotia's South Shore for the past seven years, an experience which has strongly influenced how he practices architecture. Graham will discuss the principles and challenges of off grid living, and how these relate to wider society and building design as we face the ever increasing threat of climate change.
BIO
Architect Graham Edgar was born in Aberdeen, Scotland. His grandfather was a carpenter and his father a director of a housing development company, so architecture was a natural choice of profession. When he was 19 he went to Tasmania, Australia as an exchange student and stayed on a further year working for Australia's second largest company, GHD. This was an early, unique insight into a corporate, professional services company that operates on five continents. However, it was the deeply engrained local environmentalist movement in Tasmania that had greatest influence. On his return to Scotland he completed his studies and received a Master of Architecture from the Robert Gordon University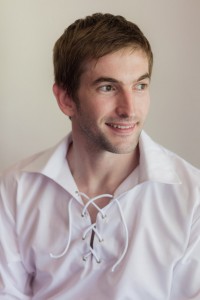 , in absentia, because he was trekking in the rainforests of Borneo. He would have stayed much longer but rushed back to take his position in a renowned architectural practice in the city of Aberdeen, just in time for the recession the following year which saw it shed most of its staff. Most of his peers who graduated around this time were forced to pursue different careers. Graham turned to the countryside and found a position with a more robust small rural practice, where he converted centuries old stone agricultural buildings into characterful homes, and learned the finer details of materials and the traditional ways of building. He met his wife Elaine, also an Architect, and together they conspired to relocate to Nova Scotia's coastline where they live off grid and established their company Wild Salt Architecture. Their current project is a Net Zero Energy Municipal Administration building for the District of Argyle, near Yarmouth. They have also dabbled in seniors housing and restaurants, but enjoy nothing more than helping others to realise the special living experience that drew them to the coast.