Open House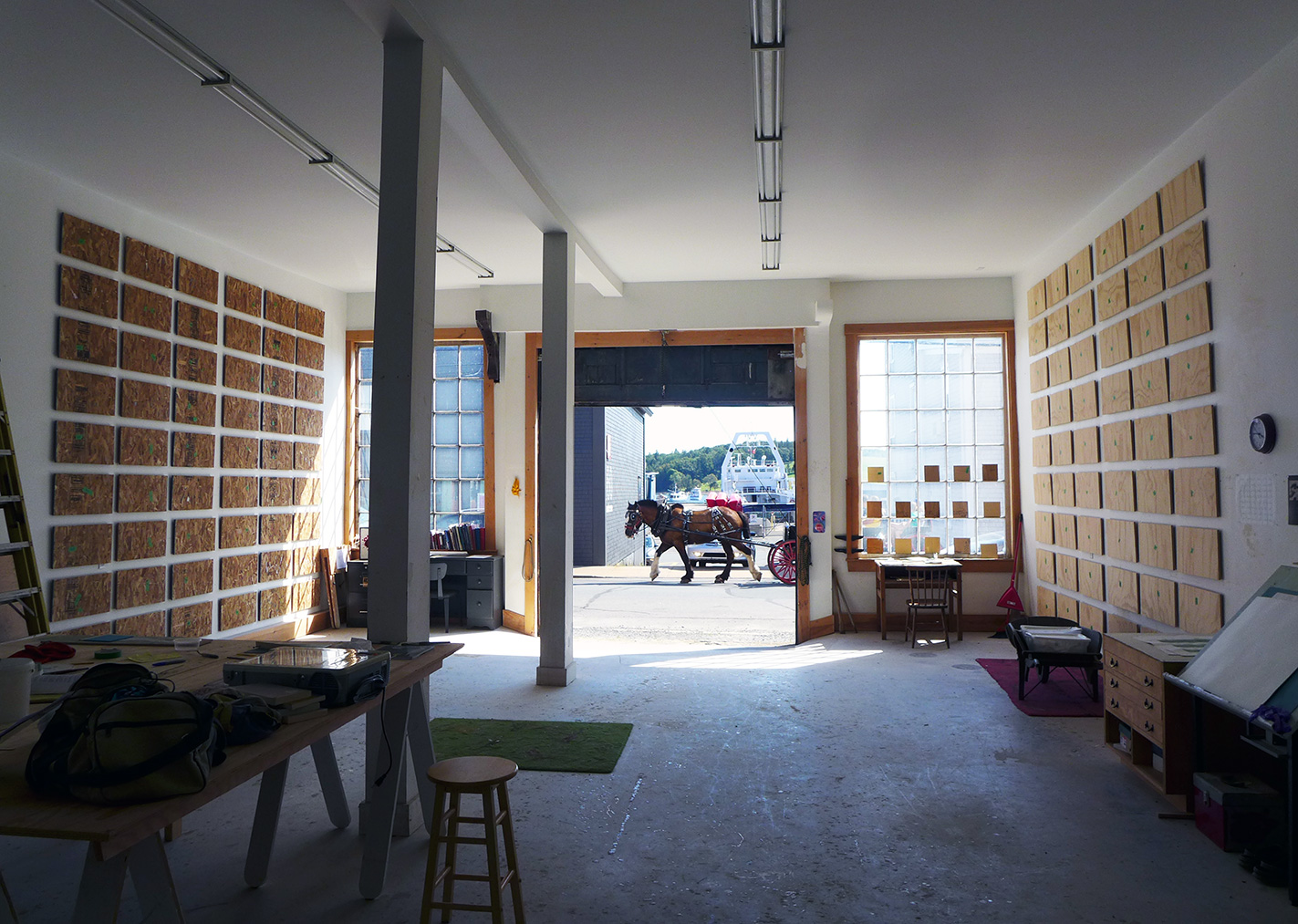 Lunenburg School of the Arts Open House
A Celebration of Establishment and Progress
On October 4th come celebrate with us at the new home of the Lunenburg School of the Arts on the corner of Prince and Montague, Lunenburg, Nova Scotia. Come and see what we have achieved over the summer in preparation for our fall programing.
We have a full day of family activities to celebrate our progress:
Breaking Stone on the Corner with Douglas Bamford
Time: 10am
Location: Outside LSA on the corner of Montague and Prince
Description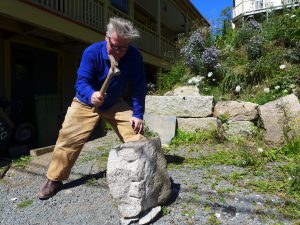 Doug Bamford using traditional methods to square a granite boulder will attempt to make a corner stone for the new Lunenburg School of the Arts. With hammer drill, feathers and wedges he will transform a boulder to a building block. On October 18th, Heather Lawson will carve the name of the school into the prepared granite surface of our corner.
About Doug Bamford
Doug Bamford is a senior Canadian artist living in Lunenburg, NS. He splits his time between a vibrant 
studio practice and his position as senior ceramics technician at the Nova Scotia College of Art and Design. He holds a BFA 
in Ceramics, a B. ED Art Education from NSCAD 1995, and a diploma from Sheridan School of Design, 1975. Bamford has a rich background as a ceramic artist, furniture designer/maker, builder, educator and public artist with numerous commissions across Canada.
Screen Printing Demo with Stephen Bishop
Time: 11am – 12pm
Location: LSA Main Studio
$20 to purchase screen printed t-shirt
Description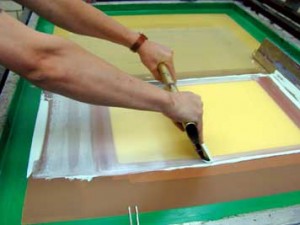 Come and watch Stephen hand print Lunenburg School of the Arts t-shirts and aprons, and see how the screenprinting process works!
About Stephen Bishop
Born in St. John's, Newfoundland, Stephen Bishop graduated from NSCAD University with an Honours degree in Visual Communication. The multi talented graphic designer, web programmer and screen printer, currently runs his a design studio, HelloDaylight, in a heritage building in Lunenburg, Nova Scotia. Stephen is the recipient of two prestigious design awards – 2011 Applied Arts Design Award for Best Packaging of Wine, Beer or Spirits and the 2011 Best of the Atlantic Region Design Edge Award.
Open Studio with Andrew Maize
October 4th – 5th
Time: 10am – 4pm
Location: LSA Montague Studio
Lunenburg House Paint Project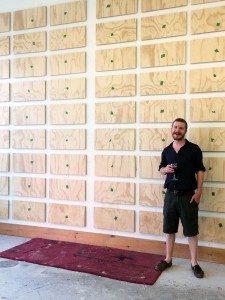 Lunenburg School of the Arts and local artist Andrew Maize invite you to the open studio of the Luneburg House Paint Project on Saturday October 4th
and Sunday, October 5th, from 10am – 4pm. Come learn about and participate in this project by bringing some of your exterior house paint colours (trim, body, highlight) and paint your house on the grid. The painting will be documenting the buildings that are in the original Old Town Grid (Kaulback to Hopson, Creighton to Montague).
In the Lunenburg House Paint Project, Maize is creating a painted visual record of the colours of buildings in Old Town Lunenburg. The work is a series of fifty-six 1ft x 2ft wooden town blocks, painted with the collected house paints, and installed based on the rectangular grid layout of this British colonial settlement. Maize has been going door-to-door to collect house paints, asking people for a little bit of their exterior house colours, so that they are true to that of the town.
Maize would like to thank Arts Nova Scotia and the Lunenburg School of the Arts for their support in this project that celebrates the heritage of Lunenburg by engaging with the community through a contemporary art dialogue.
About Andrew Maize
As an interdisciplinary artist living and working in Lunenburg Nova Scotia, Andrew Maize has been exploring the location, histories and the community through his practice. He works in a variety of mediums and processes often using discarded and found materials. The latter has manifested in studies of movement and arrangement of colour and pattern. Collaboration and a social art practice is also a major aspect of his work. In this vein Andrew has collaborated on projects such as the White Rabbit Arts Residency and Festival, the Circus of the Normal and the a.corn collective inc. He finished the year-long NSCAD Community Studio Residency Program in Lunenburg in the fall of 2013.
LSA Postcard Colouring For All Ages with Kat Frick Miller
Time: 10am – 4pm
Location: LSA, Main Studio
Materials: Supplied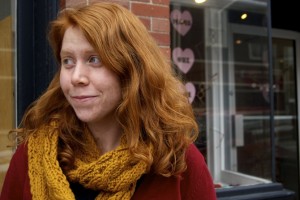 Description
Drop in and colour one of our Lunenburg School of the Arts postcards designed by local artist Kat Frick Miller. This is a free activity for all ages.
About Kat Frick Miller
Kat Frick Miller grew up in the suburbs of Brampton, Ontario and graduated from NSCAD University in 2009. Her work is inspired through exploring the small details in everyday life and extraordinary adventures. Following a yearlong placement with the NSCAD Community Studio Residency Program in the south shore town of Lunenburg, Nova Scotia, Kat decided to make the move to this idyllic rural area permanent. Kat works as an artist and illustrator in her Lunenburg studio and at the Lunenburg Makery.
Lunenburg Furniture Company Open House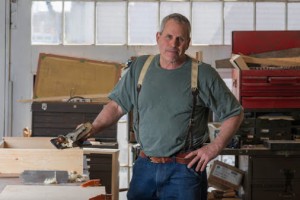 Ever since Tony was a young boy, his dream was to be a woodworker.   At six years old he showed his passion for the trade by drilling holes into the dining room furniture.   As he grew, he read every book he could find on the subject and spent his allowance on tools.  At eighteen, he was hired by a cabinet shop and so began his career.
In 1976 he graduated from The North Bennett st. Industrial school, having finished the intensive program in Traditional furniture Making and Design.
He was a partner at Marblehead Cabinet Makers and later was the Owner/Operator of The Sawmill at Redd's Pond in Marblehead, MA .  Over the  past 38 years,  he has worked in a number of furniture, boatbuilding and architectural mill shops.
In January of 2013, Tony started The Lunenburg Furniture Company, where he designs and builds high quality, traditionally constructed furniture and architectural mill work.
Open Studio with Alexandra Moore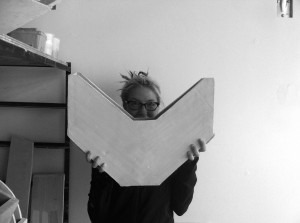 Alexandra Moore is a multimedia artist, living and working in Lunenburg, Nova Scotia. Alexandra graduated from NSCAD with a BFA in Interdisciplinary studies in 2012. During her time of study at NSCAD, she completed a student semester exchange program in Lisbon, Portugal where she studied Ceramics at the Centre de Arte & Comunicacao Visual in 2011. Whether it be stone carving, sculpture, textiles, painting, metalwork or ceramics, she feels her work is successful when the simplicity of form and the use of colour are in play. In 2014 Alexandra held an art exhibition in the Lunenburg School of Art building called 'Water & Fire', a collection of acrylic paintings, stone carving, textiles as well as a variety of ceramic works.
Alexandra's work is flavoured by her experiences of living in different coastal regions around the world and sailing on ocean going ships. Alexandra's most recent works have been a series of acrylic and water colour paintings as well as a new body of ceramic work she is currently developing. Alexandra also pursues building projects outside of her art studio at LSA, where she focuses on using reclaimed materials and found objects for her creative persuits.
Although Alexandra's work has gone through many different transitions and media to date, her motive to create and build has always been constant. See Alexandra's work.