Our first artists in residence

Enrique Ferreol
Enrique Ferreol is a visual artist originally from Mexico, where he attended the National School of Fine Arts. His work has been exhibited, and collected internationally.  Based in Halifax, Nova Scotia, Enrique is committed to art education, promotion and administration; first as Assistant Curator of Education at the Art Gallery of Nova Scotia from 2005 to 2010, and now as Program Officer for the provincial arts council, Arts Nova Scotia from 2010 to present. Enrique strives to combine his career as a cultural worker with his own art practice. Recent exhibitions of his work include a group show at Anna Leonowens Gallery, Halifax, and a solo show at The Craig Gallery, Dartmouth, Nova Scotia.
Project Description
During his residency at Lunenburg School of the Arts, Enrique is completing drawings that were part of a site-specific installation at his last solo show at the Craig Gallery. Upon segmentation of the mural piece, these drawings remained as the beginning of new pieces waiting to be finished.
Andrew Maize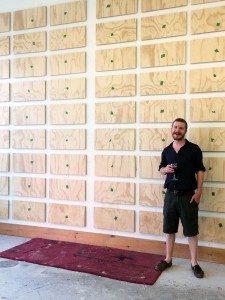 As an interdisciplinary artist living and working in Lunenburg, Nova Scotia, Andrew Maize has been exploring the location, histories and the community through his practice. He works in a variety of mediums and processes often using discarded and found materials. The latter has manifested in studies of movement and arrangement of colour and pattern. Collaboration and a social art practice is also a major aspect of his work. In this vein Andrew has collaborated on projects such as the White Rabbit Arts Residency and Festival, the Circus of the Normal and the a.corn collective inc. In the fall of 2013 Andrew completed the year-long NSCAD Community Studio Residency Program in Lunenburg and is just finishing the Visual Arts Nova Scotia Mentorship Program with mentor Michael Fernandes.
Project Description
The people of Lunenburg take great pride in their history.  A rich legacy of ship building, working the sea and a unique collection of architecture that spans over 250 years, wood has been used to build both the homes and the boats. The people of this community know the value of paint as a preservative.
During the summer and fall of 2014 Andrew will be creating the "Lunenburg House Paint Project 2014" (working title), a painted visual record of the colours of buildings and homes in Old Town Lunenburg.  The finished work will be presented as a grid of approximately 300-400 individual coloured tiles painted with collected house paints, and installed based on the rectangular grid layout of this British colonial settlement that still exists today. Andrew will go door-to-door to collect house paints, recording census style information about each building, including names of colours, inhabitants and street address. The final piece will be an abstracted, pixelated yet accurate depiction of the colours of Lunenburg. Andrew would like to thank Arts Nova Scotia and the Lunenburg School of the Arts for their support in this project that celebrates the heritage of Lunenburg by engaging with the community through a contemporary art dialogue.