"Ramp It Up!" for Second Story Women's Centre
"Ramp It Up!" for Second Story Women's Centre
Lunenburg School of the Arts is thrilled to announce the return of our biennial 'Ramp It Up' for Second Story Women's Centre ("SSWC") fundraising event and live auction, Thursday, May 9, 2019, 6:00 p.m. Tickets are $35.00 and includes a hand made bowl, soup and bread.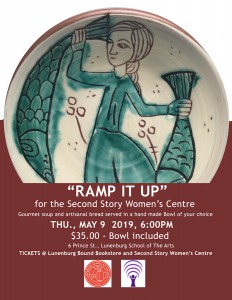 This event is in keeping with North America's 'empty bowl' movement where craft folk make bowls and soup makers make soup. This is a lively fun event for a very good cause.  "The LSA Bowling Team has not been on strike but bowling at a very high average!" said bowling team captain, Douglas Bamford.
Clay for the bowls has been donated by Pottery Supply House of Oakville, Ontario; the soup by Martin and Sylvie from Lunenburg's Salt Shaker Deli and local artists have been donating their skills to make and decorate the bowls of various shapes and sizes. "All monies raised go directly to Second Story Women's Centre", said LSA Volunteer Chair, Wilfred Moore. At our 2017 "Ramp It Up" we were able to raise $4500, and another $525 for the bowls we sold after the event, for the Women's Centre.
Our friends at SSWC have provided the following information respecting this great cause:
The need: 
SSWC received core funding of $205,716.00 from the Department of Community Services through the Nova Scotia Advisory Council on the Status of Women for their fiscal year (01 April 2019 – 31 March 2020). We have not seen any increases for five years despite increases in expenses and cost of living increases for staff.  Our total expenses for this fiscal year (April 1 2019 – March 31 2020) are budgeted at $258,478.  These amounts do not include project funding for activities such as our girls' programming.  We are faced with a deficit amount of $52,762 that is achieved through donations or fundraising events such as this "Ramp It Up!" event.  Our community has been incredibly supportive in helping us source these deficit amounts, but the deficit continues to increase.  Our focus on fund development is important, but it takes us away from our mission of working with women and gender oppressed people in safer spaces and advocating for social change.
Where the money goes:
Our Support Counselling has also continued to be accessed by those living in Lunenburg and Queens Counties.  Just over a year ago, we added a second much needed Counsellor.  It is not unusual for them to book 3 – 4 weeks in advance.  We are seeing a significant increase in referrals to SSWC through Mental Health, Probation, and countless other community organizations.  We provide outreach options in other communities including Chester, Bridgewater and Liverpool. Wellness and social opportunities are abundant at SSWC.  Currently, we are offering Reiki body healing, yoga, muffin Mondays, drumming, and lunch and learns.  More opportunities will be available soon!  Fundraising dollars keep these services and programs free to participants.
Our volunteer complement is up to 35 individuals!  These folks help keep this place running by supporting operations with tasks such as data entry, event planning, governance, and making soup.  Fundraising dollars help with the coordination of all these fine people.
Social action has always been a priority of SSWC.  We are currently advocating for specialized therapists on the South Shore to support people who have been subjected to sexualized violence.  We also are addressing poverty issues by offering free toiletries and a supportive car repair program.  Fundraising dollars help with making real policy change in our community.
These examples are by no means exhaustive.  Community organizations need to stretch dollars as far as possible and we are experts at it.
Thank you for your commitment to supporting this valuable resource for hundreds of girls, women, and gender oppressed people in Lunenburg and Queens Counties!
To learn more about SSWC go to http://www.secstory.com
Tickets available at Second Story Women's Centre, 18 Dufferin St. and Lunenburg Bound Books, 139 Montague St..