VANS' Professional Development Workshop Series: Artist Residencies
VANS' Fall 2019 Professional Development Workshop Series:
Artist Residencies with Eryn Foster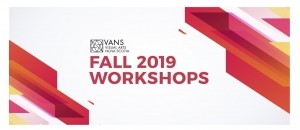 Thursday, November 28, 6 – 9pm (register by November 15)
At the Lunenburg School for the Arts,
6 Prince Street, Lunenburg
Workshops are $40 for VANS members and $55 for non-members! For more info or to register online: Click here or call VANS (toll free) at 866-225-8267.
This workshop will be an introduction to the concept and reality of residencies, exploring what they are about and why might artists participate. It will cover the different kinds of residencies, the pros and cons of getting paid for vs. paying for a residency, and how to find the ones that are appropriate to your practice.