This two-weeks course will delve into some of the creative possibilities of hand-building to make functional pottery. Demonstrations will focus on hand-building pots with slabs (the rolling pin will get a workout!). Use of the wheel to fabricate components to hand-build will also be encouraged. We will also briefly work with plaster, exploring several ways to use plaster press molds to facilitate both making forms and the integration of surface imagery, patterns and texture.
Alongside daily demonstrations, the course will include informative and inspiring presentations by NSCAD University Professor Emeritus Walter Ostrom; looking at pots from cultures and contexts from the past to the present. Individual studio work, generated by the presentations and demonstrations, will also be punctuated with ongoing class explorations and discussions on the conceptual and aesthetic potential in pots for use – the cup will be our guide.
For this course, we will work with low fire red earthenware, slips and glazes.
Several years of experience of working with clay and glazes would be an asset.
Students Should Bring:
Students should bring:
Knife with a thin slender blade
Fettling knife
Rubber rib
Metal rib
Pin tool
Thin long rounded-bottom wooden sculpture tool
Several soft bamboo brushes of varying sizes
Tools for wheel work (optional)
Ruler
Scissors
Rubber kitchen gloves
P-100 Dust Respirator
Scoring tool (my choice is the small cocktail fork)
Texture tools, carving tools
Used gift card
Small sponge
Math compass
Short pencil
Black sharpie
Pen
Metal scribe (with one pointed end only) and/or leatherwork awl
Sketchbook (with some patterns and surface imagery ideas underway)
About Walter Ostrom and Katrina Chaytor: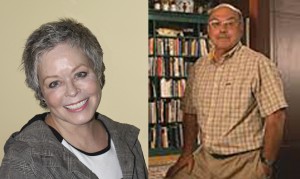 About Walter Ostrom, CM
Professor Emeritus Ceramics NSCAD
In 1997, he was awarded an Honorary Professorship at the Jingdezhen Ceramics Institute in Jingdezhen, Jianxi Province, People's Republic of China. On February 5, 2007 he was invested into the Order of Canada in recognition of his teaching and creativity in ceramics. In November 2008 he was given the Portia White Award in recognition of his leading contribution to the arts in Nova Scotia. In 2014 he was appointed a Regis Master at the Northern Clay Center in Minneapolis, MN. Ostrom was appointed a 'Life Fellow' in ceramics by NSCAD University, Halifax, Nova Scotia, Canada, at it's spring 2017 convocation. An outstanding educator, he is committed to Craft practice and theory.
Walter is regarded internationally and in Canada as a technical and academic expert in low-fire maiolica, an ancient ceramic technique that he has personally tailored through innovations and decorative methods to reflect the geography of the places where he has lived, whether in Nova Scotia or the Far East. His body of work has developed across many aspects of ceramics in the span of a nearly 50-year career, from experiments in high conceptualism in the 1970s to a contemporary focus on the exploration of the vast history, hybridization and social foundation of ceramics.
He has extensively exhibited and lectured internationally. His work has appeared in numerous books and periodicals. His work has been collected by many public collections, including the Museum of Civilization, Ottawa; the Art Gallery of Nova Scotia; Halifax, the Victoria and Albert Museum, London; and, the Museum of Fine Arts, Boston. We are fortunate to have Walter teaching for his third Summer at our School.
About Katrina Chaytor
Professor Emeritus Ceramics ACAD
Growing up in Newfoundland, Katrina's creativity was nurtured by her beloved grandmother, who sustained a livelihood with her colorful quilts and hand-hooked rugs. With a desire to take art classes, Katrina's tour through Memorial University Extension Services (St. John's), resulted in after school pottery lessons that ignited a passion and cemented a lifetime career in Ceramics.
Katrina is now a Professor Emeritus, as she retired (June 2017) from teaching in the Ceramics Program at the Alberta College of Art + Design, Calgary. Her final project before retirement was co-coordinator with Julia Krueger in the publication of Relational Learning: ACAD Ceramics Visiting Artists—The First 3 Decades, (Illingworth Kerr Gallery, ACAD 2017).
Katrina received her BFA from the Nova Scotia College of Art and Design, Halifax, and MFA from the New York State College of Ceramics at Alfred University. She has taught at colleges and universities across Canada. In 2001  she was appointed a permanent faculty member in the Ceramics Program at ACAD. Alongside her teaching profession, Katrina has maintained an active studio practice, workshop presentations and exhibition record. Residencies and research opportunities have afforded her rich and rewarding work experiences in Mexico, Greece, Crete, the United States and China and research travel through Italy, France and England. Her work has been recognized through several awards including the Alberta Craft Council Award of Honour in 2010.
Katrina has relocated back to her home province of Newfoundland and Labrador. She now lives in Renews, where she will have a full-time studio practice, with the studio build in the works.