"Seafaring Women's Personal Ensigns"
Online Exhibition BY INBAL NEWMAN, Artist-in-Residence
An ongoing series of hand-stitched standards (flags) designed to recognize remarkable seafaring women by Inbal Newman, Winter 2021 Artist-in-Residence and Summer 2021 Artist Fellow at the Lunenburg School of the Arts.
1.   Biography
2.  Summary
3.  Artist Talk (video)
4.  Exhibition (10 images & descriptions)
5.  Demos & Material Exploration (4 videos)
---
1.  Biography: inbal newman
Inbal Newman is an artist and designer whose wanderings have currently landed her in Lunenburg, Nova Scotia. In 2013, Inbal received her Bachelor of Fine Arts (Illustration) from Parsons School of Design in New York, New York. She continued her education in Toronto, Ontario, at the Ontario College of Art and Design University, receiving a Masters of Design (Interdisciplinary Art, Media, and Design) in 2020.
Growing from professional experience as both a printmaker and tall ship sailor, she takes a transient and interdisciplinary approach to creative research. Inbal particularly prefers to spend time in small communities situated upon or adjacent to water, since these constantly shifting environments have the most potential to reveal new discoveries and fuel her curiosity. Her creative process involves maintaining artistic secrecy or "soft espionage," and methods of repetition — from printmaking and performance rehearsal, to typewriting, interview, and crochet. The outcomes of this work reflect a fascination with semi-permanent records of impermanent places and situations, such as hand-poked tattoos, personally significant maps, and found material textile explorations including garments, doilies, and blankets. Inbal's work also pursues her interests in observing, recording, and sharing narratives, which take the forms of sound recording, re-enactment, adventure logbooks, and workshops.
---
2.  summary: "seafaring women's personal ensigns"
Years ago, while sailing on a schooner in New York, I first learned about the tradition of a "Captain's Personal Ensign." Ship flags communicate information across long distances and the captain's ensign signifies the captain's origins (home state on most American sailing vessels). However, the woman captaining my schooner remembered some Skippers holding mini flag ceremonies during crew switch-overs when they hoisted their personal flags (lovingly hand-sewn by their devoted wives). This made me think: where are the personal ensigns of all the female Captains and seafarers forgotten or often left out of history, and those of women seafarers today? And who would lovingly sew personal ensigns for them? This sparked my idea for a series of captain's personal ensigns for female seafarers and thus to share their stories in a striking visual manner.
Each unique pennant portrait integrates elements of seafaring history, my personal sailing experience, vexillology (the study of flags), as well as my continued experimental practice in textiles. I placed equal importance on both the distant and closeup views of each flag, resulting in a play between overall impressions seen from afar and hidden illustrative details only visible at close range. Exploration into the material behavior of cotton sail canvas was essential to this project, and most of my residency examined how the fabric responded to inks and pigments, natural dyes (being the materials then available to seafarers in the making of their ensigns), early photographic process, and a variety of printmaking methods. The residency also gave me the opportunity to perfect hand sewing skills applied in sail making, while considering the relationship of canvas to both art and sailing, and the relationship of hand sewing to both traditionally feminine domestic skills and traditionally masculine seafaring skills.
Through this research and studio practice, I gained an understanding of how general perceptions of history constantly change, and how we may continually relearn old stories with new perspectives. The stories told through these flags may help us question our notions of historic gender roles, whose personal accounts we choose to document, and the believability of those stories.
---
3.  artist talk:
Inbal Newman discusses her inspiration, research, and process.
---
4. Exhibition:
A. Mary Anne Talbot (John Taylor)
Mary Anne Talbot wore male dress to disguise her gender and live as sailor John Taylor during the French Revolutionary Wars. Symbolic details in this flag trace back to the details found entirely in the solitary account of John Taylor (Mary Anne Talbot). In the meandering life story of this seafarer who seemed to live at the intersection of many a historic event, "they" purported to have served upon as many as seven ships, and perhaps more that went unmentioned. In this ensign, the seven ships are numbered in the six yellow stars along the edges and the painted brig at the very center. Just below the central ship, a quill feather represents the rare literacy education Talbot received at a young age, despite the early estrangement from a pair of high-status parents. Three gold rings, another representation of pride, are symmetrically displayed above the central ship to symbolize another proud achievement in Taylor/Talbot's later life – entry into the Order of the Oddfellows. Personally identifying as the only woman to gain acceptance into this brotherhood is clearly a point of satisfaction for this sailor. Finally, the largest central feature of this flag derives from a specific signal flag designation: the rotated red square on a white background stands for the Foxtrot flag, or letter "F" when flown in sequence with other signal flags; however, when flown alone the meaning becomes "disabled" which largely represents Taylor/Talbot's adulthood. After serving in several battles on warships her leg was severely wounded, forcing prolonged stays in hospitals, but also eventually guaranteeing a proper military pension for the rest of a short life.
B. Jeanne Baret (Jean Barè, Barret, de Bonnefoy)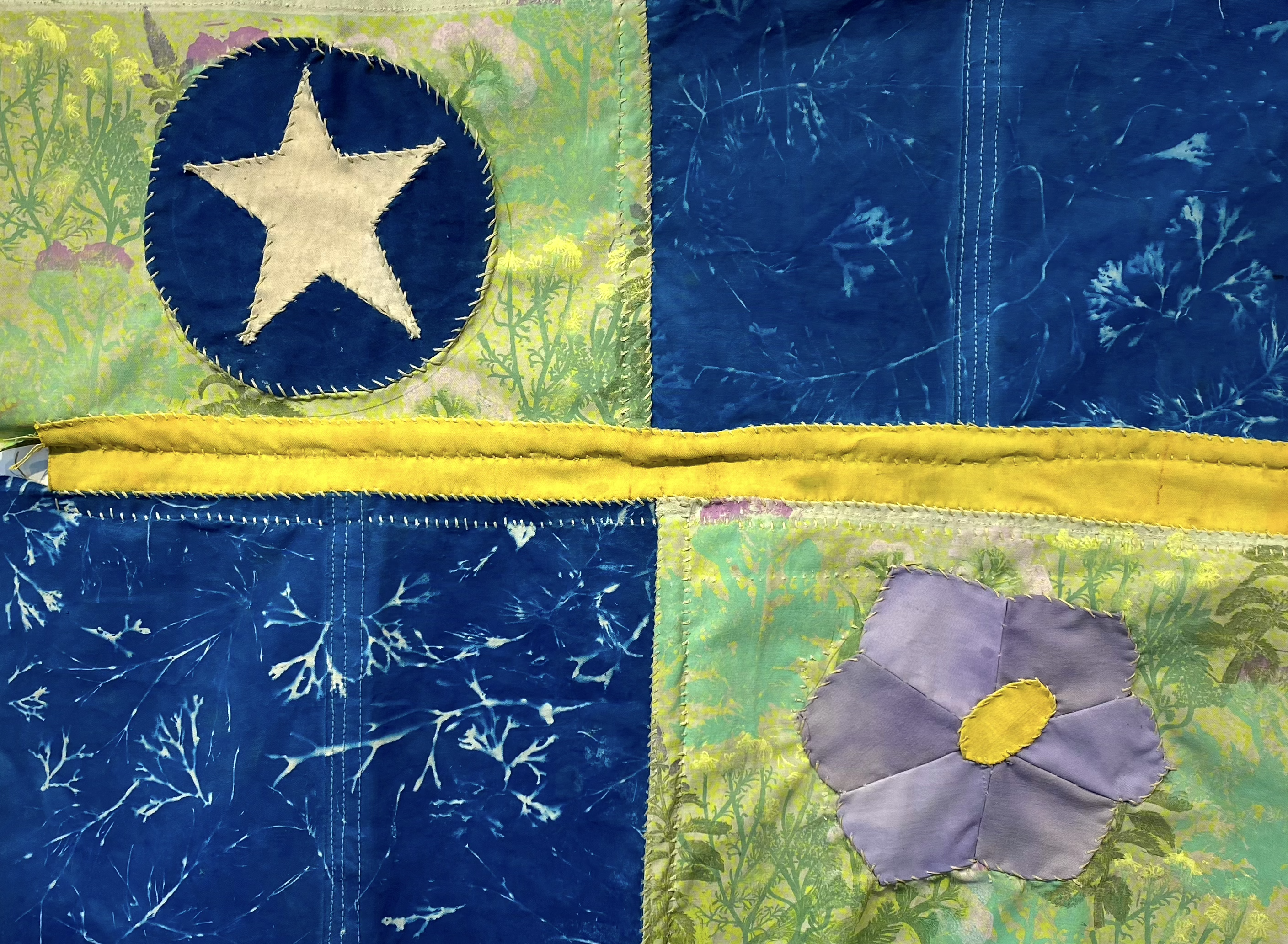 Alternating fields of green and blue dominate the majority of space in this flag, within which land and sea plants are portrayed through linoleum and cyanotype. Printed carvings of medicinal plants hint at the botanical knowledge Baret acquired in her youth as a "herb woman", a centuries-old position that requires no formal education but offers a vast understanding of plant properties.
Despite the thousands of specimens she helped to collect in her time as a botanist's assistant, the flower of Solanum baretiae (the most prominently featured on this pennnant), a nightshade found in the Andes mountains, remains the only plant recently designated (2012) to officially bear Baret's name. Besides the sections of cyanotyped seaweeds, the other singular circular area of deep indigo symbolizes her feat of crossing the world's oceans. It surrounds a star, Étoile in French, the name of the ship on which she sailed during Louis Antoine de Bougainville's scientific specimen-gathering expedition. The narrowest area of yellow separates the upper and lower sections, a bright barrier that signifies the separations between her early life as a housekeeper and herb woman on land, and her disguised persona a Jean Barè, botany assistant and footboy while at sea.
C.  Mary Ann Brown Patten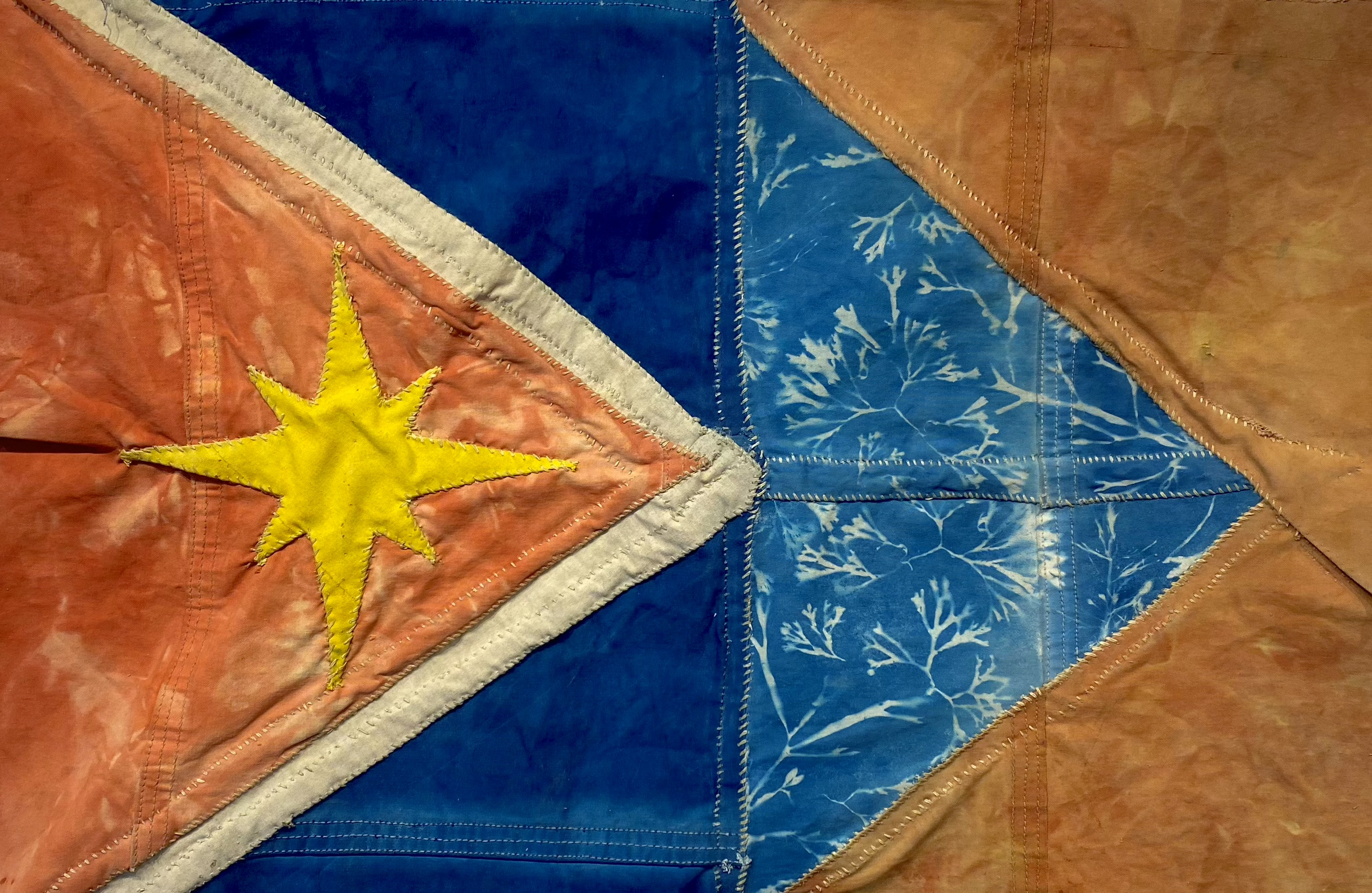 Mary Patten's life was short, but remarkable. Married at 15 to a merchant ship captain, she first studied navigation while accompanying her husband on a trip around Cape Horn. A few years later, 19 years old and expecting her first child, she embarked on the vessel Neptune's Car on a voyage that became the defining epic of her brief life. Nearly halfway through the tour Mary's husband, the captain, was bedridden after collapsing on watch, the first mate exiled to his cabin having been accused of sabotaging the voyage, and the second mate was illiterate and navigationally inexperienced, whereupon Mary took command of the vessel as it rounded the Horn. Patten managed to simultaneously nurse her husband through a coma, and stave off a mutiny incited by the frustrated first mate. When the ship finally reached San Francisco, Mary declined the assistance of a pilot, and took the helm herself to navigate the ship safely into port. To represent her strength of character, the strong primary color combination of red, blue, and yellow features most prominently in this ensign. The areas of blue, besides reflecting the rich blue of deep ocean waters, serves as a foundation for the cyanotype sun-prints of scattered seaweed. Gathering seaweed was a common practice of many clipper captain's wives who collected sea mosses off the coast of Chile following voyages around the horn. One large eight-pointed "North" star represents her sense of duty to her family. While this would normally seem speculative or insignificant, Patten specifically attributed her remarkable navigation and medicinal abilities to "the plain duty of a wife." The shape of the eight-pointed star, also recognizable as the formation of the cardinal and ordinal directions on a compass rose, further indicates her navigational prowess. When all these elements combine, the overall design appears as the pointed bow of ship actively navigating into a port.
D. Julia Ann Shelton, Victoria Grace Shorey & Zenobia Peal Shorey 
The mirrored views of a pink archipelago sunset and chilly iceberg moonrise literally depict the diverse climates Julia Ann Shelton Shorey and her daughters, Victoria Grace and Zenobia Pearl, would have seen on whaling voyages from Hawaiian waters to the seas of eastern Russia. They accompanied the family patriarch Barbados-born William T. Shorey (notably the only black whaling captain on the West Coast of the U.S. in his time), on a few passages in these diverse waters. Metaphorically, the two mirrored strips show the duality between the separate women – a mother and daughters who experienced the sea in two very different times of their own lives. Julia Ann Shelton would go to sea as a young well-educated woman, recognized for her demonstrated skills in French embroidery and her community leadership in San Francisco. Her daughters experienced these voyages as children. Of her three-year-old daughter, Julia Ann was once quoted saying, "Victoria is a remarkable sailor…she knows all the ropes, and has perfect command of her father." It appears sailing seemed a quotidian experience to the daughters, like anything else in their lives. The central strip that separates the two opposing scenes features repeatedly stamped images of whales appropriated from whaler's logbooks in the 1800s. Often whalers carved wooden stamps to more efficiently document the results of whale hunts. The stamped patterns have been layered with glow-in-the-dark ink to give the impression of whale shadows interrupting fields of bioluminescent plankton in a vast expanse of ocean.
E.  Rachel Wall
The image at the centre of this flag is an enlarged version of the woodcut that appeared on the printed broadsheet of Rachel Wall's final confession. She was accused in the late 1780's of attacking a woman and stealing her bonnet, and though she denied the charge, she did admit to acts of piracy. While most pirate flags feature threatening white or red symbols against a black background, the distinction of this pirate flag is the repeating pattern that makes up the black background. Each element of the pattern represents a piece in Rachel Wall's recorded life story: a broom and pitcher for her time as a housemaid before turning to a life of piracy; abundant coins, buckles, and a pocket watch she claimed to have stolen from docked ships; most importantly, the image of a wrecked ship. Sailing around islands off New Hampshire and Maine after big storms, she waited on the deck of a ship disguised as a wreck, crying out for help until another ship approached; When the aiding vessel neared, Wall and her husband along with a small crew would ransack the other ships. See what other symbols you can spot.
F.  Maura
Maura Hackett has a wealth of tall ship experience from her time sailing on ships such as U.S. Brig Niagara, Spirit of New Zealand, and schooners Denis Sullivan, Virginia, AJ Meerwald, Adventure. She now captains the original 1930 wooden tugboat W.O. Decker at the South Street Seaport Museum in New York City. In my interview with Maura about her proud moments and best sailing yarns, she offered truly inspiring tales from her sailing career that I have now represented in her flag. When asked about her proudest seafaring moment, she answered "Watching students and interns that I mentored become professional mariners. In New York Harbor a few of my former interns are now captains and it's really fun to be sailing in the harbor while they are also driving boats." This sentiment has been shown in her ensign through the "Charlie", or letter C, flag indicating "affirmative" in the honourable upper left corner of the flag (known in vexillology as the canton). The jury mast knot below the canton and the squares running down along the right are to represent Maura's exceptional sense of preparedness – an essential skill in sailing. I asked what personal quality Maura would like others to see in a representation of her, to which she responded, "something related to problem-solving and planning (I always have plans A through G running in my head)." A jury mast knot, or masthead knot, while beautifully decorative is mainly intended for use as temporary rigging of a replacement mast – a nod to quick problem solving. Finally, the central element of the flag features an abstract view of the northern lights and stars against a dark blue background. This image comes from a snippet of Maura's best sailing story: "In 2010, I was racing across Lake Superior in Denis Sullivan and we were making insanely good time then a squall came up and we needed to strike sails in a hurry. We were also quickly sailing in the direction of the shore and needed to tack immediately. Once all of the dust settled and the squall passed we reset most of the sails, and then I saw the northern lights for the first time. In such a short time I saw Denis Sullivan sail almost 11kts, struck and reset sails in record time, and saw the northern lights. To top it off we won that leg of the race."
F.  Gail
The hoist and fly sides of this flag create a symmetry reflective of two parallel careers, in the commercial fishing industry and traditional schooner sailing. The symmetrical shapes abstractly reference the head of a lobster on one side and the bow of a schooner on the other, pointing in opposite directions. The red and white halves also reference the national flag of Malta, with Gozo being one of her favorite places travelled by boat. The two halves are interrupted in the very center with an hourglass day shape. Day shapes in international maritime communication are simple shapes –combinations of balls, cones, cylinders, and diamonds – hoisted in daylight to signal various operations to other vessels. This hourglass shape, or two cones with points facing, indicates that a vessel has commercial fishing operations currently underway. Day shapes are always varying degrees of black, as long as they remain visible at great distances. The day shape in the center of this flag is more of a blue-gray at a distance, having been tie-dyed with cyanotype techniques and linoleum printed with a repeating pattern of fishing boats, schooners, lobster traps, and cumulonimbus clouds. The repetition of these, particularly the storm cloud formations scattered prominently throughout, represent Gail's ingenuity and perseverance in the face of challenges. The overall hue also attempts to match "a shade of blue that epitomizes the winter ocean… it's a blue-grey really," Gail's other favorite color after red, of course.
F.  Tiff
The overall layout and colors of this ensign are an homage to the flag of the Bahamas, as Tiff described both the Canadian Maritimes and the Out Islands of the Bahamas as "incredibly beautiful" and the best places she has visited via the water. Though the general layout follows the Bahamas' flag design, each element of this ensign is a specific to Tiff. The panels at the top and bottom feature an endless pattern repeat of carrick bends, anchor chains, and countless different sized dots all printed in fluorescent orange – Tiff's favorite color, and the color of all the Denis Sullivan emergency gear, her backpack, and many other treasured items. The chain and rope are not only nautical details but indicate Tiff's personal quality of trustworthiness. Each link in a chain depends on each other for an entirely strong chain. Trust is a two-way street – just as a captain trusts the members of her crew and the crew entirely trusts the captain, so do the two strands joined in a carrick bend strengthen while dependent on each other. The carrick bend, sometimes referred to as an Ormonde or Wake knot is also a symbol found in traditional heraldry. Meanwhile the dots, while simple shapes, represents the many passengers for whom a captain is entirely responsible for. By extension this element of the pattern conveys the complex concept of responsibility – one quality Tiff used to describe her first captaining experience, despite her nervousness at the time. As for her proudest seafaring moment, two plain white canvas triangles separated by a watery teal panel depict a winning tall ship race moment. Here is how Tiff put it: "My favorite sailing story is the time on the Sullivan that we were starting a tall ship race from Duluth MN. The Barque Europa and the Sullivan were sailing back and forth at the starting line for the race. When the starting gun went off, we crossed the line just a few seconds later under full sail. We set the raffee just as the gun sounded. Europa was just behind us. For the rest of the race it was an exchange between us and Europa for the lead. That lasted for 3 days in all different kinds of weather. We won that race."
F.  Val
The most traditional symbol found on this flag is the constellation Crux, also called the Southern Cross, which is a significant cultural symbol of many diverse places in the Southern hemisphere from the Pacific Islands to the Bahamas. For this reason, the formation of the four stars represents Val's greatest favored place she has traveled under sail as well as her earliest sailing history, describing that she "lived aboard in Bahamas and Florida for 2 years, when I was 7-9. We went to school in Bahamas, then sailed back to Florida, where we went to school again, while tied to the dock." The image is also appropriate as a connection between the distinct constellation and the history of traditional navigation among the earliest indigenous voyagers in the South Pacific who had their own developed methods of celestial navigation. Val's expertise in navigation features strongly in her most memorable seafaring moment of pride: in 2006 the all-women crew she assembled called Team WAVE (Women Against Violence Everywhere) sailed Synergy to victory in the cruising division of the 100th anniversary Newport-Bermuda Race. Val specifically won the Navigator's Prize. But more than anything, they raced to raise awareness and funds to fight domestic violence for WAVE. This story is represented in the top corner shown through another constellation called Pleiades, known commonly as the Seven Sisters, a highly visible star formation and equally important in celestial navigation. Between the two corners, two narrow white stripes (known as fimbriation in vexillology terms) separate the deep cyanotype blues from the full diagonal center panel to create an aerial view of how Val describes the color she loves most, "crystal clear turquoise water over white sand that is too incredible for words." And at the very center of that, a heraldic badge depicts a mermaid riding a mustang, two icons upon which Val places great personal significance. She explained that she has used the handle "Vagabond Mermaid" for years, and the mermaid as a generally recognized image represents feminine strength at sea. The mustang is fitting with her wild freedom on the sea outlook, a symbol of the fearlessness – "to follow my dreams, live my life to the fullest, not be held back by what is deemed 'acceptable' for women."
F.  Erin
The quality most prominent in many of Erin's interview responses is gratitude, both given to others and received. Whether in the proud moments where others have remarked on her lasting impression or asked her for professional maritime advice, or her secret talents of making the perfect book recommendation, and "timing a gift of gratitude at the right moment." This aspect is represented in the golden quatrefoil, or four-leaf clover in the mauve field of the canton, the traditional section of honor in vexillology. In a more subtle way, that expression of gratitude also came through when I asked what Erin herself would like others to understand from viewing her personal ensign. She responded, "I would like it to be reflected somehow that I would not be where I am today without the hands of those before me helping me. And that my hand is there for any other woman who wishes to follow and do better." This idea epitomizes my entire project of recognizing women seafarers. With the precedent stories of women seafarers going back for countless generations, women seafarers now continue this uninterrupted history that continues in the present day and hopefully grows in the future. This continuous line of women seafarers receiving help from and then raising up other women seafarers is depicted in the overall linoleum pattern of a chain sinnet running along the sections of green stripes. The chain sinnet is made from a single rope, rather than multiple strands of rope, or a chain made of individual links. The stripes in different hues of green are not only representative of Erin's current favorite color, but as she put it, "I like to think it's my soul expressing gratitude for swallowing the anchor when I did and enjoying more of a connection to land and building my first home." In the bottom half of the fly side of the flag, small white diamonds that lie in contrast upon an expanse of blue march across the center of the section in a line. This image serves as a few possible views: first as a grouping of small sailing boats on an overnight expedition, like those Erin vividly remembers taking out in Mangareva as both an apprentice and as Chief Mate on Picton Castle. The white forms in the vast blue also appear as islands in a sea, representing the many islands Erin has held close in her life so far, from her home of Bermuda where she was born and raised, to Vanuatu and the Windward Islands of the Caribbean that tied for her favorite location traveled by ship. The line of white across blue may also be interpreted as a horizon separating perfectly blue ocean and sky, to indicate what Erin describes as "the calmness of truly settling into a deep ocean multi week passage when the anxiousness of hitting land is lost and you're fully in the present with an endless horizon." This simple dotted line attempts to display a nearly indescribable feeling many blue water sailors undoubtedly share.
---
5.  Demos & material exploration
The following four short videos each cover different techniques used in the creation of Inbal's final exhibition:
A.  Hand Sewing Canvas:
B.  Linoblock Whales:
C.  Cyanotype Seaweed: Cyanotype is a photographic printing process that produces a cyan-blue print. Engineers used the process well into the 20th century as a simple and low-cost process to produce copies of drawings, referred to as blueprints.
D.  Natural Dyeing: