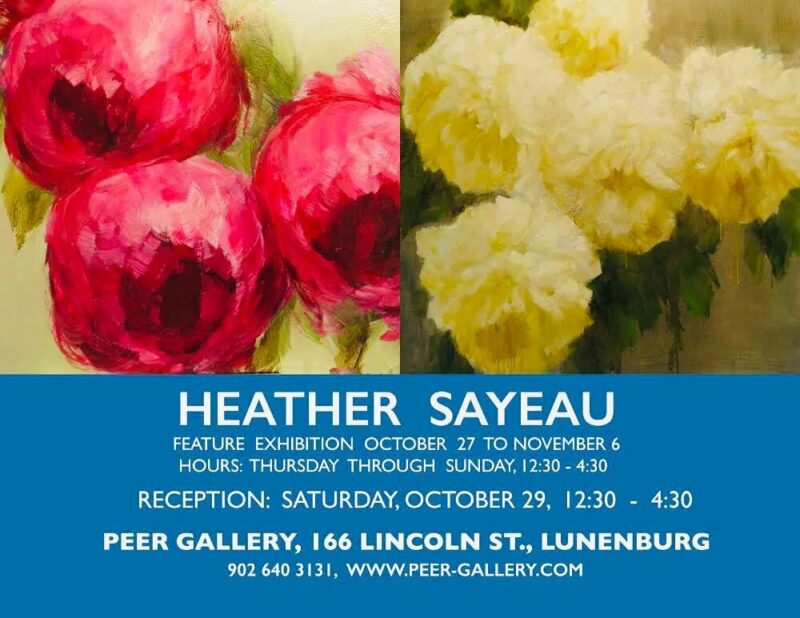 Please join Heather Sayeau at the Peer Gallery, 166 Lincoln Street, on Saturday, October 29th from 12:30pm – 4:30pm for the opening reception of her exhibition.
Based on memories and her lifelong fascination with flowers, Heather's paintings are also an exploration of line, defining the colour fields with the spontaneous, intuitive use of non-traditional painting tools bringing unpredictability and new possibilities to her images. Her work is very much a living process, like the unfolding of a flower.
"Flowers are a gift to the earth – given in moments of great joy, deep sadness and everyday life. They are a true love of mine."  
Heather Sayeau regularly teaches oil painting workshops here the at Lunenburg School of the Arts. She received her Bachelor of Fine Art and Bachelor of Education from NSCAD University in Halifax in 1981, and taught Fine and Media Arts at NSCAD alongside her practice for thirty years. Sayeau is an oil painter with a focus on landscape, still life, and the figure. She has participated in solo and group exhibitions since 1982 and her work appears in public and private collections across Canada and abroad.
"I am a painter. Painting is what I do and what I long to do when I am not painting… Teaching is the wonderful offspring of painting; sharing my experiences, challenges, successes, and defeats with people. Learning the 'toolbox' of techniques opens the door to oneself and I am always delighted to watch students grow a new facet of their creative self. I have had the privilege to instruct students of all ages. I like to work with each student individually — helping them hone each one's unique expression."