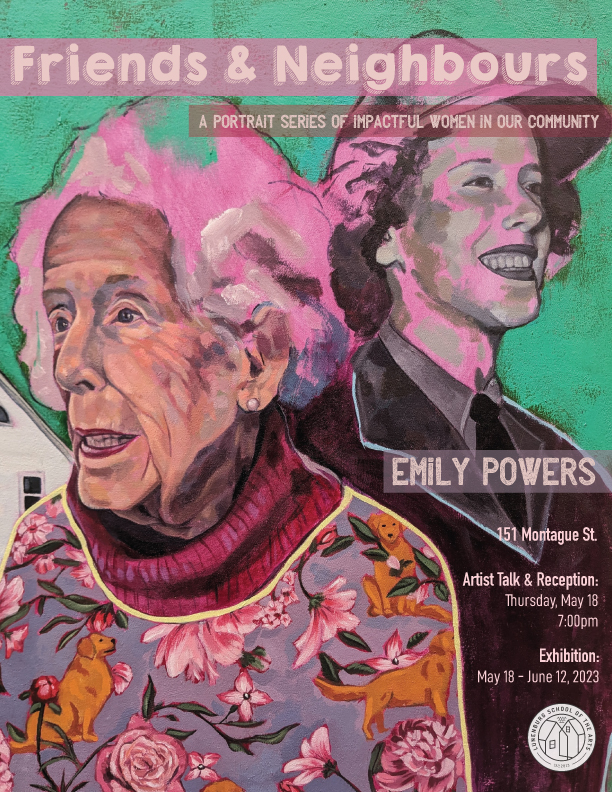 Please join us on Thursday May 18th at 7:00pm in the 151 Montague Street Gallery for the opening of Friends and Neighbours: A Portrait Series of Impactful Women in our Community by Emily Powers. The opening will include a talk by Emily, our Winter 2023 Artist-in-Residence, followed by a reception in the gallery.
Friends and Neighbours is the melding of three passions for Emily: community-building, uplifting women, and portraiture. Featuring five large-scale paintings, this series seeks to put the spotlight on a group of women who deserve to be celebrated for all they do for this community. 
The women chosen for this series have directly and indirectly impacted Lunenburg for the better. From breaking gender-norms in male-dominated industries, to helping women and gender-diverse people, to providing decades of volunteer work, community organizing, and generally spreading joy to those around them. 
Emily's portraits place her subjects within imagined worlds, inspired by their realities. After spending time with each of her subjects, she drew from their stories, experiences, and memories the imagery that adorns the paintings in this series. 
 "The women I chose to paint are but a few of the incredible folks who make this community great, showcasing a variety of different lived experiences and backgrounds. There is so much more to Lunenburg than the UNESCO status, the beautiful buildings, and the history. This is a place where people live, and this series celebrates those who actively work to make this community better for all of us."
Emily Powers is an emerging artist currently based in her hometown of E'se'katik (Lunenburg, NS). She received a BFA from NSCAD University in 2012, with a major in Fine Art. Well-versed in a variety of mediums her current focus is acrylic painting, with a love for portraiture. Playing with the juxtaposition between highly-rendered figures, and two-dimensional collage, repeating patterns, and sketch work, her portraits explore the gap between reality and how we perceive it – much like how our dreams and memories change each time we revisit them.
Spending the last decade as a working artist, Emily most recently was the Winter 2023 Artist-in-Residence at the Lunenburg School of the Arts.
Exhibition: May 18th – June 12th, 2023
Our gallery at 151 Montague Street will be open to visitors, Monday to Friday, 10:00am – 4:00pm, by chance or appointment.
Opening Reception: Thursday, May 18th at 7:00pm
Join us upstairs in the Ramp Studio for an Artist Talk by Emily Powers, followed by a reception in the Montague Street Gallery.