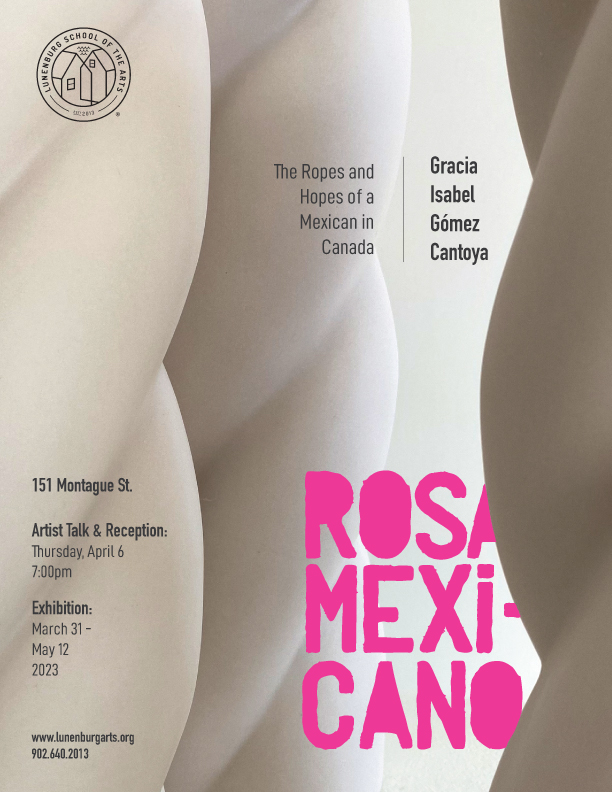 Please join us on Thursday April 6th at 7:00pm in the 151 Montague Street Gallery for the opening of Rosa Mexicano: The Ropes and Hopes of a Mexican in Canada by Gracia Isabel Gómez Cantoya. The opening will include a talk by Gómez Cantoya, the Fall 2022 Artist-in-Residence, and Winter 2023 Art Fellow at the Lunenburg School of the Arts, followed by a reception in the gallery.
Originally from Mexico City, in 2016, Gracia Isabel graduated with high honours from Sheridan College Craft and Design, Ceramics, in Oakville, ON. While at Sheridan, she had a chance, for the first time, to observe the socio-political conditions of her home country from afar. This distance led her to begin to explore the topics colonialism and migration. 
"My recent work is inspired by the historical legacy of ongoing colonialism and how it affects me as a Mexican living in Canada. Rosa Mexicano is inspired by Mexican architectural lattice walls (celosías) and the ropes of Lunenburg. I am exploring a language in clay that examines systemic racism and includes diversity and multiculturalism, focusing on the individual's merits and universality rather than race.
Rosa Mexicano/Mexican Pink is a particular shade used all over Mexico, from traditional crafts to modern architecture. I am using it to activate the white, translucent porcelain as a metaphor of "whiteness" in a world of colour. It is up to us to remain tied to the past, carrying loads that do not make sense any more while holding on to each other to create a better Humanity."
Gracia Isabel Gómez Cantoya is a Nova Scotia-based artist originally from Mexico City. She graduated with honours from Sheridan College's Bachelor of Craft and Design (Ceramics) program, and is interested in exploring themes related to colonialism. A few of her exhibiting highlights include Yuill Family Gallery at Medalta: AZUL-COLONIAL-BLUE (2022), the Gardiner Museum: Convergences (2022) and Sin Fronteras Monarch Butterfly Project (2019); Craft Ontario Gallery: The Body has Reasons which Reason Knows Not Of, (2019), The Embassy of Canada in Hungary: Muscle Memory, 2018. She won the TOAE Best of Sculpture award in 2016 and a Craft Ontario Award in 2017.
Gracia Isabel has worked as an artist, studio technician, and instructor in the Greater Toronto Area. Last July, she finished a year-long residency at Medalta in Medicine Hat, AB. Most recently, Gracia Isabel was an Artist-in-Residence at the Lunenburg School of the Arts.
Exhibition: March 31st – May 12th, 2023
Our gallery at 151 Montague Street will be open to visitors, Monday to Friday, 10:00am – 4:00pm, by chance or appointment.
Opening Reception: Thursday, April 6th at 7:00pm
Join us upstairs in the Ramp Studio for an Artist Talk by Gracia Isabel, followed by a reception in the Montague Street Gallery.