MUSIQUE ROYALE Cookie Concerts present Jennah Barry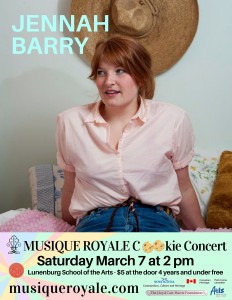 Saturday, March 7 at 2:00 p.m. at the Lunenburg School of the Arts
$5.00 at the door (4 years and under free!)
Moving effortlessly between folk, country and soft rock motifs, Jennah Barry's music sets her at the forefront of a tradition of women making music as strong as it is sentimental. Hailing from the coastal haven of Mahone Bay, Nova Scotia, Jennah Barry is one of Atlantic Canada's surest sirens. Her undeniable, rosewater voice sets a mood wherein even the hardest truths seem palatable.  Musique Royale presents Barry at a 2 pm Cookie Concert on March 7th at Lunenburg School of the Arts.
---
Cookie Concerts are hour long presentations incorporating music with other artistic creativity, for the whole family to enjoy! Come out the first Saturday of each month from October-June, always 2 pm at the Lunenburg School of the Arts.
Musique Royale is a prolific, province-wide presenter of music in Nova Scotia. Since its founding in 1985, this non-for-profit has brought world class music to venues of  architectural and historic significance across the province.  Presenting Symphony Orchestras and Chorus' in beautiful churches to salon-style events, and children-friendly shows encompassing jazz, world, classical, and more.  Whatever your appetite for music is, Musique Royale has something for everyone!
Musique Royale gratefully acknowledges the Federal Department of Canadian Heritage, the Nova Scotia Department of Communities, Culture and Heritage, Arts Nova Scotia, the Lunenburg School of the Arts, the Lloyd Carr Harris Foundation, the Craig Foundation, the Nova Scotia Health Board, anonymous contributors, corporate and individual sponsors, committed volunteers and all patrons for their kind and generous support of Musique Royale. 
musiqueroyale.com