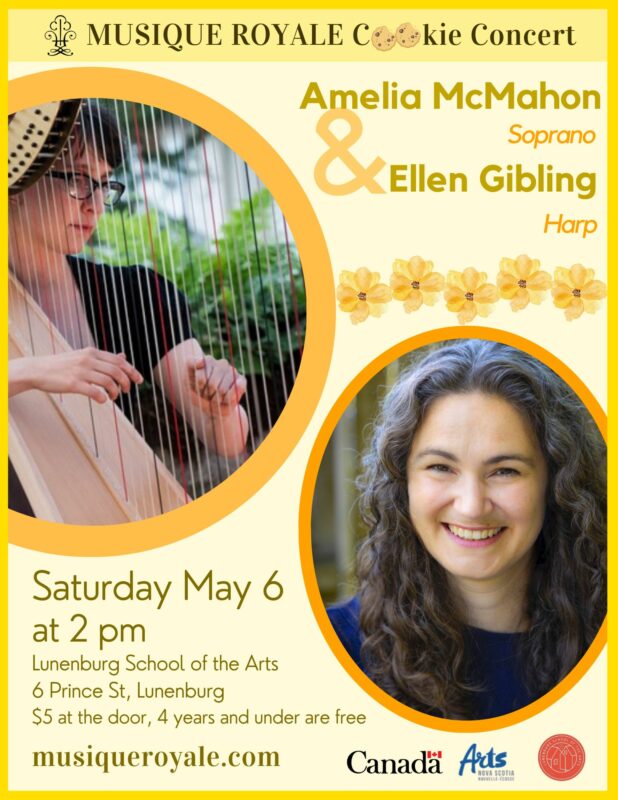 Join us on Saturday, May 6th at 2:00pm in the Ramp Studio to welcome soprano Amelia McMahon and harpist Ellen Gibling. The duo will perform a mix of works including music by Gabriel Faure, Marcel Tournier, Stevie Wonder, Joni Mitchell, Irving Berlin, the Beatles, and Hildegard von Bingen. Admission for the concert is $5 at the door, and ages four and under are free. Families are most welcome, come join us to hear the divine combination of solo voice and harp!
About the artists
Amelia McMahon (she/her/elle) began teaching voice lessons more than 20 years ago. Since then, her love affair with teaching, performing and singing has brought a diverse array of students through her studio. Whether she is working with an established performer or someone who is just beginning to discover their voice, Amelia has a plethora of tools and experience to suit each situation. Her teaching style is empathetic and playful while drawing from her experiences as a performer, a student, and her extensive knowledge of the vocal physiology.
Amelia grew up in the Annapolis Valley and recently returned to Nova Scotia after making her home in Montreal. Since returning to the East Coast, she has sung in two of Vocalypse's productions including the role of Humility in Hildegard Von Bingen's Ordo Virtutum; joined the Halifax Camerata Singers; was named co-conductor of Eastern Horizon, an award-winning chamber choir in Halifax; has joined the vocal faculty at the Maritime Conservatory of the Performing Arts and has several other exciting projects forthcoming.
While in Montreal, Amelia was the Co-Artistic Director of Choeur Adleisia, first place winners of the Equal-Voice Women's Choir category in the 2019 National Competition for Canadian Amateur Choirs. She was also Artistic Director of La Chorale Harmonia; Music Director of The 11 O'Clock Choir at St. Veronica's Catholic Parish; and Music Director of the E-Minor Glee Club at St. George's Elementary School. Mentored throughout her career by Maestro Iwan Edwards, Amelia studied choral conducting at Université de Sherbrooke and holds a Bachelor of Music in Jazz Voice from McGill University. She was the Voice Area Co-Chair at the McGill Conservatory and participated in the Steering Committee for Podium, 2020, Choral Canada's national conference. Along with jazz club and corporate appearances, Amelia has recorded and performed with artists such as Juno Award winners, Ranee Lee and Joel Miller.
Ellen Gibling is a harpist based in K'jipuktuk/Halifax, Nova Scotia. She holds a BMus in classical harp performance from McGill University, and an MA in Irish traditional music performance from the University of Limerick.
Her recent solo harp album The Bend in the Light (2022) has been described as "bold and beautiful" (Celtic Life International) and "enchanting" (Folk London). The album has garnered Ellen a nomination for the Canadian Folk Music Awards' Instrumental Solo Artist of the Year, as well as a nomination for Music Nova Scotia's Traditional/Roots Album of the Year.
Ellen is a member of New Hermitage, an ambient improvising quartet of harp, cello, saxophone and electric guitar which released its most recent album, Unearth, in 2020. Ellen is also a member of the trio Swift Return and the orchestral pop ensemble The Heavy Blinkers, as well as performing regularly with folk duo The Bombadils.
As a classical harpist, Ellen has performed with Symphony Nova Scotia and the World Youth Orchestra of Jeunesses Musicales, and has toured with the National Youth Orchestra of Canada.
Ellen teaches at the Maritime Conservatory of Performing Arts where she gives private harp lessons to all ages in addition to co-leading a weekly group class for fiddles and harps with Anna Wedlock. She has also taught at Acadia University, the University of Limerick, and the Canadian International Summer Harp Institute.
Musique Royale is a province-wide music presenter in Nova Scotia. Since its founding in 1985, Musique Royale has brought world class music to venues of architectural and historic significance across the province. Hear symphony orchestras and chorus' in beautiful churches and salon-style events, with children-friendly shows encompassing jazz, world, classical, and more. Also, from June to September our Summer Festival features early music in beautiful and historic venues across Nova Scotia. Whatever your appetite for music is, Musique Royale has something for everyone!
 Musique Royale gratefully acknowledges the Federal Department of Canadian Heritage, Nova Scotia Department of Communities, Culture and Heritage, Arts Nova Scotia, Julia Smith – major season benefactor, Support4Culture, the Lloyd Carr Harris Foundation, the Lunenburg School of the Arts, Music Nova Scotia, anonymous contributors, corporate and individual sponsors, committed volunteers and all patrons for their kind and generous support of Musique Royale.