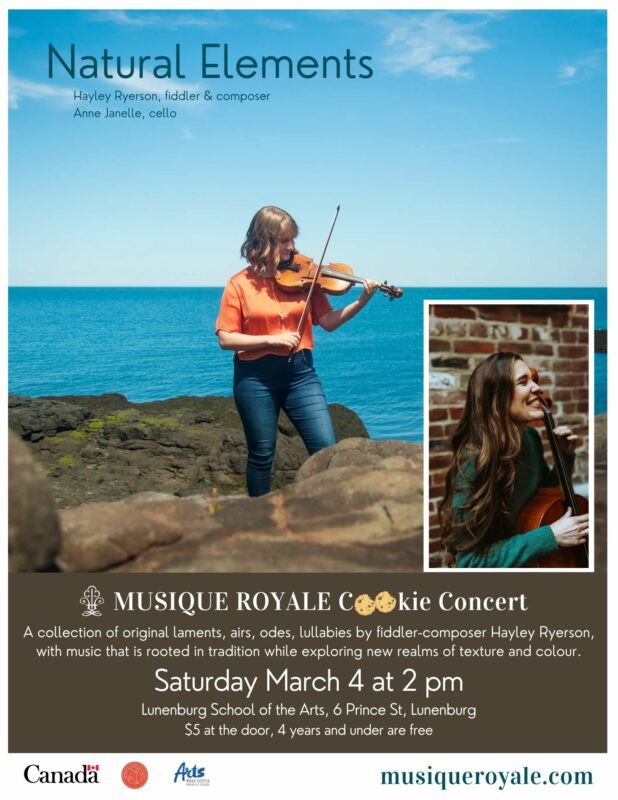 Musique Royale invites you to hear "Natural Elements" featuring fiddler and composer Hayley Ryerson and cellist Anne Janelle, performing our next Cookie Concert on March 4 at 2 pm, at the Lunenburg School of the Arts. Natural Elements is a collection of original laments, airs, odes, and lullabies by fiddler and composer Hayley Ryerson, with music that is rooted in tradition while exploring new realms of texture and color. The collection is meant to be a soothing experience to take in. Hayley is joined by Canadian Folk Music Award-winner Anne Janelle. Anne is a classically trained cellist who turned into a singer-songwriter and has since toured in over a dozen countries. Join us at the Lunenburg School of the Arts to hear this exciting musical pairing: all ages are welcome!
About Hayley Ryerson
Hayley's fiddling is precise, evocative, and whimsical. Her original fiddle tunes sit naturally among traditional repertoire and contemporary works on her most recent album, Both Sides of The Water (2021). Residing in Southwest Nova, Hayley's fiddling style is right at home with the intricate landscape of the tidal village where she resides. Listening to Both Sides of The Water is like peering through seaglass, receiving Hayley's traditional fiddling while simultaneously glimpsing her sensibilities as an interpreter and composer.
Hayley loved big band music as a teenager and played the saxophone. She began improvising on her violin & playing jazz music, studying at le Conservatoire in Nice, France and then at Humber College. She holds a Bachelor in Violin Performance (Humber College, 2017). She has performed in and wide range of musical settings and genres, including inter-arts collaborations.
Currently, Hayley is developing her collection of original music called H20, aesthetically informed by her background in jazz and rooted in her first musical language of traditional fiddling. Hayley teaches fiddle lessons at her studio Four Pillars Fiddle, and was nominated as 'Educator of the Year' by Nova Scotia Music Awards 2021/22. In addition to her private teaching practice, Hayley has instructed for groups such as Kole Crook Fiddle Association, Toronto Fiddle Collective, and Canadian Grand Master's fiddle camp.
Her performance history includes fiddling in Juno-nominated production DRUM, immersive dance-theatre company Frog in Hand, and with ECMA Rising Star/CFMA Oliver Schroer Pushing the Boundaries recipient, Shreem X CelticRemixing. Hayley has recorded & toured with Kitchen Orkestra, Claire Coupland, and Purcell Project. Her fiddling performances have opened for Old Man Luedecke, The Outside Track, and Hauler.
Hayley is active in promoting wellness in the music community, starting with herself. She has trained in the Alexander Technique, a kinaesthetic & experiential learning process that works with a whole person to coordinate in their activity. Hayley brings what she has learned in the technique to her fiddle students to promote ease in their playing. Hayley is a peer supporter with the East Coast Music Association. With other peer supporters, Hayley assists fellow professional musicians meet and explore challenges in wellness, career, and relationship to craft.
About Anne Janelle
A classically-trained cellist turned singer-songwriter, Anne Janelle has found her calling: making and performing songs straight from the heart. She is also known for her inventive arrangements of traditional folk songs and carols. "Anne plays her cello like Paul McCartney picks his Hoffner," (Roots Music Canada) while her "gorgeous  syrupy voice" (Acoustic Magazine) pulls gently at the the heart-strings of her audience.
"Inventive, entertaining, beautifully written and brilliantly performed" (R2), Anne's catalogue includes two duo albums with long-time collaborator (and husband) James Hill, three solo full-length albums and four singles. She has won a Canadian Folk Music Award and has toured in over a dozen countries, a full-time performer since 2012. She lives with her husband and 6-year-old son in a tiny town in Nova Scotia, Canada.
Musique Royale is a province-wide music presenter in Nova Scotia. Since its founding in 1985, Musique Royale has brought world class music to venues of architectural and historic significance across the province. Hear symphony orchestras and chorus' in beautiful churches and salon-style events, with children-friendly shows encompassing jazz, world, classical, and more. Also, from June to September our Summer Festival features early music in beautiful and historic venues across Nova Scotia. Whatever your appetite for music is, Musique Royale has something for everyone!
Musique Royale gratefully acknowledges the Federal Department of Canadian Heritage, Nova Scotia Department of Communities, Culture and Heritage, Arts Nova Scotia, Julia Smith – major season benefactor, Support4Culture, the Lloyd Carr Harris Foundation, the Lunenburg School of the Arts, Music Nova Scotia, anonymous contributors, corporate and individual sponsors, committed volunteers and all patrons for their kind and generous support of Musique Royale.