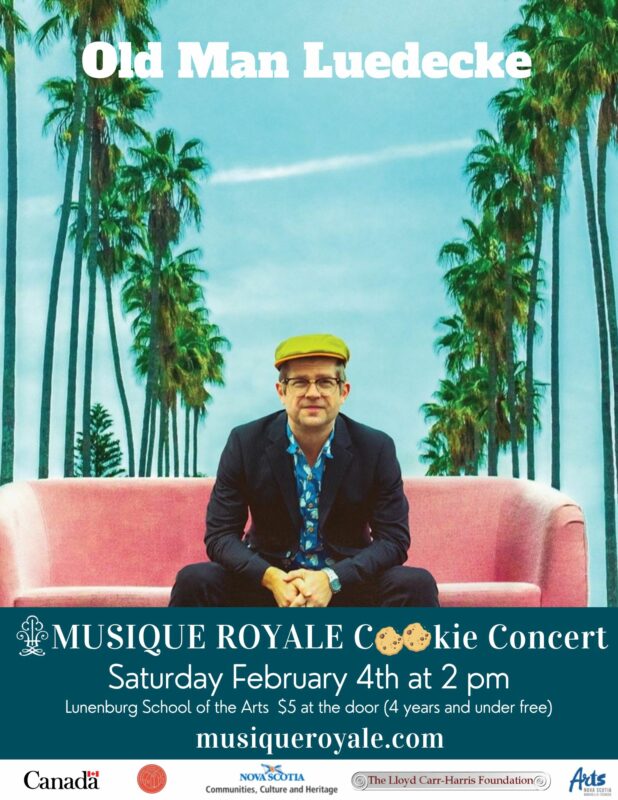 COOKIE CONCERT UPDATE!! Due to the freezing temperatures today's Cookie Concert featuring Old Man Luedecke is cancelled!
Musique Royale Cookie Concerts invite you to hear the one and only Old Man Luedecke on February 4th at the Lunenburg School of the Arts. Bringing his songs and a banjo, Old Man Luedecke is the real thing, a modern-day people's poet, a traveling bard and balladeer. He's played around the world to a loving fan base, and won two Juno awards in the process. With skillful precision and a storyteller's heart, Luedecke's narrative-driven folk songs are playful, coy, and soul warming. His songs are about human connection, and his witty personality charms hearts of all sizes when performing.
Old Man Luedecke is the recording name of two-time Juno Award-winning Canadian singer-songwriter and banjo player Chris Luedecke of Chester, Nova Scotia. His 2008 album, Proof of Love, won a 2009 Juno Award for traditional folk album of the year. In 2011, Luedecke won the same award for My Hands are on Fire and Other Love Songs. In 2012 Tender is the Night was released and picked up a Juno nomination as well as "Folk Album of the Year" from Music Nova Scotia. His new album Easy Money was released in June 2019. Musique Royale is delighted to feature Old Man Luedecke on Saturday February 4 at 2 pm at the Lunenburg School of the Arts.
Admission is $5 at the door, and ages 4 and under can attend for free.
___________________________________________________________________
Musique Royale is a province-wide music presenter in Nova Scotia. Since its founding in 1985, Musique Royale has brought world class music to venues of architectural and historic significance across the province. Hear symphony orchestras and chorus' in beautiful churches and salon-style events, with children-friendly shows encompassing jazz, world, classical, and more. Also, from June to September our Summer Festival features early music in beautiful and historic venues across Nova Scotia. Whatever your appetite for music is, Musique Royale has something for everyone!
Musique Royale gratefully acknowledges the Federal Department of Canadian Heritage, Nova Scotia Department of Communities, Culture and Heritage, Arts Nova Scotia, Julia Smith – major season benefactor, Support4Culture, the Lloyd Carr Harris Foundation, the Lunenburg School of the Arts, Music Nova Scotia, anonymous contributors, corporate and individual sponsors, committed volunteers and all patrons for their kind and generous support of Musique Royale.