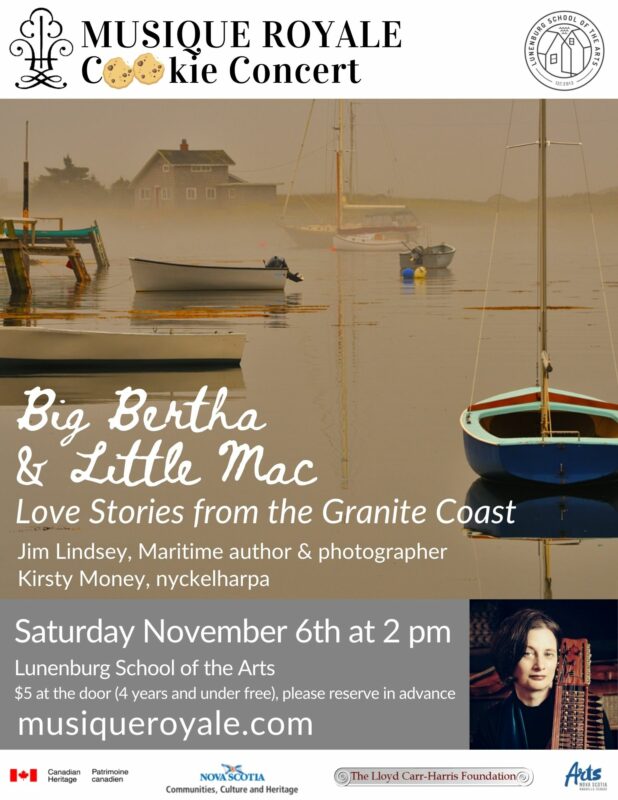 MUSIQUE ROYALE Cookie Concerts present:
Big Bertha and Little Mac: Love Stories from the Granite Coast
Saturday November 6 at 2:00 pm
$5 at the door (ages 4 and under free)
Musique Royale invites you to hear the heart-warming Maritime author and photographer Jim Lindsey, and nyckelharpa player Kirsty Money, who share the stage for an afternoon of stories and music inspired by the East Coast.  Jim will read stories from his book "Big Bertha and Little Mac: Love Stories from the Granite Coast", while Kirsty performs original music that is inspired by Jim's writings.  There is limited seating available for this concert, to reserve in advance please email janellelucyk@gmail.com.
Proof of full vaccination (second dose at least 14 days ago) is mandatory to enter the venue, except for those ages 11 years and under who may enter with a fully vaccinated adult, or those who have a valid medical exemption. Vaccine proof, or proof of age for those ages 11 and under, or proof of exemption, as provided by the provincial government, must be presented and verified at the door. Physical distancing and mask wearing at the concert is required in adherence with Musique Royale's COVID-19 Prevention Plan.
Cookie Concerts are Musique Royale's child friendly concert series which take place on the first Saturday of the month at 2 pm (from Oct-June) at the Lunenburg School of the Arts.
Finding the place where you were meant to live is a blessing for anyone. But for a writer it is a special godsend. Because you love a place, you learn about it. You know it's past as well as its present. Because you love the people in the place, you pay attention to how they are. Jim Lindsey spent half a lifetime looking before he found the fishing village of Prospect, Nova Scotia. He had been an American and had lived in many states including California and its romantic (for many Canadians) port of San Francisco. Now he is a Canadian and after 26 years has finally quit caring whether he is called a "come-from-away". He knows Prospect better than he knows himself.
Also a professional photographer, he has dedicated himself to documenting with pictures the stretch of Nova Scotian shoreline known as the Granite Coast. And he has combined these photos with his stories of the archetypal Nova Scotian couple Big Bertha and Little Mac. The book is Big Bertha and Little Mac, Love Stories from the Granite Coast. Lindsey wrote it with his re-purposed thinking cap on and his heart full of love for Nova Scotia.
Originally from BC, Kirsty Money studied violin with Sydney Humphreys at the Victoria Conservatory of Music, and has further performance degrees from McGill and Western Universities, as well as her LRSM (UK). Currently she is a member of the first violin section of Symphony Nova Scotia. However, Kirsty plays more than just modern violin. While studying in Montréal, she was introduced to the Baroque violin, and this has led to collaborations with Early Music musicians like David Greenberg (Tempest Baroque Ensemble), Suzie Leblanc (Le Nouvel Opera), Jeanne Lamont (Tafelmusik), Alex Weimann (Pacific Baroque Orchestra), Kati Debretzeni (English Baroque Soloists) and David McGuinness (Concerto Caledonia, Scotland).
Kirsty's interest in Early Music and living with the Folk traditions in Nova Scotia, has also inspired her to take up playing the Swedish Nyckelharpa, an instrument dating from Medieval Northern Europe. Since 2015 she has been studying the instrument and it's Folk repertoire from Sweden intensely. Through grants from the Canada Council and Arts Nova Scotia she has been to Nyckelharpa workshops and festivals in Sweden, the UK and Germany. Principal mentors include Olov Johansson, Josefina Paulson, Magnus Holmström, David Eriksson, and Vicki Swan. Kirsty's intention is to bring the amazing depth of sound and versatility of the nyckelharpa to audiences in Nova Scotia, and indeed to the rest of Canada. For more information about the nyckelharpa please visit kirstymoney.ca or Kirsty's Facebook page, Nyckelharpa Nova Scotia.
Musique Royale is a province-wide music presenter in Nova Scotia. Since its founding in 1985, Musique Royale has brought world class music to venues of architectural and historic significance across the province. Hear Symphony Orchestras and Chorus' in beautiful churches and salon-style events, with children-friendly shows encompassing jazz, world, classical, and more. Also, from June to September our Summer Festival features early music in beautiful and historic venues across Nova Scotia. Whatever your appetite for music is, Musique Royale has something for everyone!
Lunenburg School of the Arts offers workshops led by professional art educators and working artists. Their small and intimate class sizes allow students to work closely with instructors and each other, fostering self-expression in a supportive atmosphere. They offer courses in a wide variety of mediums, their programs encourage exploration, discovery and development of skills and ideas. They are located in the heart of Lunenburg, a UNESCO World Heritage site, a hub for arts and music. With its historic townscape and a working waterfront, the Town of Lunenburg is their campus.
Musique Royale gratefully acknowledges the Federal Department of Canadian Heritage, Nova Scotia Department of Communities, Culture and Heritage, Arts Nova Scotia, Julia Smith – major season benefactor, Support4Culture, the Lloyd Carr Harris Foundation, the Lunenburg School of the Arts, Canada Council for the Arts, anonymous contributors, corporate and individual sponsors, committed volunteers and all patrons for their kind and generous support of Musique Royale.