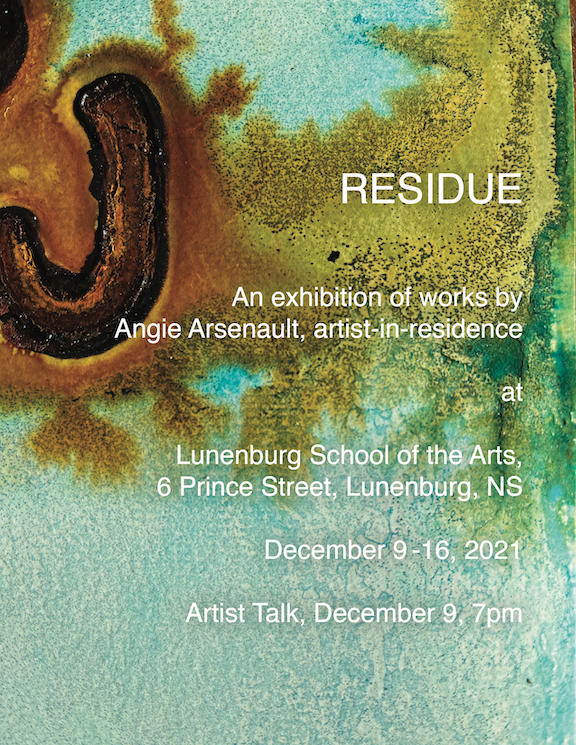 Fall 2021 Artist-in-Residence Exhibition Opening & Artist Talk
**UPDATE: The Artist Talk has been cancelled due to rising COVID cases in our area. The Talk will now be recorded and distributed on our website and e-news in the coming weeks. Thank you for your understanding.
RESIDUE is a project produced by Angie Arsenault during her 3-month Artist Residency at the Lunenburg School of the Arts this Fall, 2021.
The project explores facets of the Artist's ongoing practice around industrial detritus, the botanical world, and the precariousness and fragility of the human place on earth in this time of late-capitalism. "Residue is a meditation on vestiges from the collective everyday and transformation."
Exhibition: December 9th to 16th, 2021
Our 151 Montague Street gallery will be open to visitors daily by chance or appointment, 10:00am – 4:00pm.
Artist Talk (CANCELLED)
Angie Arsenault is an artist and researcher currently enrolled in the HUMA PhD Program at Concordia University where she focuses on fine art, deindustrialization, social practice and arts based fieldwork. Angie is from the deindustrialized island of Cape Breton and much of her art practice and research employs memory, material culture, storytelling, and a sensual engagement with the natural world to examine life in and around ruination and Ann Laura Stoler's concept of "imperial debris." Angie's artistic explorations generally manifest in sculpture and installation but she has recently been exploring bookwork.
Angie holds both a BFA (2004) and MFA (2017) from NSCAD University where her Masters thesis project, Keeper of Industrial Memory, was awarded a Social Sciences Humanities Research Council Scholarship and the Governor General Academic Gold Medal. Angie is also a trained goldsmith (VCC, 2009) and was the sole proprietor of a fine jewellery business for six years. She currently holds a SSHRC Bombardier Scholarship at Concordia University, Montreal.