Artist-in-Residence Kara Highfield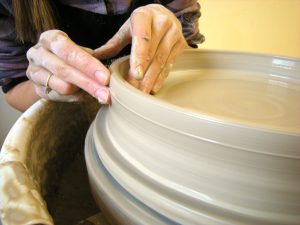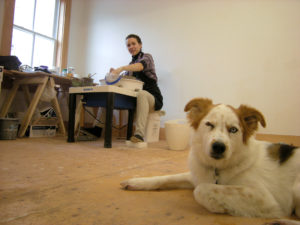 Kara Highfield is a Ceramic Artist from London, Ontario, now living in Lunenburg, Nova Scotia. She received her BFA from the Nova Scotia Collage of Art and Design University (NSCAD University,) with a major in Ceramics, and a minor in Art History. She has exhibited throughout Nova Scotia and Ontario. Kara is involved with Red Clay Studio Society, White Rabbit Arts Residency and Festival, the Circus of the Normal and founding member of the Lunenburg Community Garden. She recently competed the year long NSCAD Lunenburg Community Studio Residency and has worked as an arts educator with the Ross Creek Centre for the Art, NSCAD Extended Studies, and the Lunenburg Makery. Kara is currently artist in residence at the newly founded Lunenburg School of the Arts.
Kara has been making pots since 2008 and has developed a very precise, mechanical style of throwing. The profile and proportions of her elegant and considered forms provide the content, as opposed to using imagery on the surface. During her residency at the Lunenburg School of the Arts she will be exploring the endless variations of geometric complexity through delicately hand-cut paper stencils applied to the surface of her work to develop layers of coloured slip that compliment the hand-thrown form. Her past work has explored digging, processing and firing clay in rural Nova Scotia, issues of food security and cultural dietary norms, and identity as shaped by experience of domestic violence.