Cookie Concert: Musique Royale presents Mary Jane Lamond & Wendy MacIsaac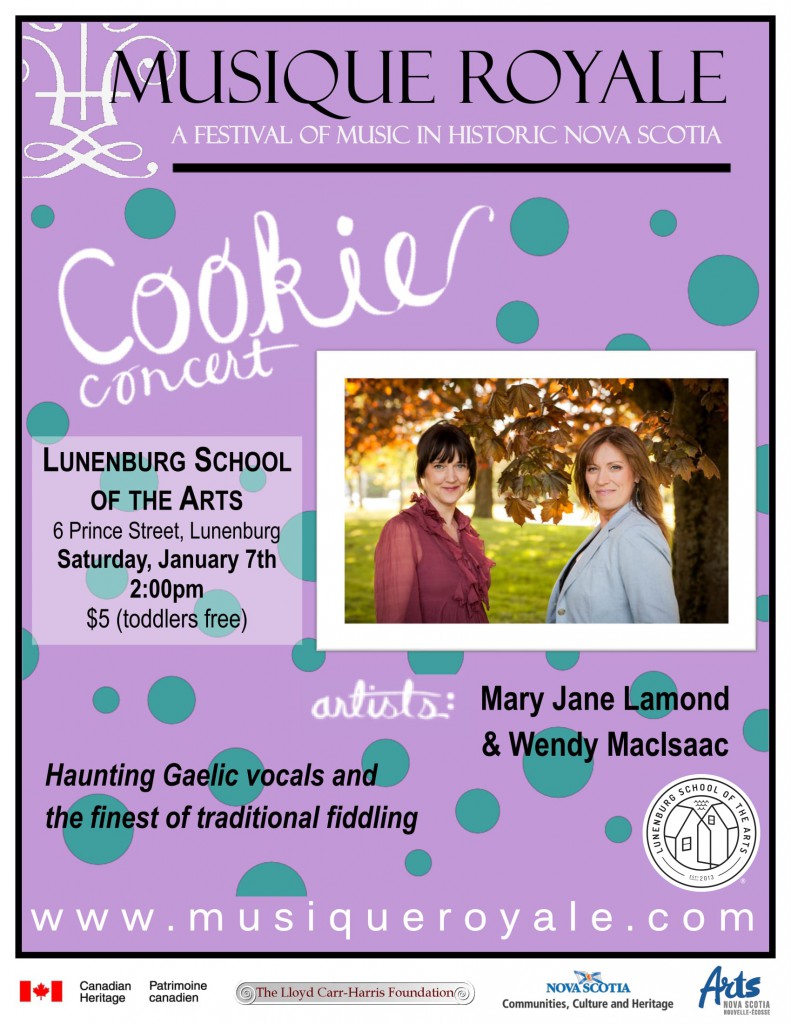 Saturday, January 7 at 2pm
$5 (free for toddlers)
Musique Royale 'cookie concerts' continue with the haunting Gaelic vocals of Mary Jane Lamond and the finest traditional fiddling of Wendy MacIsaac on Saturday, January 7th at 2 pm at the Lunenburg School of the Arts.
Mary Jane Lamond and Wendy MacIsaac are a powerful collaboration borne of a long-time friendship and a shared love of Celtic music. Whether it's the mesmerizing vocals of Mary Jane or the superb musicianship of Wendy on the fiddle, these ladies have been making their mark with traditional audiences worldwide for over two decades. Mary Jane and Wendy have both been recognized internationally for their solo music careers, and Wendy has been Mary Jane's steadfast comrade in the presentation of her music for many years.
On Cape Breton Island, the rich heritage of the region's Highland settlers was kept alive through music, songs, and stories. It was in Nova Scotia, while visiting her grandparents throughout her youth, that Mary Jane fell in love with Scottish Gaelic traditions and song. While enrolled in Saint Francis Xavier University's Celtic Studies program, Mary Jane released her first album, Bho Thir Nan Craobh, a collection of traditional material that in- troduced her unique singing voice and, then unknown fiddler, Ashley MacIsaac. She has continued to dedicate her musical career to the preservation of Scottish Gaelic songs and has garnered numerous JUNO and ECMA award nominations, critical acclaim, and a worldwide audience for her efforts. Mary Jane's four recordings cre- ate a respectful and beautiful framework for ancient Gaelic songs and her spell binding performances make these selections truly come alive.
Wendy is an award-winning fiddler, piano player and step dancer from Creignish, Cape Breton. A born per- former, she began appearing publicly at age 5 as a step dancer. At age 12, she began fiddle lessons with Stan Chapman. By age fifteen, Wendy was playing dances all over Cape Breton Island, forming the sound that makes her so recognizable today. With five records to her credit – the most recent "Variations" with her Cape Breton Celtic Supergroup, Beolach – she is a favourite with traditional audiences everywhere. Wendy has toured all over the world as a solo performer, and with The Rankins, Mary Jane Lamond, Ashley MacIsaac and Beolach.
Established tradition bearers, both Mary Jane and Wendy are skillful, enthusiastic teachers who are in high de- mand at festivals worldwide.
Cookie concerts – combining originality, fun and engaging musical and artistic presentations – are designed for the whole family to enjoy. Admission to the performance is $5 at the door (free for toddlers). Admission also includes a time to socialize with artists and friends as you enjoy the unique atmosphere in one of Lunenburg's newest artistic spaces…. and a freshly baked cookie! Advance reservations can also be made by calling the Musique Royale Box Office at 902-634-9994.
About Musique Royale:
A province wide celebration of Nova Scotia's musical heritage since 1985, Musique Royale brings perfor- mances of early, traditional and world music to settings of historic and cultural significance throughout the province. Events are presented year round on the south shore. These include major choral performances with King's College Chapel Choir and Capella Regalis, a series of salon events at Cecilia's Retreat in Mahone Bay and 'Cookie Concerts' at the Lunenburg School of the Arts. Symphony Nova Scotia is also presented by Musique Royale in the beautiful, historic setting at St. John's Anglican Church in Lunenburg.
www.musiqueroyale.com
Acknowledgements:
Musique Royale gratefully acknowledges the Federal Department of Canadian Heritage, the Nova Scotia De- partment of Communities, Culture and Heritage, Arts Nova Scotia, the Lunenburg School of the Arts, Peggy Corkum – major season benefactor, the Lloyd Carr Harris Foundation, the Craig Foundation, anonymous con- tributors, corporate and individual sponsors, committed volunteers and all patrons for their kind and generous support of Musique Royale.
Information:
Administrative Assistant:
Maureen Brown (902) 634-9994 | musiqueroyale1985@gmail.com
Artistic & Managing Director:
Barbara Butler | (902) 624-0506 | barbara.butler@ns.sympatico.ca
Education Coordinator:
Erin Donovan | erin@stonehousesound.com