Lecture Series: The Life and Times of Sir Sanford Fleming
Nova Scotia Association of Architects, South Shore Chapter / Lunenburg School of the Arts, Lecture Series 2019 with Syd Dumaresq.
Thursday, March 21, 2019, 7:00 p.m.
ABSTRACT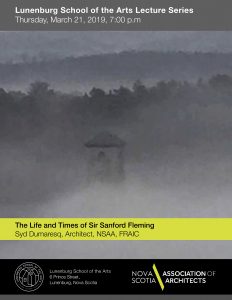 The Life and Times of Sir Sanford Fleming 
You probably know Sir Sanford Fleming as the father of time zones with a strong connection to the Dingle Memorial Tower. Do you know that he lived in Halifax while he engineered the NS Railway for Sir Charles Tupper,  that his Halifax residence is a heritage building on Brunswick St, that he loved Halifax so much that he bought a mansion in the south end for a summer home and all the land between the Melville Cove prison and Jollimore for his summer retreat, that he died in that summer retreat, or that he designed Canada's first postage stamp?
BIO
Syd Dumaresq, NSAA, FRAIC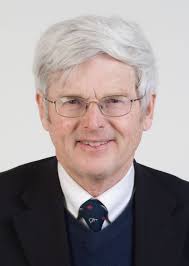 Syd Dumaresq is a passionate sailor who supports his habit by practicing Architecture in Halifax and Chester. Syd is a fourth generation Architect, who is delighted to be practicing Architecture with his son Dean and Frank Harrington's grandson Jon Carmichael. Syd's passions are community and history.
Syd is Chair of the Friends of Nature and a board member of the Mahone Islands Conservation Association (MICA) and Victoria Hall. Syd and his wife Sandy live in Chester and are the proud parents of five children and seven grandchildren.
This lecture and film series, in association with the Nova Scotia Architects Association South Shore Chapter, takes place at Lunenburg School of the Arts the third Thursday of the month, September – June (some exceptions). Learn more about the NSAA here
Upcoming lectures and films:
April 18: Brian MacKay Lyons NSAA, FRAIC, RCA, Hon. FAIA, Int. FRIBA: Tradition and Modernity. "Taken alone, tradition stagnates and modernity vaporizes. Taken together, modernity breathes life into tradition, and tradition responds by providing depth and gravity." Octavio Paz
May 16: Film/Part 2 of a Design Trilogy: OBJECTIFIED – The Role of Everyday Non Living Objects and the People who Design Them.
June 20: William Ungar NSAA: The Roof Over Our Head – How We Take Part in the Design of our Homes
September 26: Krista Boehner NSAA: Aging in Place – A Visit to the Residenz, Wurzburg, Germany.
October 17: Film/Part 3 of a Design Trilogy: URBANIZED – A Look at Issues and Strategies behind the Urban Design of Cities.
November 21: Philip Nortje APALA & Sharon Fogo NSAA, MRAIC FRAIC: Commemorative Spaces – The Creation of Shared Meaning and Remembering.