Musique Royale presents Nick Halley and members of Capella Regalis
Cookie Concert
Saturday, May 2 at 2pm
$5 (free for toddlers)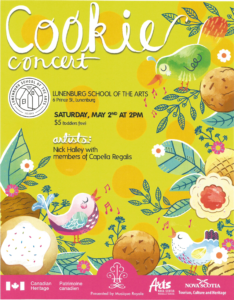 Capella Regalis Men and Boys Choir – 5 years young! and we are celebrating with a Cookie Concert.
The event will take place at the Lunenburg School of the Arts, 6 Prince Street (corner Montague and Prince), on Saturday, May 2nd at 2pm. Admission to the performance is $5 at the door (free for toddlers). Admission also includes a time to socialize with artists and friends as you enjoy the unique atmosphere in one of Lunenburg's newest artistic spaces…. and a freshly baked cookie! Advance reservations can also be made by calling the Musique Royale Box Office at 902-634-9994.
Cookie concerts – combining originality, fun and engaging musical and artistic presentations – are designed for the whole family to enjoy.
You will get to hear a group of men and boys (ages 7 – 13) from Capella Regalis perform choral works spanning the centuries, and director Nick Halley will talk about each piece in a way that's sure to engage young and old alike. There will be lots of time for questions from the audience. This is a lovely way to get a close-up look at one of the province's unique music training groups.
About the musicians:
Nick Halley is the founder and Artistic Director of the Capella Regalis Men and Boys Choir. He is the founder and Director of The King's Chorus, a choir for members of the King's and Dalhousie University communities in Halifax. Nick is also the Assistant Director of the acclaimed University of King's College Chapel Choir directed by his father, Paul Halley. He is Cantor and Director for the King's College Chapel male Compline choir. Nick was for one year (2013-14) the Host of CBC's Choral Concert, a national, weekly radio show exploring all facets of choral music. In 2012, Nick was awarded the Queen Elizabeth II Diamond Jubilee Medal in recognition of his contribution to Canada and Nova Scotia through the arts, particularly for his work with Capella Regalis Men and Boys Choir. In 2011, Nick was awarded a grant from the Canada Council for the Arts to study in England with some of the world's finest directors of men and boys choirs.
As a jazz drummer and world percussionist, Nick performs and records internationally with a wide range
of musicians, including James Taylor, Oscar Castro-Neves, Maucha Adnet, David McGuinness, Revenge of the Folk Singers, Concerto Caledonia, Jefferson Hamer, the Chris Norman Ensemble, various Paul Halley ensembles, Suzie LeBlanc, Theresa Thomason, Diomira with Dinuk Wijeratne and Joseph Petric, and occasionally the Nick Halley Band. The recording Barnum Hill features Nick and his ensemble playing
some of his original compositions.
Capella Regalis Men and Boys Choir was founded in Halifax, Nova Scotia, by Director Nick Halley in 2010.
The choir comprises ten men and twelve boys (ages 7–14) and is modeled on the great Anglican tradition
of men and boys church choirs. While Canada was once rich with such choirs, Capella Regalis is one of
only a handful of men and boys choirs in Canada today.
The choir sings Choral Evensong every Tuesday of the academic term at 5:00 p.m. in the University of King's College Chapel, 6350 Coburg Road, Halifax. The public is most welcome to attend. The choir also performs concerts throughout Nova Scotia and beyond in a busy September – July season. Past concerts range from Bach's St. Matthew Passion with the King's College Chapel Choir to Carmina Burana with the Nova Scotia Youth Orchestra and King's Chorus, Benjamin Britten's St Nicolas Cantata, to the ever-popular annual Christmas concert, To Bethlehem with Kings. In addition to services and concerts, the boys of Capella Regalis enjoy a summer choir camp in the last week of August and other musically- and socially-enriching outings and experiences. The choir is a free programme open to any boy who passes an audition.
The journey to adulthood for boys is a challenge that has garnered the interest of researchers, educators, philanthropists, and social critics over the last few decades.  A men and boys choir, with its built-in system of mentorship, is uniquely capable of addressing the issues of leadership, focus, and inspiration that so many boys face at this stage in their lives.  Then of course there is the result of this experience: access to some of the most incredible music mankind has had to offer over the last eight centuries.
About Musique Royale:
A province wide celebration of Nova Scotia's musical heritage since 1985, Musique Royale brings performances of early, traditional and world music to settings of historic and cultural significance throughout the province. For its thirtieth anniversary summer season, Musique Royale will bring events to over 20 communities in the province. Events are presented year round on the south shore. These include major choral performances with King's College Chapel Choir and Cappella Regalis, a series of salon events at Cecilia's Retreat in Mahone Bay and 'Cookie Concerts' at the Lunenburg School of the Arts. Symphony Nova Scotia is also presented by Musique Royale in the beautiful, historic setting at St. John's Anglican Church in Lunenburg. www.musiqueroyale.com
Acknowledgements:
Musique Royale gratefully acknowledges the Federal Department of Canadian Heritage, the Nova Scotia Department of Communities, Culture and Heritage, Arts Nova Scotia, Peggy Corkum – major season benefactor, the Lloyd Carr Harris Foundation, anonymous contributors, corporate and individual sponsors, committed volunteers and all patrons for their kind and generous support of Musique Royale.
Information:
Artistic & Managing Director
Barbara Butler | (902) 624-0506 | barbara.butler@ns.sympatico.ca
Box Office & General Enquiries:
Ruth McConnell | (902) 634-9994 | musiqueroyale1985@gmail.com