Metamorphosis: Sculptural Figures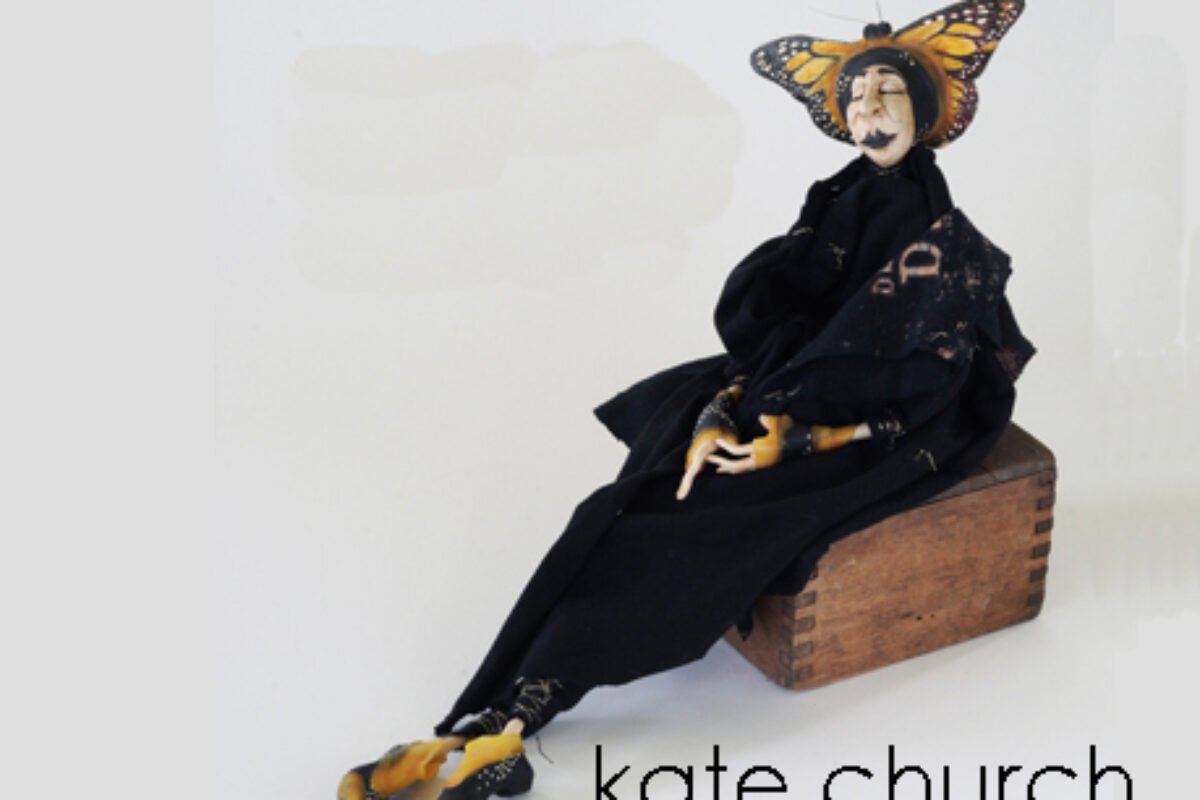 Registration
Registrations for this workshop are now closed.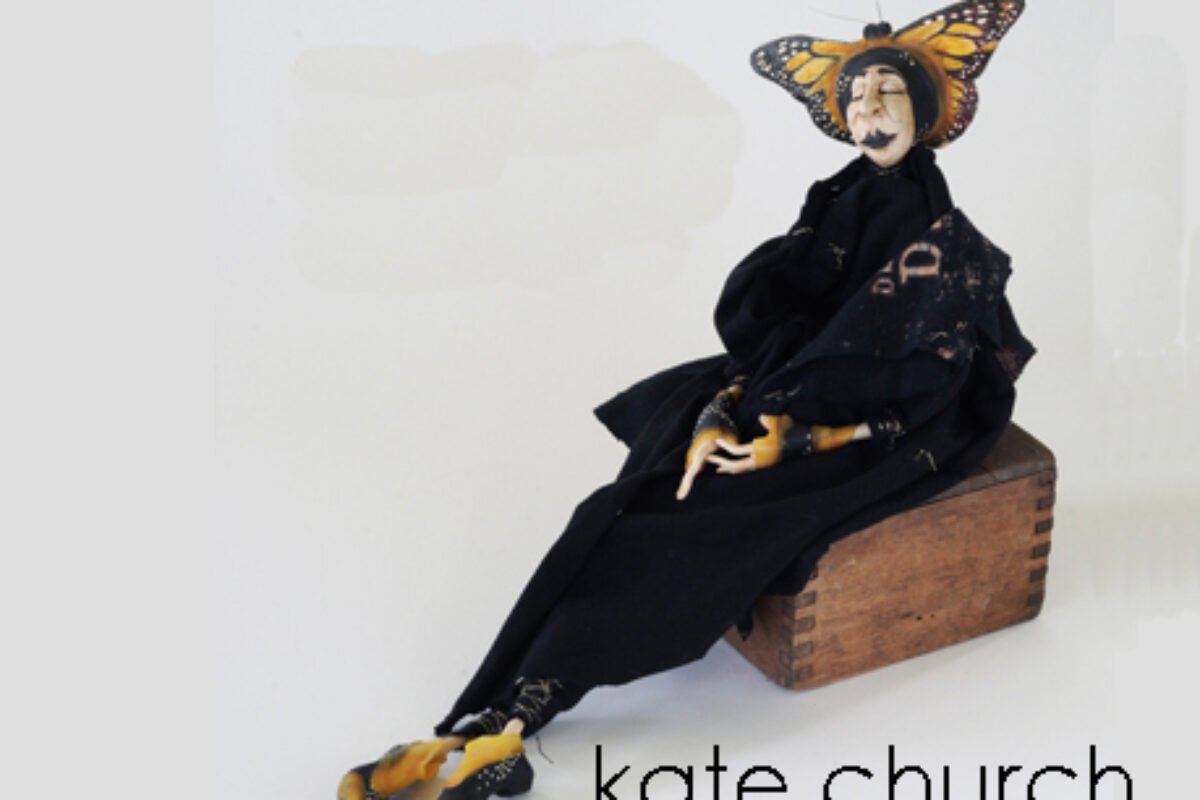 Kate Church
Monday to Friday, August 30 – September 3, 2021
10:00am – 4:00pm
In this five-day creative exploration, Kate will teach using the techniques she has developed while building her sculptural figures. Students will explore ways of using polymer clay, cloth, and wire for constructing their project.
The theme of this class is metamorphosis and transformation. Kate's "Butterfly" character is the teaching example, but students will be free to design and create an individual metamorphosis figure using personal symbols and meaning. Designs and patterns will be available for students wanting to use the Butterfly as their template.
Get ready for an extraordinary, fun, and inspiring adventure that is open to all levels.
"Combining the line and form of sculpture with a moment in time has been my primary work for more than twenty five  years.
 I work in multiple disciplines including life drawing, printmaking, ceramics, sculpture, and painting. It has been a way to evolve and challenge my figurative work."  
— Kate Church
Students should bring: (if you are missing any of these things, let me know before you spend time and money, often we have lots between us and then when you do decide to buy something, you know what you are looking for.)
A basic materials kit from the instructor will be provided for you including: a p

olymer clay set, p

atterns for your figure, p

re-made under-suit for your figure, w

ire for armature, and v

arious shared materials

Please bring an object(s) to use as a base for your figure. A personal object can help create a sentimental energy toward your figure. Most important, the base supports the height and balance of the figure so it needs to be something with weight to it and of a material that can be drilled into to attach the sculpture should it be standing. 
Pasta Machine (there will be a few machine available but please bring one if you have one)
Alcohol wipes to clean machines and handsKnitting Needles to use for sculpting: small double pointed around 4mm

Pins, needle and thread any color

Hair stuff:  feathers, roving, string, yarn, raffia (things you like)

T-shirt size pieces of fabrics for clothing layers and details…stretch fabrics work best for the outer layers of the costume.

Ribbons odd and ends you like for detailing.

Sculpting tools (my favorite set is "Style and Detail" tools by Sculpey

3 or more small soft hair round paint brushes for colouring the polymer. Inexpensive ones, they tend to wear quickly. They often sell these at dollar stores

Inexpensive paint brushes for acrylic paint (2 is enough)

Acrylic Paints just a few favorite colours for your base, or you may wish to paint the figure as well….

Assortment of a few "extras" that you might share with others in the class. I find magically someone will always have brought just what someone else is looking for… don't overdo, just as you sort and pack if something gets your attention or seems like an interesting thing to bring, pop it in your collection of bits and tricks. An example is paper bits for collage on the base or figure…
Bookings
Registrations for this workshop are now closed.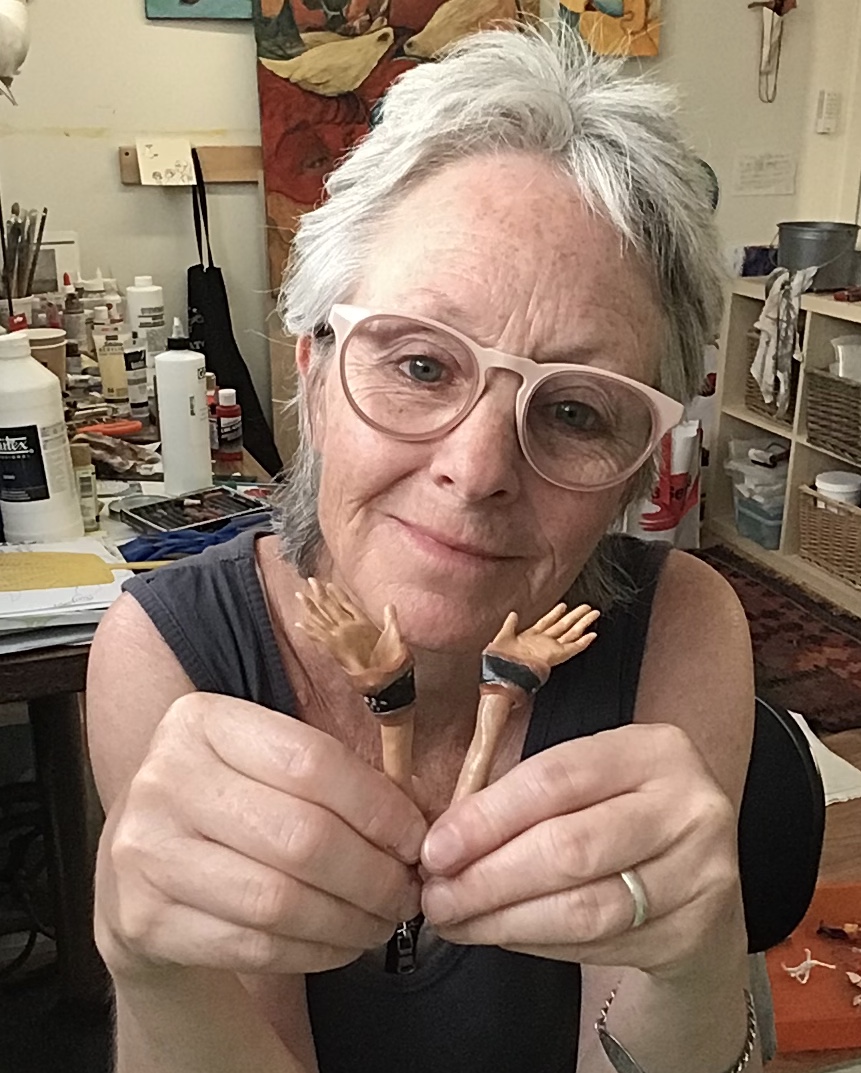 Kate Church
Details embroidered with movement and grace speaking of curiosity, delight, tenderness and humour … expressions of life. The pieces Kate Church builds somehow defy conventional interpretation. They are not dolls, nor are they formal sculptures.
Kate refers to her work as "sculptural puppetry" combining the line and form of sculpture with the playful anima of puppetry …
The line and gesture of her work draws on a continuing practice and study of the human figure. Drawing, painting and sculpting are a major part of Kate's work life. The intention of the work is to carry a silent imprint or sense of emotion through the posture and expression of the figure evolving in front of her. Built using a process that is movable throughout its construction, a tangible sense of emerging comes naturally to the finished sculpture. In fact most of the figures can be altered and adjusted; movement is part of their design.
Bookings
Registrations for this workshop are now closed.