Pattern and Print: An Exploration of the Ceramic Surface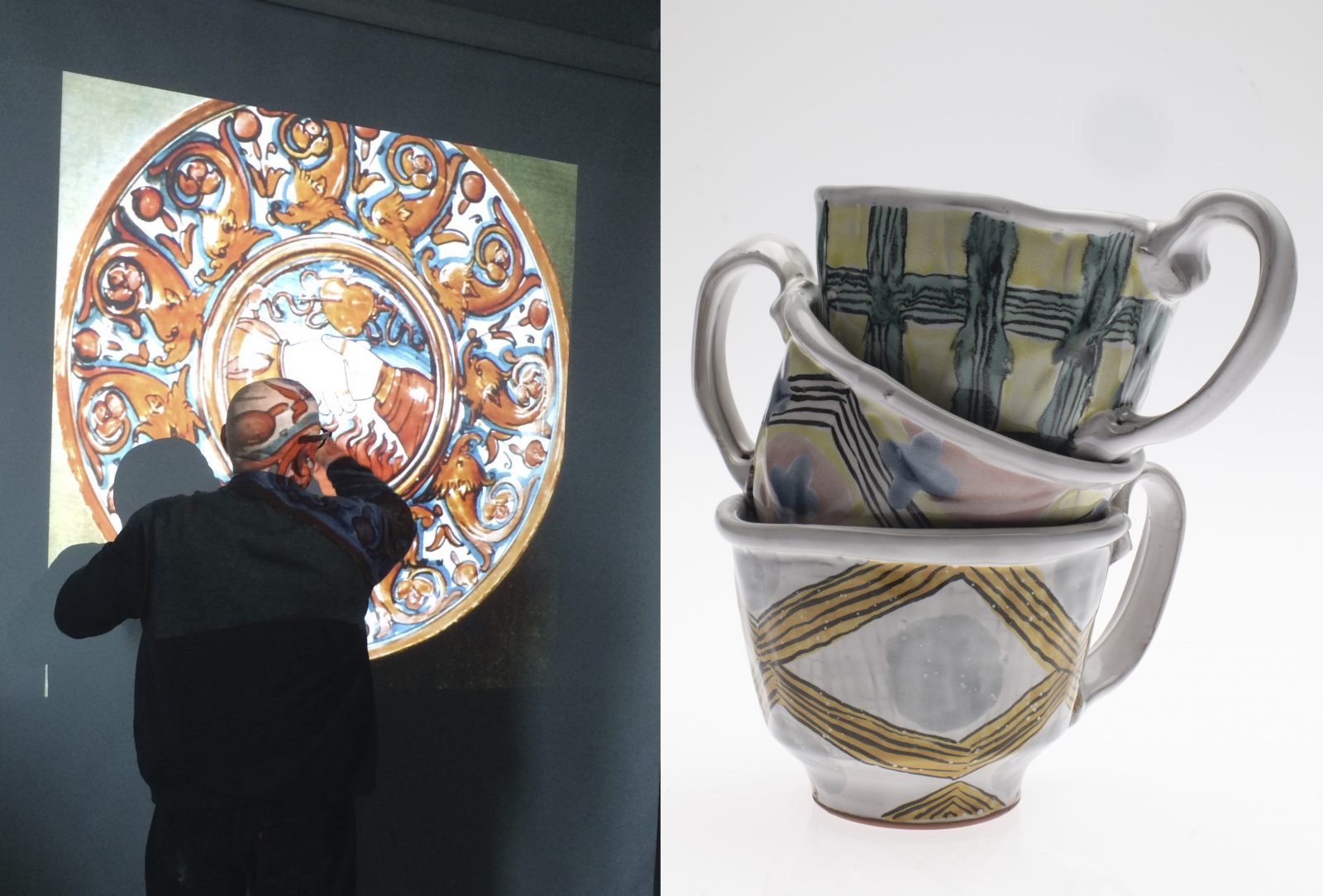 Registration
Registrations for this workshop are now closed.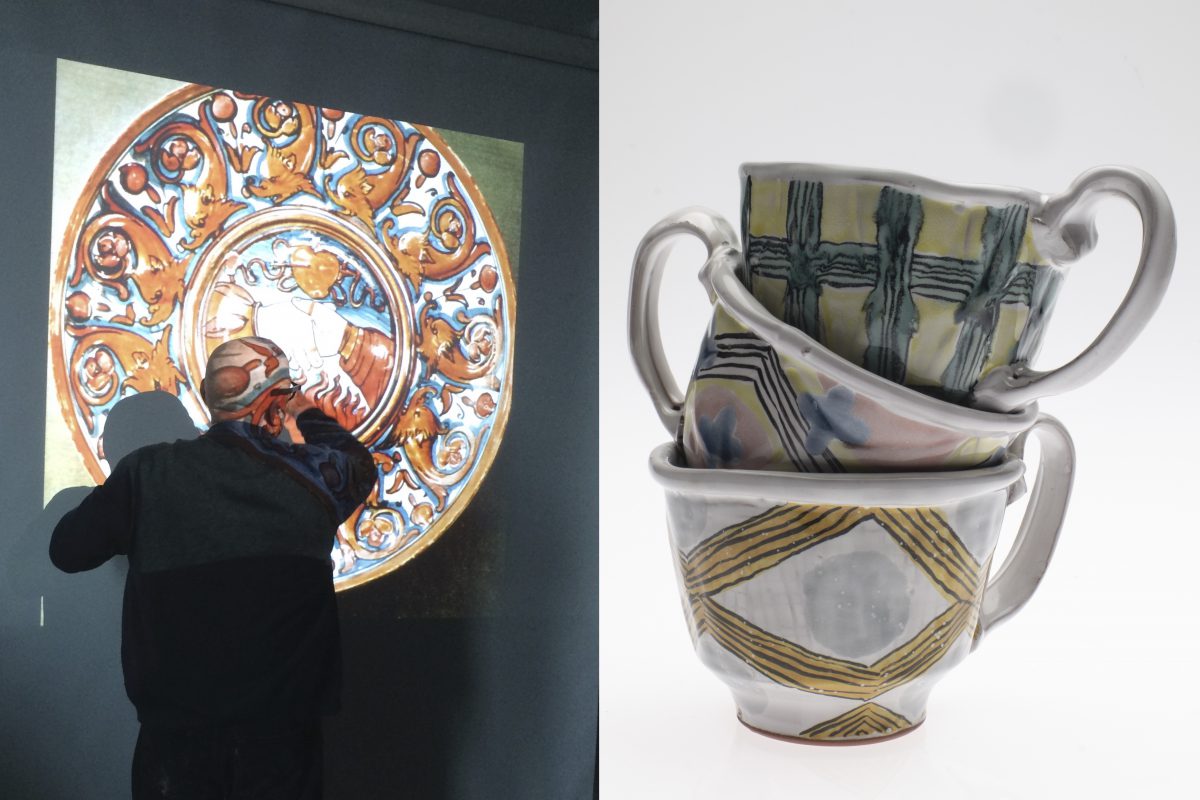 Walter Ostrom and Martina Lantin
Mondays, June 29 – July 10, 2020
9:00am – 4:00pm
This two-week workshop will focus on the multiple ways to enhance thrown and hand built ceramic forms through colour and pattern. The workshop is open to advanced students. Applicants must submit a resume of experience and six (6) images of their work.
Demonstrations will focus on monoprint, paper resist, and toner-resist transfer methods. In addition to these wet processes, glaze application strategies will be addressed. Other surface techniques will be introduced as time allows. Demonstrations on altering the thrown form will serve as building blocks for innovative pots that are truly one of a kind. Emphasis will be on pouring pots and lidded forms.
Alongside daily demonstrations, the course will include informative and inspiring presentations by NSCAD University Professor Emeritus, Walter Ostrom, CM, looking at pots from cultures and contexts from the past to the present. Development of individual studio work will be punctuated by energetic conversations that integrate growing technical skill and a love of the history of ceramic objects.
Please register online and send applications items to learn@lunenburgarts.org, subject line: Pattern and Print Application.
Registration includes a blank wire-bound sketchbook for each participant.
Students Should Bring:
Knife with a thin slender blade
Rubber ribs
Metal ribs
Pin tool
Thin long rounded-bottom wooden sculpture tool
Several soft bamboo and Hake brushes of varying sizes
Slip trailers
Tools for wheel work (optional)
Ruler
Scissors and X-acto knife
Rubber kitchen gloves
P-100 Dust Respirator
Scoring tool
Texture tools, carving tools, stamps
Used gift card
Small sponge
Short pencil
Black sharpie
Pen
Patterns and surface imagery ideas underway – these could be magazine cut outs, fabric samples, photographs
Black and white images, digital files on a memory stick
Masking tapes (different width if possible)
Paint chips – different colours
Bookings
Registrations for this workshop are now closed.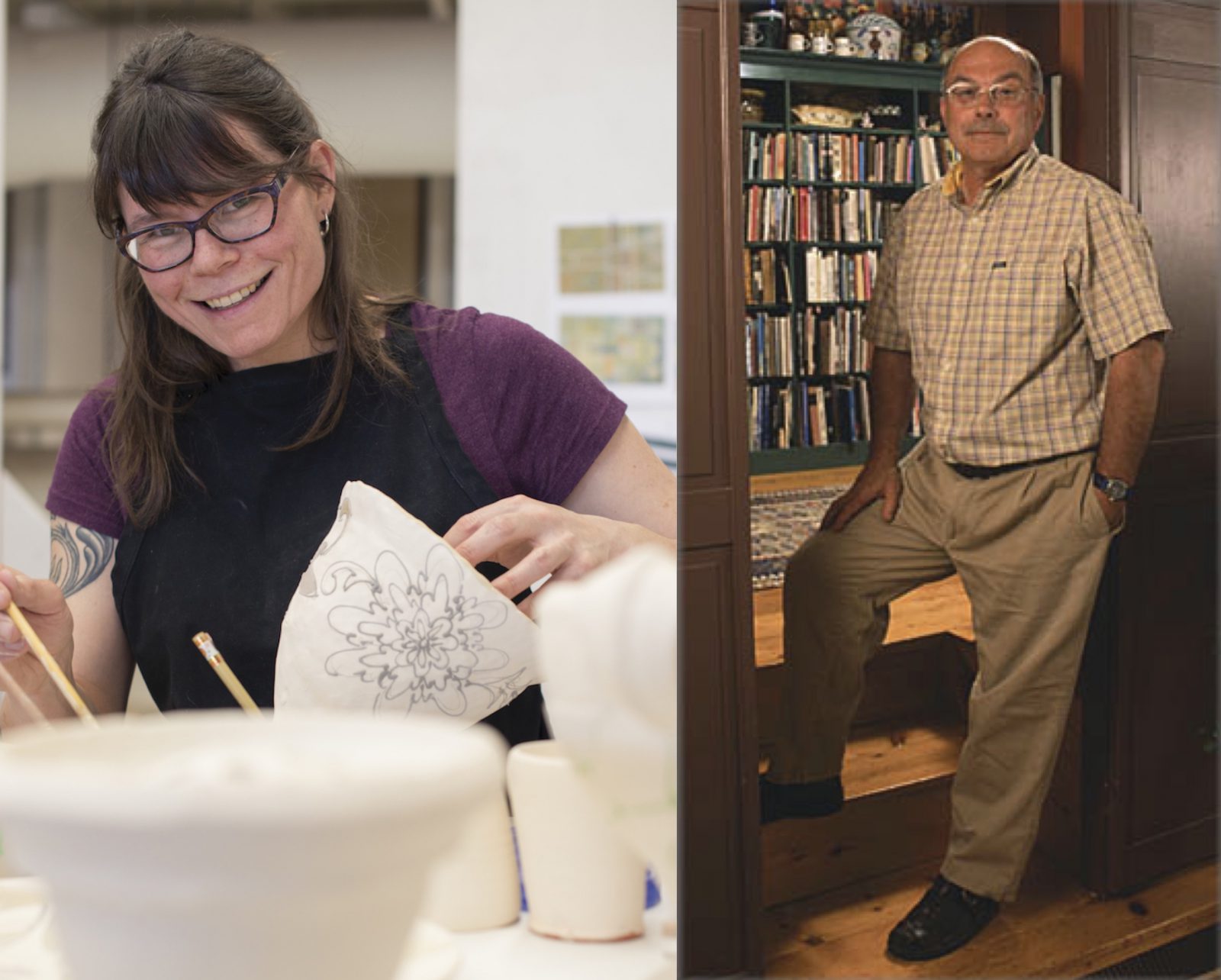 Walter Ostrom and Martina Lantin
Walter Ostrom, CM, Professor Emeritus, Ceramics, NSCAD
In 1997, he was awarded an Honorary Professorship at the Jingdezhen Ceramics Institute in Jingdezhen, Jianxi Province, People's Republic of China. On February 5, 2007 he was invested into the Order of Canada in recognition of his teaching and creativity in ceramics. In November 2008 he was given the Portia White Award in recognition of his leading contribution to the arts in Nova Scotia. In 2014 he was appointed a Regis Master at the Northern Clay Center in Minneapolis, MN. Ostrom was appointed a 'Life Fellow' in ceramics by NSCAD University, Halifax, Nova Scotia, Canada, at it's spring 2017 convocation. An outstanding educator, he is committed to Craft practice and theory.
Walter is regarded internationally and in Canada as a technical and academic expert in low-fire maiolica, an ancient ceramic technique that he has personally tailored through innovations and decorative methods to reflect the geography of the places where he has lived, whether in Nova Scotia or the Far East. His body of work has developed across many aspects of ceramics in the span of a nearly 50-year career, from experiments in high conceptualism in the 1970s to a contemporary focus on the exploration of the vast history, hybridization and social foundation of ceramics.
He has extensively exhibited and lectured internationally. His work has appeared in numerous books and periodicals. His work has been collected by many public collections, including the Museum of Civilization, Ottawa; the Art Gallery of Nova Scotia; Halifax, the Victoria and Albert Museum, London; and, the Museum of Fine Arts, Boston. We are fortunate to have Walter teaching for his forth Summer at our School.
Congratulations are in order for Walter on two fronts: he has been selected as a recipient of the 2020 NCECA 'Excellence in Teaching Award', which will be presented to him at NCECA's 54th annual conference on Friday, March 27, 2020; and, the Art Gallery of Nova Scotia is mounting a retrospective exhibition entitled "Good Earth: The Pots and Passion of Walter Ostrom" to be officially opened on April 24, 2020, including a companion catalogue and film.
Martina Lantin, Associate Professor, Ceramics, Alberta University of the Arts (formerly "ACAD")
Born in Montreal, Canada, Martina Lantin received her Bachelor of Art (1996), from Earlham College, Richmond, Indiana, and her Master of Fine Arts (2009) from NSCAD University. She has completed residencies in the United States and China and taught workshops throughout North America. Martina is an Associate Professor at AUArts in Calgary, Alberta, Canada.
Lantin's work has been recognized in numerous juried and invitational exhibitions internationally. Committed to the joys of working in earthenware, Martina explores the history and boundaries of functional ceramics through objects and mixed media installation.
Bookings
Registrations for this workshop are now closed.