Watercolour Primer for All: Beginners & Seasoned Painters Welcome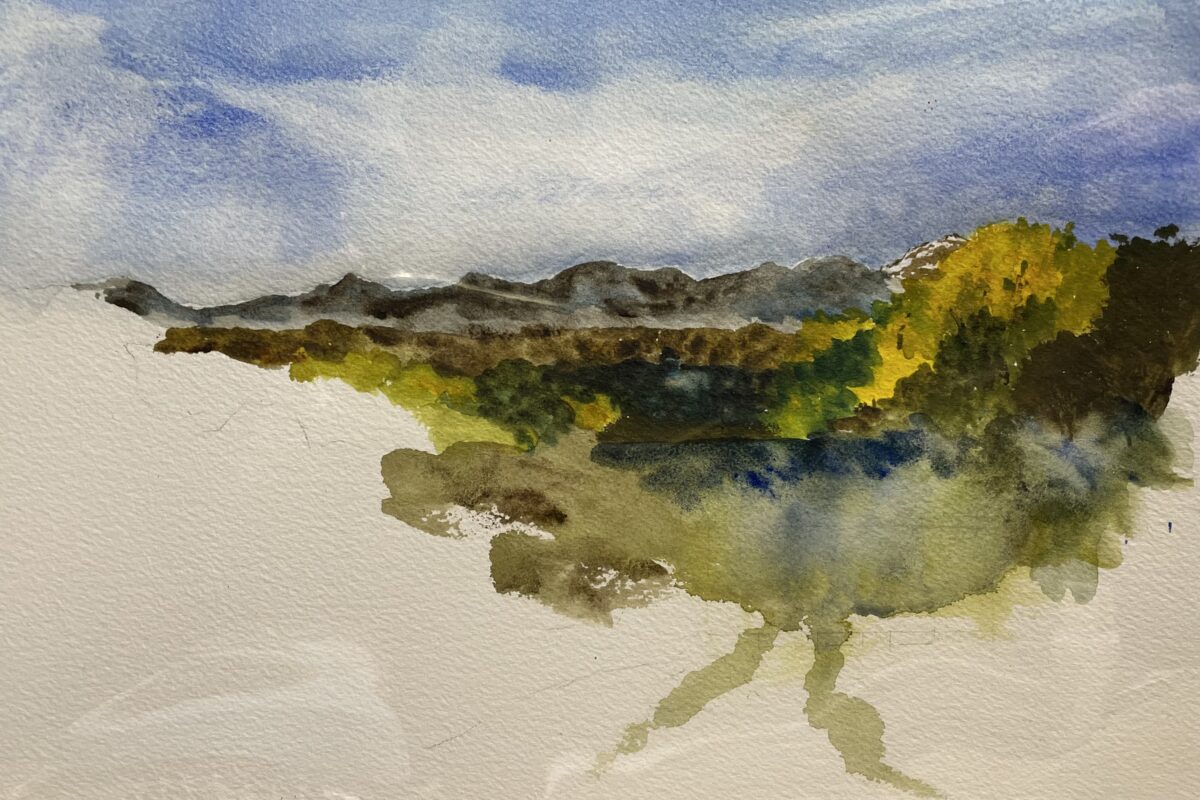 Registration
Registrations for this workshop are now closed.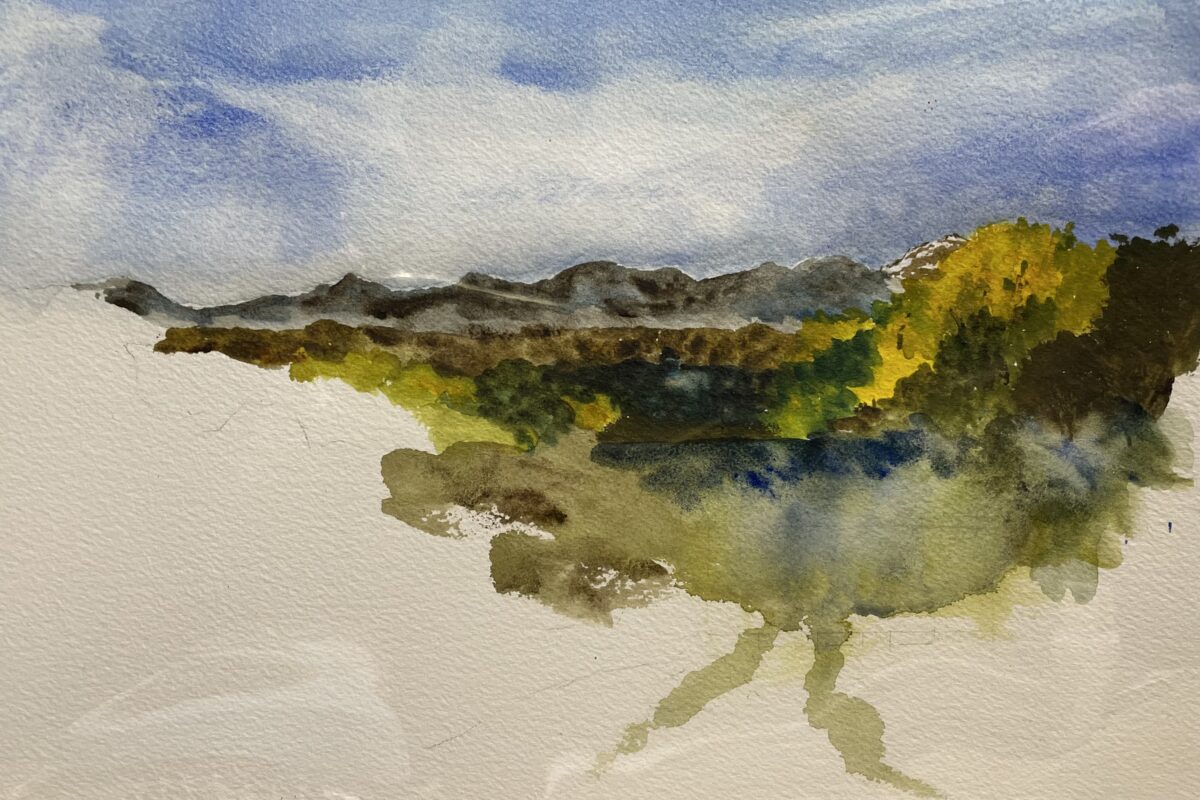 Timothy James Standring
Monday to Friday , September 26 – September 30, 2022
9:00am – 4:00pm
Image: Colorado Skyline looking Southwest, October 2021, 9 x 12 inches © Timothy J. Standring
With wit and whimsy, filled with a passionate knowledge of the history of watercolour painting, Dr. Standring will hold your attention during this five-day workshop in which you'll cover all of the basics. Fundamentally, you'll learn with hands-on exercises that techniques are closely aligned with the materials and tools that you are using: brushes, paper, and even the pigments themselves have interesting properties that lend to the final painting. You'll experiment with cold and hot press papers, natural and artificial brushes, different brands of watercolour pigments. You'll learn how set up your portable kit for painting on site while traveling for pleasure or for work. And most of all, you'll learn how to discern what constitutes a true watercolour painting with individual and group critiques.
Students Should Bring:  
Watercolour pad (Recommended: 9 x 12 inches, Chanson XL). Watercolour blocks are more expensive if your budget can afford them: [9 x 12 Saunders Waterford White (20 sheets), or Fabriano 20 sheets—both 140 lb—or panoramic size, for example by Sennelier, 9 x 4 inches]
Watercolour pigment kit (Recommended: Sennelier, La Petite Aquarelle Watercolour, set of 12 tubes or set of Half Pans; but other inexpensive kits by Windsor Newton are fine)
Watercolour brushes (Recommended synthetic brands: Silver Black Velvet are my current favorites; da Vinci Casaneo, Princeton Aqua Elite, Princeton Velvet touch, Raphael Precision, rounds, sizes 8 to 14, perhaps even a smaller one, but sizes vary according to manufacturers; an inexpensive boars' hair 1inch flat brush); and an oil painter's brush, number 4 bright (it is a small stubby brush on a long handle)
Two containers for water
Watercolour palette—the flat rectangular box for mixing colors (Recommended: Holbein enamelled palette, but a broad porcelain white dinner plate purchased at a thrift store will do. Plastic clam palettes are also perfectly fine, but sand the plastic palette to prevent the watercolours from beading up)
½ inch artist masking tape
Art Graf watercolour graphite (black)
Plastic ice cube tray
2 oz pump spray bottle
Graphite pencil (Recommended: Faber Castell 3 H "grip 2001")
Roll of soft paper towels
Equipment for open air painting, and if inclement weather, we'll paint indoors—but these equipment items will be discussed in the workshop. You will not necessarily need an easel to paint standing up; a camping stool with a small table nearby is preferable. Pic-nic tables are perfect for this.
Enthusiasm, curiosity, courage, and questions!
Bookings
Registrations for this workshop are now closed.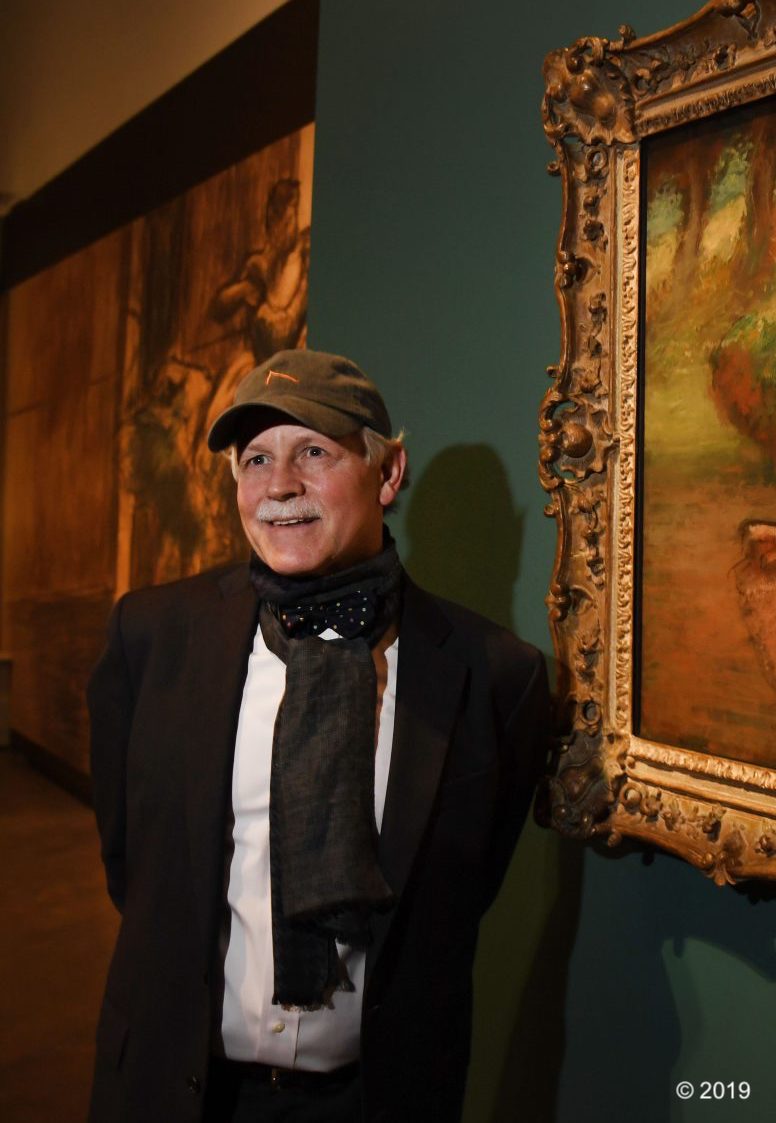 Timothy James Standring
Timothy James Standring is Curator Emeritus at the Denver Art Museum in Denver, Colorado. Since he initiated work there, he has striven to make art and art history accessible to a broader public and has served the museum in many capacities. He has curated over eighteen exhibitions at the museum—most notably "Becoming Van Gogh", and has articles and reviews published in the Burlington Magazine, Master Drawings, Print Quarterly, Artibus et Historiae, Renaissance Quarterly, and Apollo. His writings reflect interests that include 17th-century Roman patrons, monographic studies on European artists, British watercolour sketching, Poussin's early works, Van Gogh's drawings, Degas's monotypes, the works of Andrew and Jamie Wyeth, and Rembrandt's prints. Many contemporary realist artists such as Daniel Enkaoua, Daniel Sprick, T. Allen Lawson, Scott Fraser, and the Santilari brothers have been the subject of his articles and exhibition catalogues. His current project examines American artists in France from 1865-1913.  Prior to his work at the Museum, Standring spent much of his career in academia. He has been a Fellow at The Clark Art Institute, a Guest Scholar at the J. Paul Getty Museum, and a Senior Fellow at the Center for Advanced Studies in the Visual Arts (CASVA) at the National Gallery of Art, in Washington, DC. He has received degrees from the University of Notre Dame (B.A.,1973), and the University of Chicago (M.A. 1975; Ph.D. 1982).
Standring is also an accomplished watercolour artist. He has never stopped painting since he took classes at the School of the Art Institute of Chicago in the late 1960s.
Over the past decade, he has focused on small-scale works in watercolour, paying gimlet-eyed attention to the poetics that the medium can express. Aspiring to sustain a balance between close observation and exuberant flourishes with his handling, Standring is as sensitive to his materials and techniques as he is to the recurring themes he paints. He has found inspiration in a wide variety of artists from Anthony Van Dyck, John Linnell, Edgar Degas, John Singer Sargent, Joachim Sorolla, and Andrew Wyeth.
His recent works reflect his preference for painting with the belly instead of the point of the brush which results in images that appear as if they were produced as dry brush oils on unprepared paper-like sheets produced by the works of the 17th century Genoese painter Giovanni Benedetto Castiglione (1609 – 1664), an artist that Standring has studied for some time. Such heavily pigmented watercolours turn his compositions into poetic statements that sustain a life of their own. Such efforts convey meditative observation of his settings which are a challenge to such a fickle medium that watercolour painting encompasses. Standring has recently, in fact, been painting in oils, inspired by Daniel Sprick, Quang Ho, and Jane Jones, all of whom conveyed how the two approaches complement each other.
Standring's works are in private collections across North America and Europe. They have been thrice accepted for inclusion in the famous 10 x 10 x 10 juried exhibition held in Tieton, Washington, and recently in 2022 edition the Coors Western Art Exhibition.
One of his monographic exhibitions was reviewed by the national critic Ray Rainaldi. Standring also conducts a watercolour painting workshop at the Lunenburg School of the Arts, in Lunenburg, Nova Scotia each September.
Bookings
Registrations for this workshop are now closed.